When a new year begins, so do the resolutions — particularly those involving health and wellness goals.   
Despite the challenges that COVID-19 dealt to the industry in 2020, a number of local fitness centers remain committed to serving their membership through the new year while health orders continue to restrict indoor usage.
"The best way to fight [COVID-19] is to be healthy," said David Henrey, owner of All Sport Fitness Center in Buellton. "I've read that alcohol and cigarette sales are up 60% daily since the pandemic. We've got to stay healthy."
Henrey, who in September was ordered by a Santa Barbara County Superior Court judge to remain closed when his gym did not comply with state and county COVID-19 health orders, has since come out on the other side.
Santa Barbara County's COVID-19 case rate hit 7.1 per 100,000 people as of Monday, rising into purple-tier territory and moving the county back into the state's most restrictive phase. Neighboring San Luis Obispo and Ventura counties also moved backward to purple.
"The members that are still around ... it's a better gym now," Henrey said, referring to the 40% that now remain despite his legal ordeal that resulted in three separate court hearings. "We're more like-minded now. We've drawn closer and formed a tighter bond. We're no longer just a gym, we're more of a club."
Looking into the future, Henrey believes that the fitness industry will be forever changed and vows to pivot in response to the reshaping once his gym reopens. Outdoor workouts and virtual classes are being planned for the coming months.
"January is typically our biggest month," Henrey said. "I certainly want people to reach out to see what's going on. Things are changing on a daily basis." 
In Santa Maria, Crunch Fitness, located at the Santa Maria Town Center, reopened Sept. 30 after state and county health orders forced its closure for a second time in 2020.
The gym continues to serve members via outdoor and virtual classes, and the full service indoor gym, which houses $3 million in state-of-the-art equipment, has moved $2.5 million of that equipment outdoors under the mall's parking structure to accommodate members.
Gym owner/operator Art Quezada said the outdoor setup and virtual class format isn't ideal, but he thinks it's necessary.
"Zoom has been working out okay, but it's not the real deal. But we make do with what we have," Quezada said, noting that staying healthy during the health crisis is especially important. "We want to continue serving the community and keeping them safe — and sane. And I think we are doing a great job."
To further ensure the safety of its patrons, members are required to wear face coverings, practice social distancing, bring their own hand towels, and also wipe off used equipment with hospital grade cleaner provided by the gym.
The fitness company also has appointed maintenance and janitorial staff to deep clean and service the costly equipment on a regular basis, which remains outdoors in the elements.
The equipment, according to Quezada, is guarded during nighttime hours by a hired security company, which has added more expense.
"The beauty of the company is that they care more about members than money," said Quezada, a Santa Maria Crunch Fitness partner for the last two years. "It really is an honor to be a part of this company."
The Santa Ynez Valley's Stuart C. Gildred Family YMCA, though limited to outdoor offerings, remains open to its members.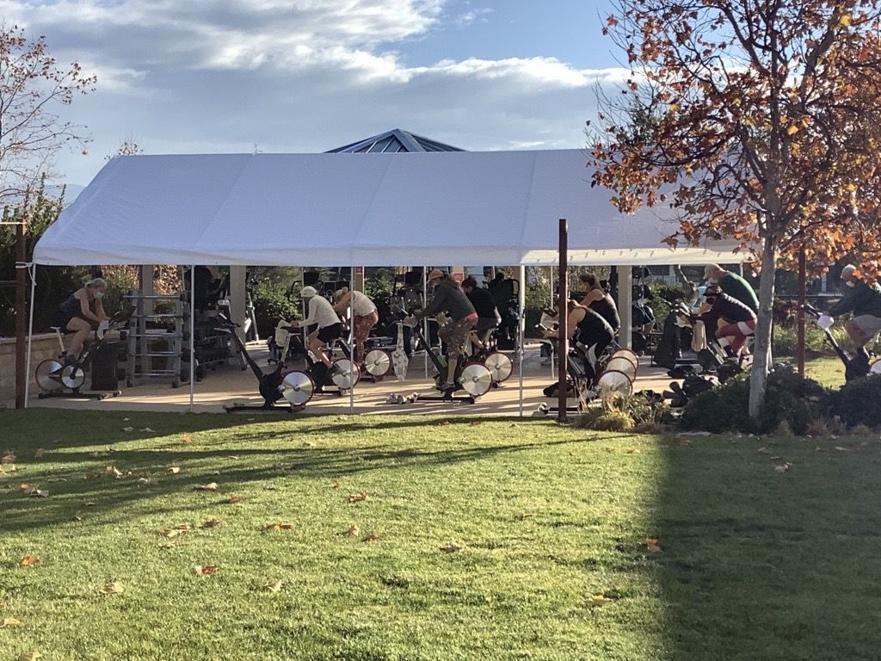 Regional Executive Director Thomas Speidel said the Santa Ynez-based facility continues to offer outdoor group classes such as cycling, as well as virtual fitness classes that include yoga and strength training. 
"We are doing a no-joiner-fee promo through Jan. 9," Speidel added, noting that sister property, Lompoc YMCA, is only offering outdoor classes to its members at this time.
Both YMCA locations require that members wear face coverings and social distance at all times.
Lompoc's Pier Fitness is keeping it simple while keeping doors open to the public, according to staff member Nico Dommeyer.
Dommeyer said that although fitness activities remain somewhat limited and membership has been sporadic since the onset of the pandemic, the gym has made a number of aquatic classes and outdoor Zumba and yoga classes available to its members, among others.
Leaders in government, business, education, medical care and other fields have called policy and procedural changes made in response to the COVID-19 pandemic "the new reality." Many people yearn for a return to the way things were just one year ago. But once the pandemic is gone, will life return to "the old reality"? Experts in various sectors say no.
Masks also are required while on the premises, even while in the pool, Dommeyer noted.
"People have adapted," Dommeyer said, adding that fulltime and part-time membership packages are available. "Members pretty much deal with [added restrictions] to help keep everyone safe." 
Since the governor's health orders in November, Planet Fitness in Lompoc remains closed to the public until further notice.
The gym, however, is offering a number of daily "Home Work-in" videos through its Facebook account, which are available to the public at no charge.  
A Santa Barbara County Superior Court judge on Friday approved a preliminary injunction, ordering a Buellton gym to remain closed over alleged violations of COVID-19 health orders.
Can cast iron and steel turn into wins and championships?