Like countless athletes of the past, community leaders on Monday morning took to Lompoc High School's track and field in a six-person, 400-meter relay race to this time commemorate a yearslong project realized.
The new Lompoc Community Track & Field at Huyck Stadium, which boasts nine rubberized lanes and an exercise zone completed in June 2020 alongside a state-of-the-art turf field, was finally put to the test.
One by one, relay participants took to their marks in unison. Kicking off the celebratory race, Ashley Costa, executive director for Lompoc Valley Community Healthcare Organization — the organization that initiated the campaign in 2017 based on its mission to promote healthy living — dashed off to pass the baton to Mayor Jenelle Osborne, who stood ready to finish her leg of the race.
One full lap was completed by participating runners who also included Gary West, athletic director at Cabrillo High School; Claudia Terrones, athletic director at Lompoc High School; Tommy Speidel, executive director of Lompoc and Santa Ynez Valley YMCAs; and Bree Valla, deputy superintendent of the Lompoc Unified School District.
"This is amazing," Osborne said. "This is exactly what both Ashley and Doug [Sorum] said — the community deserves this. It gives the public an opportunity to come out and utilize the facility and feel they have a safe place to walk and exercise and socialize."
The Lompoc Unified School District, which owns the nearly $4 million dollar facility dedicated for public use, has entered into a possible long-term partnership with the city of Lompoc after the City Council on March 16 unanimously approved a memorandum of understanding.
Costa, who graduated from Lompoc High School in 2005, said for her the project is personal.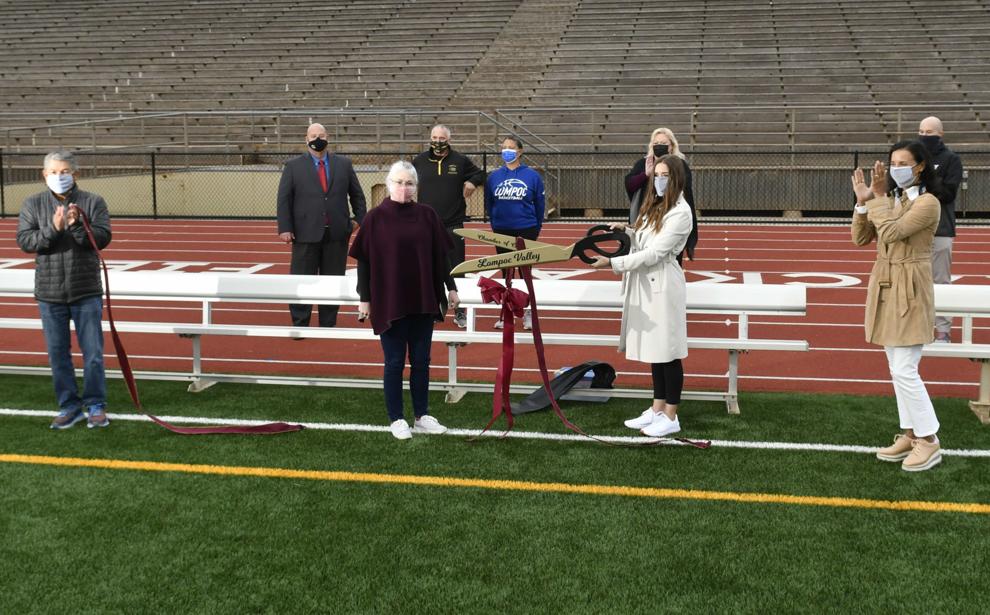 "I remember my graduation day; graduation day takes place here," Costa said. "And it's such a big deal. I remember walking down the rough, red track and getting dirty. Walking across the dirt you couldn't wear high heels because they didn't want you to sink in — and even still, we loved it."
For Costa, Lompoc pride runs deep. 
"For me, it feels good to be able to invest in something that helped me develop," she said, remembering her days as a Lompoc High student. "This was such a big piece of my story — everyone remembers high school and high school graduation. It feels really great to give back. This belongs to Lompoc."
Caitlin Boyle, co-owner and operator of CrossFit Ohana in Lompoc, and her 12-year-old daughter, Taylor Savella, both took a few laps around the new track and tried out the exercise stations located in the fitness zone.
"We're here as community support," Boyle said. "I think that Lompoc totally deserves this. It's a very fit, sporty community, so I think a lot of people are going to enjoy it."
Boyle's daughter, Taylor, who is a volleyball player, said that after running the new track she is now considering taking up the sport of track and field.
"It's really bouncy," she said, referring to the rubberized material, "and really fun to run on."
Lompoc Recreation Manager Mario Guerrero Jr. said plans already are in the works to roll out additional sports programming that includes adult soccer and kids' flag football.
"We're really excited," Guerrero noted.
Lompoc Community Track & Field campaign co-chair and current Lompoc school board member Tom Blanco, who in 2019 wrapped up a nearly four-decade career as an athletic trainer and educator at Lompoc High, said he is proud to witness such an important project completed after many years of discussion and delays. 
According to Blanco, the new track is guaranteed for 10 years and the field eight years, possibly longer if proper care is taken. The hope is to eventually pass a bond to cover ongoing maintenance costs, he said.
When the Braves hit the football field for the first time this season on March 19 in a faceoff against Santa Ynez Valley High School, Blanco said spectators were socially distanced due to COVID-19 protocols. He sat in the bleachers, in a corner away from everyone. 
"I'm glad I did because I had a lump in my throat," he said. "Seeing kids on the field was just really, really, heartwarming."
The white sign features 'Huyck Stadium' in blue lettering. A circular emblem above the sign will continue to switch between the Lompoc Brave logo for LHS home games and the Cabrillo Conquistadore for CHS home games. The old 'Huyck Stadium' sign was also blue on white but featured a blue outline. 
Dos Pueblos was not expected to put up much resistance against Lompoc Friday night. 
The LHS football team worked out on the new Huyck Stadium turf for the first time this week. There were five pods of 10 athletes on the football field "with masks the whole time," Lompoc AD Claudia Terrones said