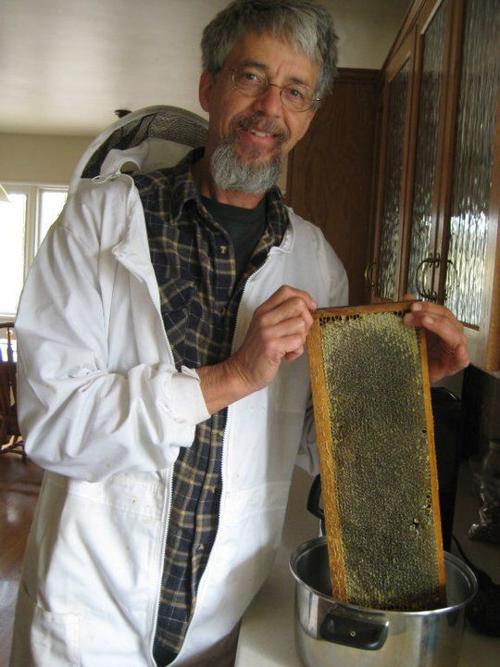 First, an introduction. My name is Jim Rice and I am the president of the Lompoc Valley Beekeepers Association. We are a group of hobbyists from Lompoc and the Santa Ynez Valley that either keep beehives or are interested in honeybees and other pollinators. We hold monthly meetings that cover a variety of topics as we share what we have learned with other members. Meetings are held the second Tuesday of the month at the Flying Goat Tasting Room, 1520 E. Chestnut Court, Unit A at 6:30 p.m. With these articles, I hope to offer valuable information to the general public about bees.
We are coming to the end of what has been an epic swarm season for Lompoc and the surrounding area. The same rains that helped increase Lake Cachuma's level to over 80-percent have also amplified food supplies for honeybees.
As hive sizes increase due to honey/pollen storage and increased egg laying by well-fed queen bees, the colony starts to approach its size limit. When this occurs, the swarming instinct is triggered.
Several new potential queens are nurtured inside the hive as the worker bees feed appropriately aged worker-bee larva a substance called royal jelly. As the young queens approach full development, the original queen and about half of the existing colony will leave in a swarm.
If you have ever seen a swarm in motion, you will not forget it! Tens of thousands of bees swirl out of the hive entrance, filling the sky. Loud, energetic buzzing fills your ears. Initially, the swarm will usually not travel too far from the original hive.
In preparation for her flight, the queen is starved in order to reduce her weight so that she can fly; but she is not accustomed to flight and will soon seek out a spot to rest. The other bees cluster around her while "scouts" search for a suitable new hive location.
This clustering can occur on some pretty interesting surfaces -- the sides of cars, fire hydrants, traffic lights, patio furniture, and barbecues are just a few of the places I have witnessed myself.
This is the point in time where concerned citizens get on their computers and start Googling for local beekeepers! Santa Barbara County Vector Control, local pest control companies, and fire and police departments keep lists of phone numbers of local beekeepers who are willing to go out and collect swarms.
The methods used in catching a swarm can be as complex as using a specialized bee vacuum, to simply tapping the cluster into a cardboard box.
Once the bees are gathered, the beekeeper takes the swarm to the apiary (bee-farm) and introduces the bees into hive equipment. In the future, I will discuss the details of locating hives.
The most common hive equipment used is called a Langstroth Hive. These are the same hive boxes that are used by commercial beekeepers, often seen stacked on the outskirts of towns. The equipment was developed by Reverend Lorenzo Langstroth, and patented by him in 1852.
The design was inspired by his observations of bees in the wild -- he found that bees create hives that have parallel combs spaced at an interval he called "bee-space," which is about 3/8 of an inch. His model duplicates this interval with removable frames.
Prior to this invention it was necessary to kill or drive off bees from a hive in order to harvest honey.
In future articles, I will discuss what happens inside a beehive, including the different roles that bees have within the hive during their lives, and talk with other local beekeepers and share their observations.
A sweet treat is in store for those who attend the next "Food for Thought" Speakers Series program in the Neal Taylor Nature Center at Cachuma…
For bee removal services and more information about beekeeping, visit the Lompoc Valley Beekeepers Association website at lvbka.org or find them on Facebook.
Sprout new ideas
With our home & garden newsletter!