HEART OF THE VALLEY Mar. 23, 1850: A legislative act was passed, designating the 2nd Month day of April and every 2 years thereafter, an elect…
John Fuhring will be the guest speaker at the Jan. 18 Heart of the Valley presentation at the Santa Maria public library on behalf of the Natu…
Looking back at the history of the valley, while the towns and cities of the northern part of the county had a few ranchos and missions to pro…
Jan.13, 1881: The Sisquoc Post Office opened with Frederick Wickenden as Post Master.
Martin Luther Hopper, son of George and Lou Hopper, was born in Santa Maria in August of 1885. After attending local grade schools and graduat…
Once a desolate, windswept area of sand dunes where sage brush and wild flowers dominated the land, the Waller Park of today is a vision of beauty.
In addition to taking care of his family, Fred May a true public servant, not only served on the city council, but served 11 years as a high s…
The FDA issued a warning to the Jimmy John's sandwich chain, saying certain vegetables it served were implicated in five outbreaks of E. coli …
On a day with king cake, beads, parades and giant floats, there's still a question about the celebration: Why are pancakes being served?
It's Fat Tuesday. If you're in an area with large Polish populations, it's also Paczki Day. Learn more about these tasty yearly pastries.
Hot sauces are there when you need them most. Lunch looking pallid and sad? Leftover pizza in need of some excitement? Just grab the closest h…
Who needs takeout? These four dinners (and one dessert) come together fairly quickly and will taste delicious.
FROM THE VINE I really enjoy spending quality time in the Santa Ynez Valley whenever I visit, so my husband Dan and I usually stay over for tw…
The next long drive is about to go a whole lot smoother. 
Besides the stunning fashion in the hit comedy TV show "The Marvelous Mrs. Maisel," the program features equally squeal- and steal-worthy deco…
Tackle that fear of fireworks and thunderstorms once and for all. 🐶
Many Americans may be unnecessarily talking themselves out of homeownership. Thirty-seven percent of nonhomeowners say not having enough saved…
Americans took out nearly $150 billion in loans backed by the Federal Housing Administration to buy homes in 2018. Nearly 83% of those FHA bor…
Start streaming, buffering, and gaming without the headache. 
Lovers of antique furniture are always on the lookout for a chair with an original cane seat because it's a prized possession. If you're looki…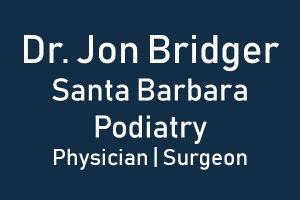 Dr. Jon Bridger - Santa Barbara Podiatry

Santa Maria Valley Discovery Museum