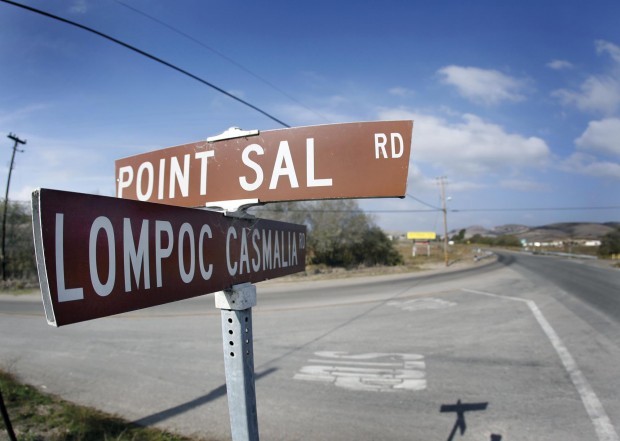 There's just one thing wrong with Lompoc-Casmalia Road: It no longer goes directly from Casmalia to Lompoc.
A section of the county-owned road was permanently closed after being washed out by severe flooding at San Antonio Creek by El Niño storms in 1998. Over time, sediment and water turned that former two-lane road into a haven for endangered species. Looking at a huge price tag to repair the road and remove sediment from the creek, the county made the temporary detour permanent.
An extension of Black Road south from Santa Maria, Lompoc-Casmalia Road was once the route Santa Marians took to Vandenberg Air Force Base in the base's early days.
Today, with most motorists opting for newer, speedier Highway 1, the narrow, two-lane road is a quiet byway, luring more bicyclists than motorists.
Essentially, the road begins at the town of Casmalia. On one side of Point Sal Road, Casmalia's main street, a road sign reads "Black Road." On the other side, a second sign reads "Lompoc-Casmalia Road."
Also at Point Sal Road is a yellow sign advertising the venerable and popular Hitching Post Restaurant, Casmalia's main attraction.
You have free articles remaining.
The Hitching Post anchors one end of Point Sal Road, a road so peaceful that on a recent afternoon an elderly woman casually pushed a cart down the middle of the street. Only a few hundred yards long, Point Sal Road passes small bungalows, a grocery store with a "closed" sign and the adjacent post office before ending just past Winifred Wollam Elementary School, which is now home to the kindergarten through eighth-grade
Over a hill to the north is the site of the infamous Casmalia landfill, a dump for toxic waste before it was closed in 1989 and taken over by the federal government for cleanup.
Crossing Union Pacific railroad tracks just south of town, the Lompoc-Casmalia Road starts its climb through the pretty Casmalia Hills, entering Vandenberg, though few would notice.
After four hilly, largely deserted miles, the road ends, seemingly in the middle of nowhere, at a sign, "Road Closed Ahead."
A deer alertly watched us from a nearby field, taking off in graceful bounds toward San Antonio Creek only when a car approached from the nearby Marshallia Ranch Golf Course.
A detour onto San Antonio Road led to Highway 1 where, near the Vandenberg main gate, Lompoc-Casmalia Road can be found again.
To the north of the main gate, a small stub of the road dead-ends near the base's Utah gate to mark the western end of the closure. To the south, Lompoc-Casmalia Road travels to — where else? — Lompoc, along a stretch also known as Highway 1.
Roadside Attractions is a weekly chronicle of sights along the Central Coast's main commuter routes. This feature first ran Aug. 3, 2010. Sally Cappon can be reached at sjcappon@aol.com.