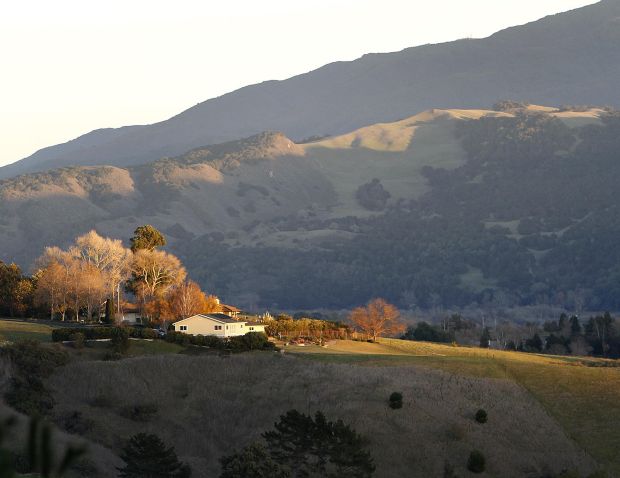 The Santa Ynez Range cuts Santa Barbara County in two.
Scarcely a dozen miles wide and some 100 miles long, with no peaks higher than a few thousand feet, the range is far from the biggest or highest in North America.
Yet, its effect on the county is incalculable.
One of the Transverse Ranges, so named because they run east-west instead of the customary north-south like the vast majority of U.S. mountains, it has, in effect, created two separate entities.
South of the range and partly due to an odd juxtaposition of coastline south of Point Conception, a narrow shelf of land basks in a reputation as America's Riviera, a land of perpetual spring. Here, tourism reigns.
To the north, while still enjoying a so-called Mediterranean climate, the land is cooler, Pacific Ocean-influenced, with greater fluctuations in temperature. This is the land of cattle ranches and vegetable fields.
In fact, the Santa Ynez Range is sometimes considered the dividing line between Northern and Southern California with plant species from both regions lying virtually side by side.
You have free articles remaining.
Running from the Ojai area to Point Arguello, the range has few notable peaks. The highest are near the Ventura County line, a largely inaccessible area (ever heard of 4,700-foot Divide Peak?). To the west are La Cumbre Peak, at a pretty but less-than-imposing 3,900 feet rising above Santa Barbara, Santa
Ynez Peak, at just over the 4,000-foot mark, and mystic but lopped-off Tranquillion Mountain on Vandenberg Air Force Base.
At Point Arguello, a lonely base outpost, the range plunges into the Pacific.
But within these mountains are hidden the highest waterfall in the county at Nojoqui and secret hot springs. Chumash created stone temples here.
Much of the range lies within the Los Padres National Forest, contributing to the isolation. The menacing Santa Ynez Fault anchors the north side of the range.
Roads follow the few passes through the mountains — Highway 154, a treacherous road through San Marcos Pass, the rocky defile of Refugio Pass
near the ranch known as then-President Reagan's Western White House and the only four-lane crossing at Gaviota, a narrow, low-level passage 30 miles west of Santa Barbara.
Hiking trails thread through the region.
Next time you drive through the range, appreciate it. It's a unique treasure.
Roadside Attractions is a weekly chronicle of sights along the Central Coast's highways and byways. Sally Cappon can be reached at sjcappon@aol.com.