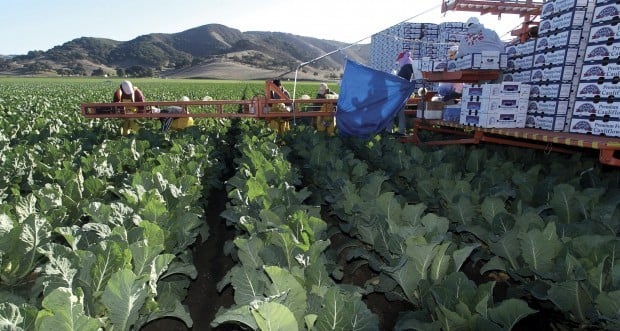 Call them broccoli fields forever.
Row crops — broccoli, cauliflower, iceberg and romaine lettuces and celery are the big vegetables — are ubiquitous throughout the Santa Maria Valley.
A good place to see them is on a loop drive on Highway 166 (Main Street) from Santa Maria to Guadalupe, north on Highway 1 to Oso Flaco Lake Road in San Luis Obispo County, then back south on Bonita School Road.
"You'll see just about everything," Richard Quandt, president of the Grower-Shipper Association, said several years ago.
How do you tell the vegetables apart?
"When the plants are small, it's kind of hard to tell," Quandt acknowledged.
Here are some tips. The darker plants are broccoli, he said. Cauliflower is not as dark and has large wrap-around leaves. Iceberg lettuce is a very low plant, yellow-green in color.
You have free articles remaining.
"Celery grows really tall," he added.
Lettuces are more seasonal, grown from March into November.
While strawberry fields are interspersed, they are usually covered with plastic sheeting.
With 2 1⁄2 crops grown in a year, one may observe the entire process — planting through harvesting. Typically, farmers who grow broccoli and cauliflower in winter months grow lettuce in summer.
A lucky triumvirate of climate, soil and water make the Santa Maria Valley a cool-season vegetable mecca. Days are warm without frost, not too sunny or too warm. Loamy soil has been carried down by rivers. An underground aquifer, recharged by the Santa Maria River, supplies ample water for irrigation.
"Everything is irrigated," Quandt said.
In 2010, a total of 40,000 acres were devoted to row crops in the Santa Maria Valley, which extends from Sisquoc to Guadalupe, where vegetable growing started. In early days, shipments went by rail, today most produce is shipped by truck.
This is big business, bringing in between $300 million and $400 million annually, Quandt said.
Today, the Santa Maria Valley and neighboring Salinas Valley are the nation's major salad bowl suppliers throughout much of the year.
Tonight, when you sit down to enjoy a salad for dinner, chances are it came from local fields.
Roadside Attractions is a weekly chronicle of sights along the Central Coast's highways and byways. This feature originally ran Oct. 5, 2010. Sally Cappon can be reached at sjcappon@aol.com.