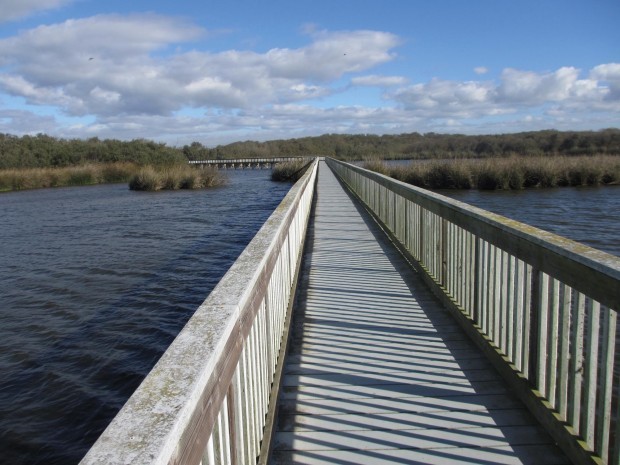 Tucked into sand dunes three miles north of Guadalupe off Highway 1 is a little-known treasure, Oso Flaco Lake.
Oso Flaco Lake isn't the easiest place to find. A single small sign on Highway 1 points to a narrow westbound road bearing a warning: Dead end.
The road leads between newly planted vegetable fields — this is still the flat Santa Maria Valley, remember — crossing high-speed railroad tracks over which freight trains and Amtrak streamliners hurtle by daily. Bulky farm vehicles hug the pavement.
Three miles later, the road ends at a nondescript gate marking this as a state park, with a sign asking you to pay $5 (sign in yourself — essentially an honor system).
From a small parking lot, a shaded, wide, mostly dirt path leads between willows and inviting red leaves — of poison oak. Signs warn to beware of bears and mountain lions.
You have free articles remaining.
A short walk takes you to the lake. It comes on you suddenly, a brilliant, vast expanse of sun-speckled blue in a green landscape. Golden dunes dot the horizon.
This must have been the scene that captivated the first Portola overland expedition to view the lake in 1769. They named it Oso Flaco, meaning skinny bear, for a bear they'd encountered here.
Today, a wooden boardwalk crosses the shallow lake that is filled with tules and flocks of ducks. A white egret and gray heron statuesquely guard an inlet. Swallows dart here and there.
An optional path leads onward to the ocean, which thunders in the background. The mile-long walk on composite planks leads between underbrush studded with buckwheat, beach bur and daisies (wood benches are numerous, with an occasional picnic table and restroom). The silence was broken only by a distant train whistle. Animals and other people were scarce.
At the end of the trail, a wooden platform perched above oatmeal-colored sand offers oceanfront views of the curve of coast from Point San Luis in San Luis Obispo County to Santa Barbara County's Mussel Rock and Point Sal. Turquoise waves were layered with white surf. The wind had picked up.
Oso Flaco Lake is open from sunrise to sunset. Dogs are prohibited.
Roadside Attractions is a weekly chronicle of sights along the Central Coast's highways and byways. Sally Cappon can be reached at sjcappon@aol.com.