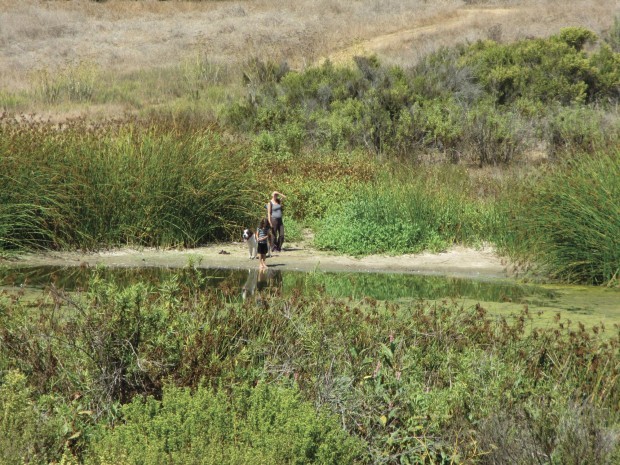 The small, sapphire-blue lake, surrounded by bulrushes, appeared suddenly after a short walk.
Across the lake, with its stunning mountain backdrop, an egret was silently poised. Closer, a nosy flotilla of mallards swam by.
It could be a scene farther up the coast. Instead, it's just minutes from downtown Santa Barbara.
Lake Los Carneros is one of the South Coast's better- kept secrets.
Technically, this is a county park in the heart of Goleta, although don't expect such niceties as fancy restrooms or drinking fountains. Beaches, though, are welcome in the late summer sun.
You have free articles remaining.
While a paved path leads through the park, dirt paths branch off through a sprinkling of Monterey cypress, eucalyptus, oaks and tall grasses. A dry lake bed hints of a fuller lake after winter rains.
Civilization does encroach on the 135-acre oasis. There's the whine of Highway 101 traffic to the south. Storke Tower on the UCSB campus and air traffic control tower poke above the trees. Small aircraft buzz overhead.
Nonetheless, the peaceful enclave draws its shares of devotees. There are walkers and runners from nearby business parks, curious tourists from Stow House and birdwatchers, for this is birders' paradise.
Near a century and a half ago, this was a nondescript duck pond or La Patera on agricultural land purchased by William W. Stow for his son Sherman. Sherman's brother, Edgar, enlarged the pond for the family's agricultural interests.
Fast forward a century. The Stow family donated acreage to the county. In 1975, most of the parkland was purchased from the Boise Cascade Company. Plans to develop the land more full drew the wrath of neighbors.
So it sits, quietly, from a rustic wooden bridge at the reedy north end, where walkers draw out binoculars to observe the landscape, to the larger lake beyond.
To reach Lake Los Carneros, go north on Los Carneros Road from Highway 101 and turn into the parking lot for Stow House. An unmarked path behind Stow House leads to the foot bridge. Beyond that, you're on your own. A camera, binoculars and water are recommended. It's all free.
Roadside Attractions is a weekly chronicle of sights along the Central Coast's highways and byways. Sally Cappon can be reached at sjcappon@aol.com.