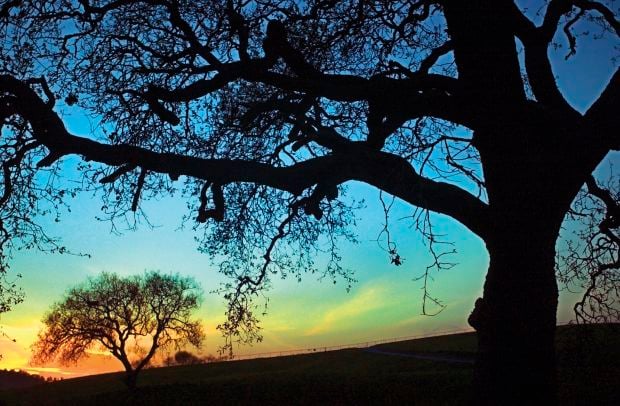 If ever there was an official Santa Barbara County tree, chances are it would be an oak.
From solitary sentinels on hilltops to gnarled oak woodlands, oak trees can be seen everywhere along Central Coast commuter routes.
The late Clifton Smith lists 17 different varieties of oaks in his book, "A Flora of the Santa Barbara Region, California," but many are found in small numbers, mainly in the Los Padres National Forest, Lottie Martin, oak specialist with the agricultural commissioner's office, said in 2008.
"The three most common oaks in our area are coast live, valley and blue," she said.
Differences can be best seen in winter when valley and blue oaks lose their leaves, while coast live oaks are evergreen.
You have free articles remaining.
But Martin lists other differences for sharp-eyed observers.
Coast live oaks, the most common, have dark green, cupped leaves with spines on the edges.
Valley oaks, found in valleys from Los Alamos to the Santa Ynez Mountains, have large, lobed, lighter-colored leaves. Blue oaks are smaller and have a blue cast to their leaves, which also are lobed. Able to grow in poorer soils, they're found in Tepusquet, Cuyama and harsher areas.
Oaks produce acorns, which fall in autumn and were a prime food source for the early Chumash who dried and crushed them into meal, used in gruel and flat cakes. Wood was used for making bowls.
Still today, oaks provide food and shelter for birds and animals, filter contaminants from watersheds and provide clean air, Martin said.
After large numbers of oaks were removed for vineyards, the Board of Supervisors passed an ordinance in 2003 protecting oaks on agricultural land, dictating how many trees can be removed for agricultural purposes. Valley and blue oaks are particularly threatened as older trees die.
Incidentally, the red oak popular for Santa Maria-style barbecues is coast live oak. Valley and blue oaks are in the white oak family, Martin said.
Roadside Attractions is a weekly chronicle of sights along the Central Coast's main commuter routes. This feature originally ran July 8, 2008. Sally Cappon can be reached at sjcappon@aol.com.