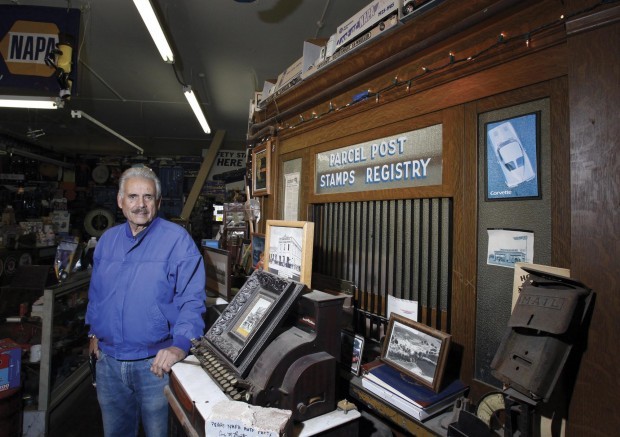 The NAPA store on Guadalupe's main street is half auto parts store and half museum.
The store manned by John Perry at 959 Guadalupe St. has been around for close to half a century, and it stocks everything.
Sure, Perry carries filters, batteries, tune-up stuff.
But where else would you find an actual early Guadalupe post office; a plaster sphinx paw from the abandoned movie set for "The Ten Commandments," the 1923 film set in the Guadalupe Dunes; or a full-size buggy?
It's an eclectic collection. There's also a working produce scale, store counters and cabinets from various old Guadalupe establishments, an oversized ceramic basset hound (which numerous people have sought to buy), old model cars and trucks, photos of long-gone restaurants, a Route 66 sign and even a full six-pack of 7-Up bottles.
"They've never been opened," said Perry. "They're probably from the '50s or '60s."
The 74-year-old Guadalupe native remembers the date he bought the store — May 1, 1966.
"It's the oldest auto parts store in the valley," he said.
You have free articles remaining.
"I had my last vacation in 1965," he added, noting he started collecting things "almost immediately" after opening the store.
The vintage post office along one wall is the real thing. "That was the post office when I was a kid," he said.
There are windows that sold stamps and money orders. When a new post office was built, the counter was moved there, but Perry brought it back in 1979.
The building alone has an interesting history. A three-story structure at the north end of town, it has served as a post office, a Masonic lodge and a Druids temple.
It remains a gathering place where local folks drop in to talk, the equivalent of a 21st century general store.
"Hi, Beverly," he calls to one customer.
"How's your sister-in-law?" he asks another.
A UPS driver and Perry exchange greetings, "Hello, Sport."
What's better yet is that Perry's hardly paid a cent for most of the items.
"People bring them in to me," he said. "That is part of Guadalupe."
Roadside Attractions is a weekly chronicle of sights along the Central Coast's highways and byways. Sally Cappon may be reached at sjcappon@aol.com.