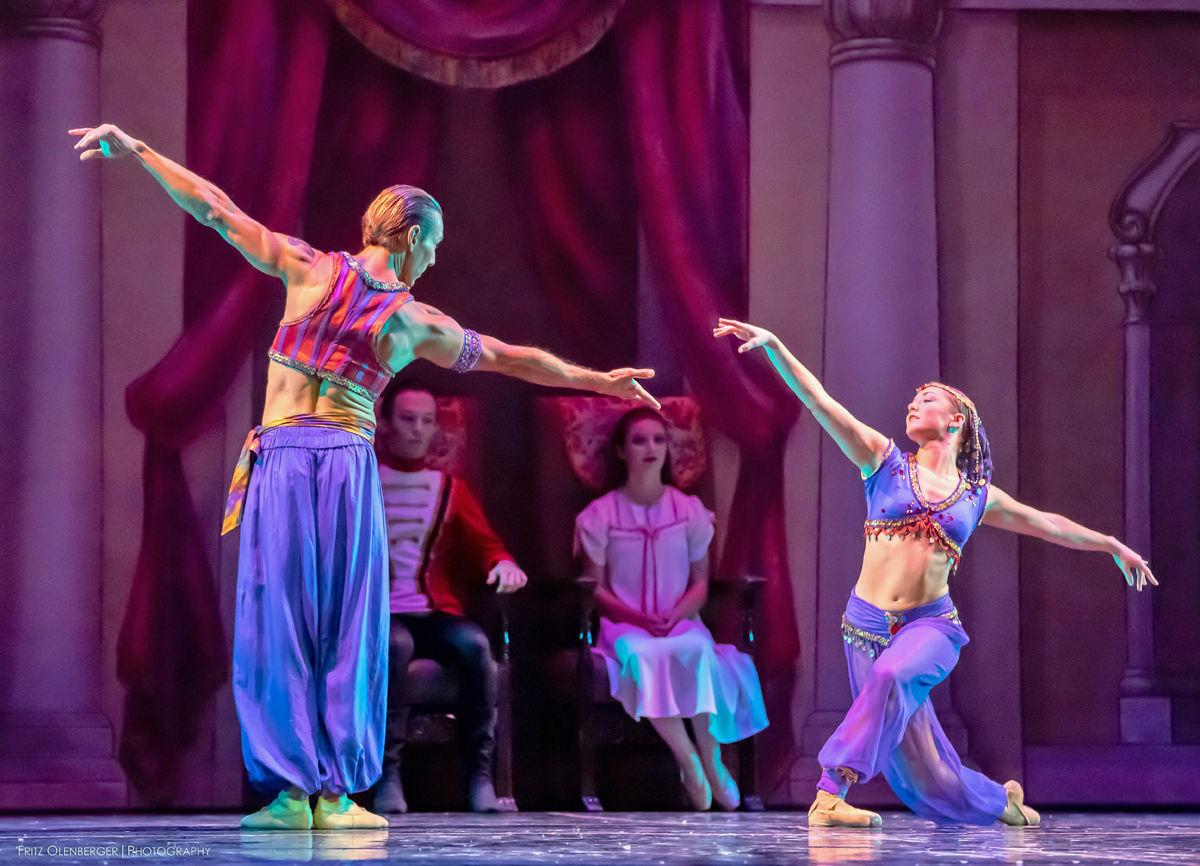 'Tis the weekend for dancing sugar plum fairies, Hallelujah Choruses, holiday show on ice, brunch with Santa, and, of course, shopping in Santa Barbara.
Dancing Dolls, Soldiers, and Snowflakes
The music from Tchaikovsky's "The Nutcracker" is popular now, but the original ballet, which debuted in Saint Petersburg in 1892, was a flop. Subsequent productions were obviously more successful. The complete ballet's first U.S. performances, given by the San Francisco Ballet in December 1944, were so popular that other ballet companies took up the holiday tradition.
Santa Barbara's Festival Ballet has mounted delightful productions for 45 years, held this year on Saturday at 2:30 and 7 p.m. and Sunday at 2:30 p.m. at the Arlington Theatre. Two principal dancers from San Francisco Ballet appear, Misa Kuranaga (Sugar Plum Fairy) and Angelo Greco (Cavalier), as do Festival Ballet company dancers and Conservatory students, plus special guests. This is a big stage production, with extravagant sets and costumes, and a live orchestra led by Elise Unruh – this is her 27th year! Tickets and more info are at www.santabarbarafestivalballet.com.
Choral Christmas Concert
You have free articles remaining.
Another holiday tradition is Handel's oratorio "Messiah," but it was originally performed at Easter. Hear highlights from the glorious masterpiece at the Santa Barbara Choral Society's seventh annual production of "The Hallelujah Project" held Saturday at 7:30 p.m. and Sunday at 3 p.m. at the Lobero Theatre.
Other holiday classics and seasonal favorites are in store, plus a reading of the beloved poem "'Twas the Night Before Christmas" by local celebrity Andrew Firestone ("The Bachelor"). Jolly Old St. Nick also makes an appearance. But the crowning achievement is a grand sing-along of the "Hallelujah Chorus" by chorus and audience together. Jo Anne Wasserman leads a live orchestra. Tickets are $30 adults, $10 for students aged 17 and under. (805-963-0761, www.lobero.com)
Skating Season
You may catch a Tara Lipinski-in-the-making when the young members of the Ice in Paradise Figure Staking Club present their fifth annual "Joys of the Season" ice skating shows on Saturday, Dec. 14 at noon and 5 p.m.
Skaters of all ages and skill levels perform routines to beloved holiday music, and it is sure to be adorable. Tickets start at $23 and go up to $33, with some seating available right on the ice. Bundle up! Also consider a family outing for daily skating from 1:30 to 4:30 p.m. and 7:30 to 9:30 p.m. daily through Christmas Eve (no late skating that day). There's no age requirement, but everyone on the ice must wear skates. Admission is $11.50 plus $3.50 skate rentals. (6985 Santa Felicia Drive, Goleta; 805-879-1550, www.iceinparadise.org)
Breakfast with Santa
Bring your little elves to a casual holiday breakfast buffet and photos with Santa this Saturday at the Roundhouse at the Hilton Santa Barbara Beachfront Resort. Breakfast is served from 6: 30 to 11 a.m. with Santa making his appearance between 9 and 10 a.m. Can't make it this Saturday? He's coming back next Saturday and Sunday. More details at www.hiltonsantabarbarabeachresort.com.