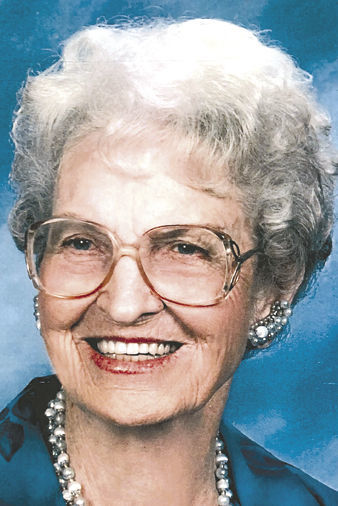 Thelma Lometa Sexton, beloved daughter, sister, wife, and friend passed away peacefully on Thursday afternoon July 2nd 2020 at a care facility in Santa Maria California. Known better as just Sister Thelma Lometa McFarland was born on July 15th 1922 in Butler Oklahoma and she was the 3rd child of Quintus Arthur McFarland and Eva Mae (Wilbanks) McFarland. The McFarland siblings consist of Arthur Quintus, Kenneth Albert, Thelma Lometa, Ivan Cleo, and she is survived by her younger sister Shirley Lou Rehder of Santa Maria California. Thelma met her loving husband Allen Sexton, a WWII Veteran, when she was in high school and married him on November 23rd 1941. The two were married for 56 years. Thelma and Allen never had children of their own but they fostered and helped raise several children. Thelma was also a lifetime member of the Order of the Eastern Star. The tenets of the Order are; Fidelity, Constancy, Loyalty, Faith and Love.
In her life, Thelma was a rancher, herded cattle, roped calves, and was an accomplished barrel racer in which she won many awards. She also helped build the B17 and P51 during WWII and was compared to Rosie the Riveter. She was a strong, hardworking, compassionate woman who lived life to the fullest. Her husband, Allen, coined the nick name Sarge for her as she had to be in charge. She was an amazing story teller who could captivate people with her real life adventures. Thelma always made the best of every situation and this was demonstrated by her coping with deteriorating eye sight for the last 20 years of her life which caused her to move to Santa Maria to live with her sister Shirley. To celebrate her life there will be a service at Dudley Hoffman in Santa Maria California Thursday July 9th at 10am. She will then make one final trip to Malta Idaho where she will be buried next to her love, Allen. As a 1st Baptist and an avid bible reader she always took comfort in the Lords Prayer.
Our Father in heaven, hallowed be your name. Your kingdom come, your will be done, on earth as it is in heaven. Give us this day our daily bread, and forgive us our debts, as we also have forgiven our debtors. And lead us not into temptation, but deliver us from evil.'"
To leave a condolence for the family visit www.dudleyhoffmanmortuary.com
Dudley-Hoffman
Mortuary & Crematory
(805) 922-8463
To plant a tree

in memory of Thelma Sexton

as a living tribute, please visit Tribute Store.
Obituaries Newsletter
Sign up to get the most recent local obituaries delievered to your inbox.