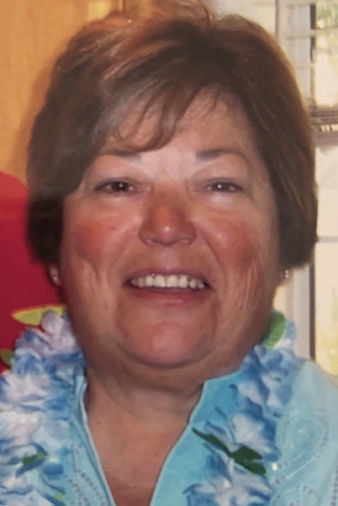 Pamela Gomes-St. Aubin, age 69 of Santa Maria, passed away on Saturday, January 25, 2020. Pam was born to the late Anthony Gomes and Jane Kelley Gomes on April 17, 1950.
Pam attended Santa Maria High School and graduated in June 1968. She went to work at GTE in the summer and married Jon Grindle in November of the same year. While living in Santa Maria, they had their only daughter Kelley Jane. They enjoyed spending time with friends and family hosting BBQ's.
Pam worked for GTE until she retired at the age of 47. While working for GTE she wore many hats including a telephone operator and dispatch clerk. During her time at GTE, she was a strong union member and held many offices including President of their Union, Communication Workers of America. She negotiated for her union on the national level and was very proud of her hard work and accomplishments during those years.
After being friends and coworkers for a number of years at GTE, Pam married Ronald St. Aubin on February 19, 1994. They enjoyed "cruising" Alaska and the Caribbean and traveling to Laughlin and Hawaii as often as possible.
Pam loved the beach and spent as much time as possible at her favorite Avila Beach. She was competitive and loved a good game of Mahjong or Backgammon. Pam especially loved the times she was with Zackary. Whether she was picking him up from school, taking him to the car dealerships or baking him cookies, she always had a smile on her face when "the red head" was in the room. She enjoyed spending time with her life long "F (50) Troop Friends; quoting one of them "we are a tight group, enduring divorces, children with issues and a whole lot of personal stuff. Stories never left our circle and won't. Several other gals wanted to join, but there was just too much history and we all agreed, we just couldn't do that!" F-Troopers: Terri (Arevalos) Jaquith, Kathy Signorelli, Susan (Harney) Moats, Pam (Pedigo) Cordero, Annette (Rabourn) Betz, Jeanette (Rabourn) Compton and Arlene (Souza) Peterson.
You have free articles remaining.
Pam will be forever remembered and loved by her daughter Kelley Allain (Buddy), grandson Zackary; stepson Casey Candaele (Christy) and their children Dylan, Brady and Reece; brother Mark Gomes (Diane) and their son Scott Gomes (Esther, sons : Cameron and Carson); brother Michael Gomes (Leslie) and their children Adam Gomes (Ginny) and Lauren. Pam is predeceased in death by her loving husband of 25 years, Ronald J. St. Aubin.
The family wishes to thank all who cared for her during her last days. A funeral service celebrating her life will be held on Friday, February 7, 2020 at 10:00 a.m., at St. Louis De Montfort Church; followed by a burial at the Santa Maria Cemetery.
Memorial donations may be made to the Alzheimer's Foundation of America, 322 Eighth Avenue, 16th Floor, New York, NY. 10001; Phone 866-232-8484; E-mail: info@alzfdn.org.
Magner-Maloney Funeral Home and Crematory
600 East Stowell Road, Santa Maria, CA 93454
Phone: 805-925-2753 Fax: 805-922-4930
To plant a tree in memory of Pamela Aubin as a living tribute, please visit Tribute Store.