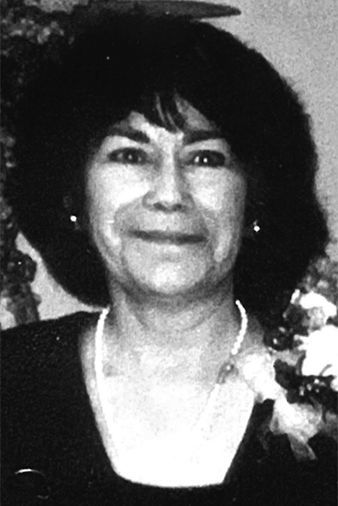 Nellie (Quintana) Varela 73 passed away in the early morning of September 27, 2019. Nellie was born in Santa Maria California on October 5, 1945 to parents Jose Galavis Quintana and Maria Navarro Quintana. Nellie often remarked how blessed she felt born the fifth child in a family of 14 children, 10 girls and 4 boys.
Nellie attended grammar school in Guadalupe and Righetti High School with the class of 1964.
Nellie was the most loving, kind, generous and caring person you could ever have met. She was a wife, mother, grandmother, great grandmother, business owner and community service volunteer.
Nellie married John I Varela and together they raised two daughters Gracie and Regina in Santa Maria. John and Nellie traveled to many locations in California, Baja California, Arizona and Washington D.C. Several trips were on their Harley-Davidson to Las Vegas, Phoenix and Ensenada. Nellie was a member of the S.M. Saddle-lite motorcycle club for 10 years. Nellie loved to dance, and together her and John could be seen on the dance floor most weekends. In the disco era Nellie and John would travel to Bakersfield and spend weekends dancing at disco clubs. Nellie enjoyed many dances at the local Elks Lodge #1538 cook your own, Moose #719 Friday night dinners, American Legion Post #56 dinners, VFW Post # 2521 dinner & dance and the Eagles dinner & dance. She also loved to sing be it a sing-along or Karaoke. Nellie was an adventurer without hesitation. Gracie and Regina with Nellie behind the wheel of the family 4wd Jeep would head to Oso Flaco sand dunes and kick-up some sand, without John on-board. She enjoyed camping, on several occasions, Nellie with her girls would pack the families 15ft camp trailer with supplies hitch it up to the Jeep, drive to SLO Airport to pickup John when working out of town. She was a very hard working woman just one of many traits that always impressed her husband John. One detail that husband John is proud to repeat over and over occurred daily before starting his workday. He and Nellie would rise at 5am, he would prepare for work and Nellie would be in the kitchen making breakfast and on the table at 6am. At work co-workers would bring in donuts and offer them to John. He was so proud to reply on many occasions, "No thank you, my wife prepared breakfast for me this morning and does so every morning" and the co-workers reply would always be "you're lucky your wife makes breakfast for you."
Nellie was a very giving person, many folks remember Nellie and her "secret hand shake" (it's just recently, many have shared that with John.)
She wore out two maybe three cars in her daily routine of ensuring daughters Gracie and Regina were dropped off and picked up from school, kindergarten through high school, including other activities Gracie and/or Regina would participate in.
Nellie wanted to keep busy when Gracie & Regina were in school, so she found a part-time job as #1 cook at Howard's Drive-In. She worked for 12 years as an employee and 12 years as an owner/operator. Yes, 24 years combined. She said her motivation was her friendly customers who she considered her friends.
Nellie really loved her grandchildren, when they were born up north (Gilroy area) she spent a week every month caring for them. Sometimes Nellie would be there for a month if she wanted to.
Nellie cherished her great-grandchildren as well and relished the fact that they resided just a half mile away.
Her community service includes many years as a member of the American Legion Auxiliary, helping with dinners, raffles, and many fundraisers. Many years with the Moose Auxiliary as well, Nellie made the Monday night Tacos and Chili Verde every other Monday. Including Thursday night burgers and occasionally a Friday night dinner. She also made herself available for fundraising activities during Grace and Regina's school years.
You have free articles remaining.
After Nellie retired, the cooking didn't stop. She loved to be in her kitchen warming everyone's hearts through their taste buds.
John I. Varela will always be Nellie's "Gordo".
Nellie touched the hearts of many people, she will be missed and remembered by all.
Nellie is preceded in death by her parents of Guadalupe CA. Sisters Frances Marstaz of Tulare, Rosario Alvarado of Tulare, brothers Jose Jr of Guadalupe and Carey of Guadalupe. Brother-in-law Ruben Varela Jr. of Santa Barbara.
Nellie is survived by her husband John Varela, daughters Gracie Lathrop husband Jim of Paso Robles, Regina Robles husband Ronnie Grandchildren Justin, Alyssa and Ronnie Jr all of Los Banos. Granddaughter Serina Soltero husband Daniel and great grandchildren Mark, Elaina and Izabelle of Santa Maria. Sisters Josephine Gallegos of Hermosa Beach, Luz Kubota husband Ted of San Clemente, Nina Martinez husband Marcos of Ceres, Margarita Perry of Santa Maria, Angelina Salazar husband Mike of Bakersfield, Suzanna Quintana of Springdale, Ohio, Christina Morton husband Edwin of Paso Robles. Brothers Luis wife Erica of Nipomo, Felipe wife Vickie of Carson City, Nevada. Sister-in-Law Kathy Varela, Margaret Chavez of Guadalupe. And a combined 25 nieces and nephews.
Visitation at Dudley-Hoffman on Thursday October 10, 2019 at 5pm, with the Rosary to begin at 6pm. A Funeral Mass to be held at St Mary's Church Friday October 11, 2019 at 10am. Grave site services at the Santa Maria Cemetery. A reception will follow the services at VFW Post 2521.
To plant a tree in memory of Nellie Varela as a living tribute, please visit Tribute Store.