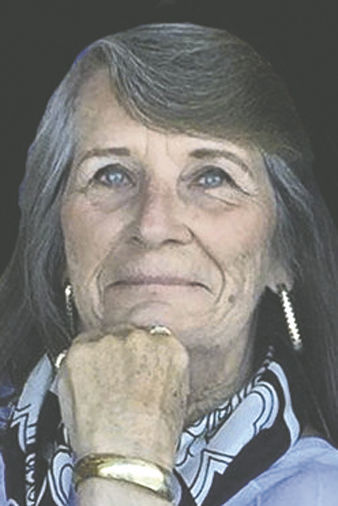 Jacqui Foster Reynoso, 75 of Santa Maria, Ca. Passed away peacefully on Wednesday, March 11, held by her husband and surrounded by family.
Jacqui was born in Oakridge Tennessee on February 23, 1945 to Jean Cameron Cook and John Boyer Foster. She had a wonderful childhood with brother David , and had many stories of their adventures. Family favorites are the cemetery story, or the time he told her he was running away from home, packed his things then left through the bedroom window only to hide outside where she was too small to see. When she ran downstairs hysterically pleading for their mother and grandmother to investigate, they found him unpacked, laying on the bed, smiling, and denying the whole thing. Since Jacqui's Dad worked for the telephone company, they traveled quite a bit and even spent two years in Cuba. Her family moved briefly to Santa Maria where she attended Santa Maria High, and met her future husband Arthur (Mickey) C. Reynoso. Jacqui returned to New Jersey where she graduated from Rumson Fair Haven Regional High School. After her graduation and Mickey's return from the Army, they married in Santa Maria on January 29, 1966.
Jacqui had many hobbies and interests. First and foremost was spending time with loved ones, but others included, painting, photography, sculpting, and baking. In fact, some folks who never met her may have teared up at the news of her passing as that signaled the end of the weekly cookies she baked for nephew, or nieces workplaces. Baking was an extension of her love. She loved traveling, gardening, music, film, horse back riding, shopping, entertaining, internet surfing, and much more. Each month she enjoyed dinner with High School friends, and Thursday's lunch with Linda Chavez and Cindy Schneider were also among her favorites. In the past few years she would use her talents to paint for Orcutt Rocks. She took great joy in sharing these small treasures. It was only in this past week, that her sons admitted to previously seeking out a couple each after she supplied clues as to their whereabouts.
She is survived by husband Arthur, sons David F. Reynoso (Didi), Michael S. Reynoso (Monica) and step son Arthur C. Reynoso Jr.( Lisa Arellano). Her beloved grandchildren Renee Lino (Joe), Christian Cortez, Jeffery Reynoso, Michael Reynoso II, Alyssa Perez (Joe), Lauren Padilla (Adam), Cameron and Jacquelyn Reynoso, and Derek Reynoso. Great Grandchildren Matthew and Anthony LaRocco, Cayden Reynoso, Layla Perez, Marlee Lino, and Joseph and Gabriella Padilla. Her brother David C. Foster (Susan Brereton), nieces Tracy C. Foster, Jennifer Teixeira (Mark), cousin Donald B. Cook, as well as many beloved nieces, nephews and members of the Reynoso, Ponce, Rojas, Borjas, Silva, Teixeira, and Lemos families and her four legged kids Doby and Fletcher.
Jacqui was an excellent wife, mother, sister, friend, and teacher. She taught love, kindness, patience, strength, understanding, bravery, and wisdom. Even at the end she openly discussed profound lessons about death and dying. She was amazing, made a positive impact on those who were fortunate enough to know her, and on more people than we will ever know. It is testament to her that our family received so many warm thoughts, words, and prayers. She will of course remain in our hearts forever as someone so loving leaves a strong imprint. This is her endless tribute and her success at making our world a much better place.
Jacqui requested no formal viewing or memorial, but the family is planning an informal gathering celebrating her life on April 18th at her son Michael's home.
To plant a tree in memory of Jacqui Reynoso as a living tribute, please visit Tribute Store.
Obituaries Newsletter
Sign up to get the most recent local obituaries delievered to your inbox.