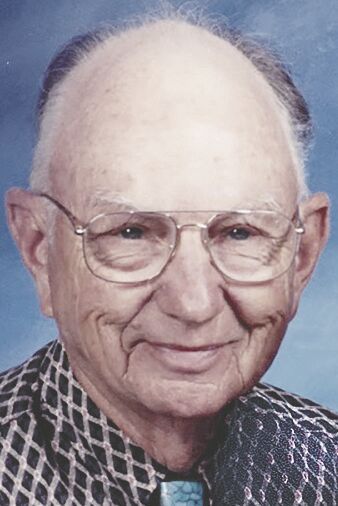 Herbert Ogden Asbury, 96, went on Angel 's wings to be with his Lord on Friday, Dec. 18, 2020. Herb was born to George Page and Mabel Mapes Asbury on Feb. 14, 1924, in Charlotte, N.C., the youngest of three children. He grew up with his brother Robert and sister Jean in Charlotte.
Herb graduated from Berryhill School in Charlotte on May 6, 1941. He attended North Carolina State before entering the U.S. Navy in 1943. He was part of the V-12 program and was sent to Cornell University in Ithica, N.Y., for basic. From Cornell, Herb went to Rensselaer Polytechnic Institute in Troy, N.Y., as part of an accelerated training program. He served onboard the U.S.S. Sangamon and U.S.S. Petrof Bay during World War II.
Herb returned to R.P.I to finish his Bachelor's Degree in Aeronautical Engineering in 1945. He stayed on to work on his Master's Degree with a specialty in helicopter design. Later in his career, he received an M.B.A. from UCLA.
In September 1946, Herb met Verna Mae Newton at the local YWCA cafeteria. They were married on Nov. 23, 1947, in Troy, N.Y., at Gilead Lutheran Church. Herb and Verna were blessed with the birth of their son Wayne in 1950.
Herb was employed by Bell Aircraft in Buffalo, N.Y. Herb worked on aeroelasticity and vibration problems on the Bell-47 helicopter, X-5, and U-2 spy plane. In 1958, Herb and his family moved to Palos Verdes, Calif., where he worked for TRW Inc. In the 1970s, he began working for NASA on staff at the USC.
He was a charter member of Good Shepherd Lutheran Church in Buffalo, N.Y. and Ascension Lutheran Church in Rancho Palos Verdes, Calif., where they resided for 32 years.
In 1990, Herb and Verna moved to Santa Maria, Calif., to be closer to their son and grandchildren, Anne, Jim and Chris. He cherished his faith family at Gloria Dei Lutheran Church.
Herb, his son Wayne and daughter-in-law Kathleen recently relocated to Berthoud, Colorado, after many years in Lompoc, California.
Herb was past president of U.S. Small Business Association - Southern California Chapter, past president of Inventor Workshop International - Southern California Chapter, and the founder and executive director of the Habitat for Humanity Northern Santa Barbara County. He volunteered at the HFH Restore and received a community service award from the Santa Maria Valley Chamber of Commerce.
Herb loved music. He played cornet for many years in the high school band and at community events. He and his wife were faithful attendees at the San Luis Obispo Symphony, where their son was principal oboist for many years. Herb was also an avid gardener and loved his roses and orchids. He gave all of his orchids to dear friends in Santa Maria before he moved in August.
Herb was preceded in death by his parents George and Mabel Asbury, his brother Robert, his sister Jean and his wife Verna. Herb and Verna were married for 61 years.
Herb leaves behind many family members and friends including his son Wayne and daughter-in-law Kathleen of Berthoud, Colo.; grandchildren Anne and Jason Kleve of Thornton, Colo., Jim and Tiffany Asbury of Lafayette, Colo., and Chris and Kelly Asbury of Norfolk, Neb.; and great grandchildren Gwen and Nathan Kleve of Thornton and Rebecca, Noah, Megan, Ashley and Hannah Asbury of Norfolk.
Services will be live streamed at 1 p.m. MST on Saturday, Jan. 9, 2021, from Summit of Peace Lutheran Church in Thornton, Colo. (summitofpeace.org).
In lieu of flowers, donations in Herb's memory may be made to the Handbell Fund at Gloria Dei Lutheran Church, 4380 Orcutt Road, Santa Maria, CA 93455 or Habitat for Humanity Northern Santa Barbara County at habitatnsbc.org.
Obituaries Newsletter
Sign up to get the most recent local obituaries delievered to your inbox.