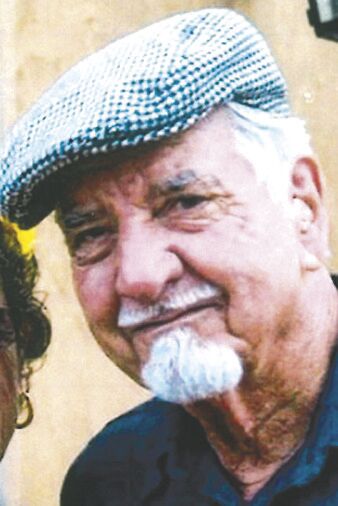 Hap was born in Long Beach, Ca (But he always insisted he was born in Orcutt) to Frank & Haidee Sweet. His parents along with his older brother Gerald moved to Orcutt in the early 40's. He attended Orcutt Grammar School and walked to Santa Maria High School. Hap did a short stint at Allan Hancock College and in 1951, enlisted in the Air Force. Most of his service years were spent in Roswell, New Mexico and England. During this time, he married is High School sweetheart Pauline Bailey, they had two children, Sheila and Paul. He was honorably discharged in 1955.
He went on to Cal Poly/SLO with the intention of getting his degree and becoming a math teacher! Well that did not last long and in 1957 he found his calling and purchased a Texaco station on the corner of Cypress and Broadway in Santa Maria. Hap was proud to call it a "full service" station with his motto of "We Grease to Please". The station was a Santa Maria hot spot, and it was soon said there was a Telephone and Telegraph and a Tella Hap. It was way more than a service station.
Divorced in 1959, he went on a blind date and within a year married his Forever Wife, Bonnie. Paul came to live with them in 1962 and in 1963, Susie came into their family. In 1968 +/- he sold the Texaco station and purchased the Mobile station down the street on Broadway and Main. Russell came along to add to the mix in 1971. Then in 1973 came a different career in the petroleum industry. Hap went to work for Magna Corp, which is now Baker International, and the family relocated to Bakersfield. Happy loved this new challenge and in 1977 relocated yet again with Baker back to his beloved Santa Maria. His 1987 retirement from Baker did not last long. He was now home all the time and Bonnie had to put her foot down. She told Hap "I married you for better or worse but not for lunch" go get a job! And a job he got! He worked for Engle and Gray, Cartel Petroleum, Southern Counties Oil and finally JB Dewar. He got to retire forever in June of 2011!
Hap and Bonnie always had a lust for travel, sometimes further than their main stay at Lake Nacimiento where they "camped" for over 40 years. They enjoyed many cruises and yearly trips to Mexico for Sun, Beer and Shrimp. They purchased a 5th wheel after retirement and off they went on all new adventures.
Hap has friends too many to count and was one of those people who knew someone wherever they went, be it in Alaska, Hawaii or Maine. It could have been that in every town his main goal was to find the local Elks lodge and have a beer or two. Hap was a life Elk member with the Santa Maria Lodge #1538 for 58 wonderful years.
Hap was a devoted Husband, Dad, Grandpa, friend, volunteer and beer drinker! Hap is proceeded in death by his son Paul Sweet. He has again joined his "Bride" Bonnie of 59 years, who passed in 2017.
He leaves behind his 3 children, Sheila Guidrey, Susie Johnson and Russell Sweet, son-in-law Russ Johnson and daughter-in-law Kathy Sweet, 6 grandchildren, 6 great grandchildren and many nieces and nephews.
In lieu of flowers, please consider a donation to the SM Elks Lodge #1538. He would love that you pour yourself a cold one with friends, toast him and share some of the wonderful stories and memories his life left us all with! Cheers to Hap!
We will announce Hap's Celebration of Life as soon as your governor approves more than 3 people standing next to each other!
To leave condolences for the family visit www.dudleyhoffmanmorturay.com
Dudley-Hoffman
Mortuary & Crematory
(805) 922-8463
Obituaries Newsletter
Sign up to get the most recent local obituaries delievered to your inbox.