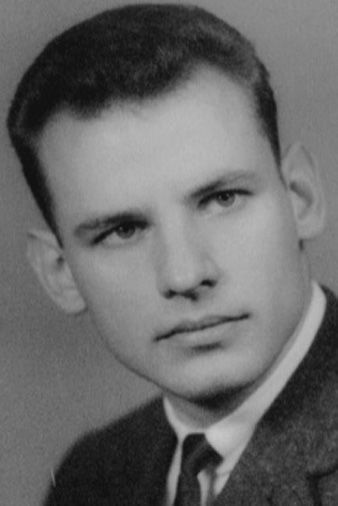 Jerry Stinn (82) passed away on December 30, 2019. He was born in Urbandale, Iowa on April 22, 1937. He attended local Catholic schools and later graduated from college majoring in Fine Arts. Jerry began his career in the arts at the young age of 16 when he entered his painting in a contest at a major museum.
He moved to Santa Maria in 1965 with his first wife, Carol, and their first child in a converted school bus with the Croft family. He was immediately offered a position teaching art at Santa Maria High School where other well-known artists such as Nat Fast and Bill Shinn also taught. Jerry is remembered by many of his students for having the "best class ever."
Jerry quickly began producing fine, hand crafted jewelry and opened up his own store which was the old mortuary building across from the Santa Maria High School. Everyone in town wanted to buy Stinn Jewelry, especially his bracelets. Jerry sold his jewelry to major museums throughout the United States. His bracelets were recently advertised in the Smithsonian Museum magazine and his jewelry has been recognized in Canada, Mexico and England. Jerry became famous in his own right and his work remains on permanent display in the Smithsonian.
Jerry was dedicated to his art which took precedence over all other activities or interests. He loved the opera and fine, symphonic music, but couldn't sing a note. He had a wicked sense of humor and was known to be a tease. He loved women and loved to design jewelry to flatter their appearance. He was a member of the prestigious noontime Rotary Club of Santa Maria and he was known to be a shaker and mover in Santa Maria.
In 1994, he met and later married Dr. Lynda M. Gantt and for 25 years Jerry has continued to say, "She is the best thing that ever happened to me." Jerry is survived by his wife, Lynda, and sons Orin (Kimberly), Jerry Jr. (Yvonne) and Bryan from his first wife. Additionally, he is survived by his step-daughters Pandora Gantt and Tara Tiffany Gantt. He has several grandchildren including; Briana, Meaghan, and Jonathan as well as, his step-grandson, Sebastian Wolfgang Herrmann, and step-grand-daughters, Christina Smith, Erica Reyes, Kayla Reyes and Brittany Reyes. He is also survived by his siblings which include; his devout sister, Sister Carmelita Stinn of Mississippi, and JoAnn Nehring of Missouri, Angie Jacobs of Iowa, and Dennis Stinn of Colorado.
Jerry was preceded in death by his parents Bertha and Edward Stinn and brothers, Vernon Stinn and Edward Stinn, as well as his sisters Hedy McQuade and Marita Duggan.
A memorial celebration of Jerry's life will be held at the Dudley Hoffman Mortuary on Saturday, January 18, 2020 at 1:00 p.m. A reception will be held immediately following the service at the Church of Jesus Christ of Latter Day Saints directly behind the mortuary on Sierra Madre in the recreation hall.
In lieu of flowers, the family asks that donations be made to the Santa Maria Philharmonic Society or your favorite charity.
Obituaries Newsletter
Sign up to get the most recent local obituaries delievered to your inbox.