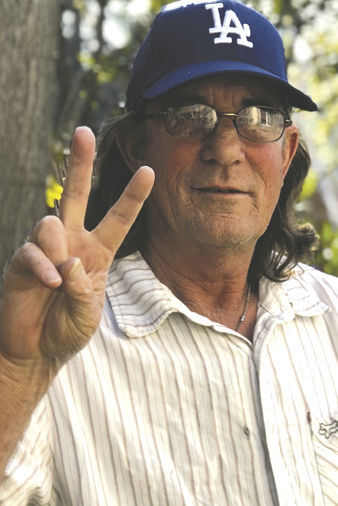 David Michael Neiggmann, devoted father, avid motocross and animal lover, accomplished barbequerer of the Santa Maria tradition, gained his wings on Friday, June 19, 2020, at the age of 62.
David was born April 2, 1958 in Santa Maria, California to Henry and LaVerne (Seiberlich) Neiggemann. He grew up alongside his big sister Nansi, in a loving family that instilled in him avid appreciation for the great outdoors, skateboarding, motorcycles, and a deep sense of patriotism that endured throughout his life. He spent many afternoons at Spillway Park as a young man, and rode motocross professionally throughout much of his youth sponsored by Quitos Mexican Restaurant. He loved nothing more than riding his dirt bike fast and fearless like a free bird diving into the wind. He Graduated from Santa Maria High School with the class of 1976. It is important to note that despite the era during which he came of age, Dave was a connoisseur of quality rock n roll and never liked disco.
After High School David served our country in the Navy and graduated from boot camp in 1977. Upon completing utility training school in Port Hueneme, Ca. he was stationed in Diego Garcia, Puerto Rico as a Seabee. David married Meredith Pipestem in San Juan Bautista, Ca. in 1978. They raised one wonderful daughter together, Carolyn, the light of Daves life whom he was immensely proud of. David was a devoted father, he made sure every day that his daughter knew she was loved and that he supported her in all things. He really loved fatherhood and was well suited to it, managing to successfully navigate the careful balance between authority figure and friend. Because of that trait in particular Dave was well loved and treasured amongst the circle of friends Carolyn grew up with.
Dave really loved animals of all kinds and shared his roof with many throughout the years. Two standouts of the group were very cherished black and white tuxedo cats; most guests to his home will recall Taz or Shoug as ever present fixtures in the forefront of any visit to Daves living room. Never limiting his love of critters only to felines, he was adopted by a guinea hen named Betty whom he greatly enjoyed befriending. Dave also volunteered as a driver for the San Benito County SPCA wildlife center for a number of years, and counted feeding and watching birds among his other hobbies.
Dave often showed his love of friends and family through the making and sharing of good food. His tri-tip game was always on point and he made a mean pot of pinquito beans. If you needed a hot plate of chile relleno to comfort you after a tough day, Dave enjoyed cooking up some of Hollisters finest. He was always a gracious host and engaging conversationalist. He loved when friends dropped in to watch supercross or a game and was a lifelong fan of the LA Rams, and diehard Dodgers fan. He was a great listener and offered true friendship and the best of classic rock n roll in steady supply. Dave will always be remembered as a humble kind hearted person who would do everything he could to help those he loved.
David was preceded in death by his father, Hank, and his father in law Gustav Papa John Flittie. He is survived by his daughter and son in law Carolyn and Jed Granger of Hollister, Ca. His Mother LaVerne Baker, and Pops Frank Baker both of Springfield Missouri. His Sister Nansi Neiggemann Vos and her husband Thomas of Avon, Minnesota. Several nieces and nephews that Dave always adoringly cheered on and supported. His best friend and brother from another mother Wesley Major and his wife Lidia of San Bernardino, Ca.
His family asks that in lieu of sending flowers donations might instead be made to Daves favorite charitable causes: The Wounded Warrior Project, The San Benito County SPCA Wildlife Center.
To plant a tree

in memory of David Neiggemann

as a living tribute, please visit Tribute Store.
Obituaries Newsletter
Sign up to get the most recent local obituaries delievered to your inbox.