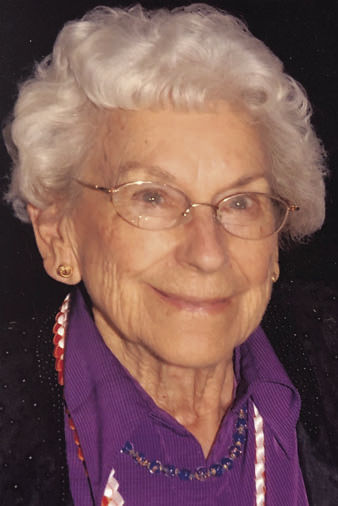 Anna Marie Hartman, beloved mother and Nana, passed away at home surrounded by her devoted family and her kitty on January 3rd, 2020 at 95 years of age. Anna was born in San Diego, California on August 18th, 1924 to Mary (Surian) and Santo Martignago, who immigrated to California from Mofoumo, Italy in the early 1900's. She was raised in the Santa Maria Valley, her parents working at several dairy farms as well as her sister, Rosie. When she was just a young teenager, she met her future Husband and great love of her life, Ervin.
They began dating right after their graduation from Santa Maria High School. The two were engaged in November 1942 while both were attending Santa Maria Junior College (now Hancock College). After their engagement, however, Ervin was drafted into the US Army Air Corps. Anna and Ervin had intended to marry in Santa Barbara, but they were unable to get an appointment with the Justice of the Peace before he had to leave for the service. Instead she drove with family to meet his train in Yuma, Arizona. On January 22nd where they were married in Yuma before he continued along to Biloxi, Mississippi to report. Anna followed shortly thereafter. They returned to Santa Maria to start their family after he was honorably discharged from the service in 1946.
Their first child, Fred, was born in 1946 with daughter Diane following in 1948. Anna became very involved with the PTA and her children's activities and continued that involvement with her grandchildren and great grandchildren, with livestock shows, soccer, football, baseball, softball games, and anything and everything in between. Anna worked at the Santa Barbara County Fairgrounds and loved helping the children in 4H and FFA. She was an active bowler for many years and took great pride in her rose garden and orchids. Upon her retirement, she and Ervin traveled all over the world on cruises, and all over the country with the Lazy Days RV group, and Escapees RV Club. Ervin and Anna were married 74 years and hardly spent any time apart until his passing in 2017.
Our Nana, though small in stature, had the biggest heart and was always smiling. Her love for her family was always apparent, and her home the meeting place for everyone to always come back to. The door was always open, and the coffee was always hot. Though she will be dearly missed by those left behind, we all take comfort in the fact that like every great love story, her and our dear Papa Ervin are reunited once more never to be apart again.
You have free articles remaining.
Anna is survived by her son, Fred Hartman, daughter Diane Sheen (Charles), Grandsons Patrick Sheen (Katrina) and Kelly Sheen (Cindi), Granddaughter Meghan Boland (Matthew), Great Grandsons Dylon, Tyler, and Travis Sheen, and Nieces JoAnn Woods, Annette Miller, and Patricia Stillman, as well as many great nieces and nephews, cousins and devoted friends. Anna was preceded in death by her beloved husband, Ervin Hartman, Parents Santo and Mary Martignago, sister Rose Albertoni, Daughter in Law Gladys Moran and niece Elizabeth Ramos. A Viewing Will be held at Dudley Hoffman Mortuary located at 1003 East Stowell Road at Noon on Friday January 10th, 2020 with a service to follow at 1pm at the same location. Reception to follow the service at a location to be determined.
To plant a tree in memory of Anna Hartman as a living tribute, please visit Tribute Store.