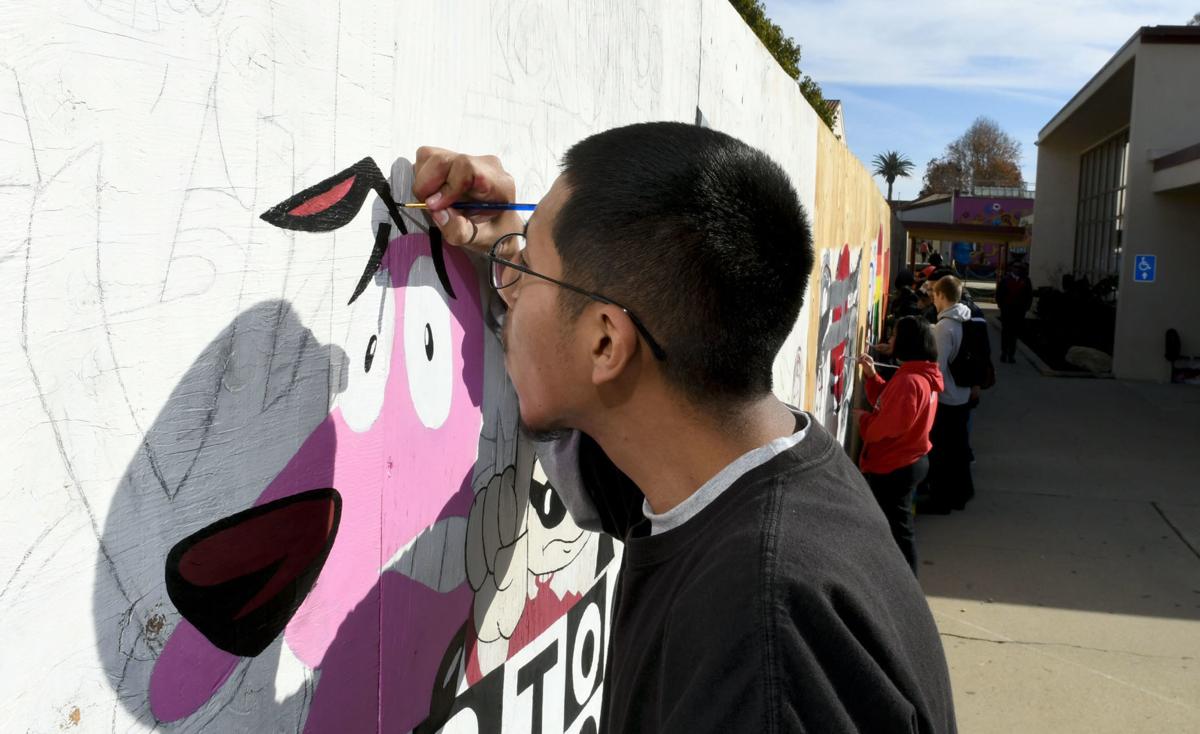 Las paredes de madera contrachapada que rodean el sitio de construcción de nuevas aulas de clases y un edificio administrativo en la escuela preparatoria Santa Maria High School (SMHS por sus siglas en inglés) pronto terminará totalmente cubierta con murales que resaltarán varias culturas del área.
Más de 70 estudiantes de SMHS están transformando más de 250 pies de paredes de madera contrachapada en obras de arte, dijo Kenny Klein, oficial de información pública del Distrito Unificado de Escuelas Preparatorias de Santa María.
Hasta ahora, los estudiantes de arte han creado una escena artística representativa del Año Nuevo Chino; otras obras están tomando forma.
"Algunas partes de nuestra escuela son bastante aburridas de observar", dijo el artista y estudiante de doceavo grado, Jesús Solano. "Nuestro trabajo hará que la escuela se vea y se sienta más creativa".
Los diseños de los murales se crean en el aula y luego son aprobados por los maestros de arte Merrie Okie-Goldin y Chelsea Greene.
Los paneles de madera contrachapada bloquean el sitio donde las cuadrillas de personal están construyendo una estructura de tres pisos y 88,774 pies cuadrados que albergará oficinas administrativas y 50 aulas.
Frente a la avenida Morrison y con un campanario y estacionamiento para visitantes, el diseño arquitectónico de la estructura complementará los edificios más antiguos e incorporará medidas de ahorro de energía como iluminación LED y sistemas modernos de control de clima, dijo Klein.
El proyecto se pagará con fondos recaudados por la Medida H, aprobada por los votantes en 2016, y se espera que se complete en la primavera de 2022.
Be the first to know
Get local news delivered to your inbox!