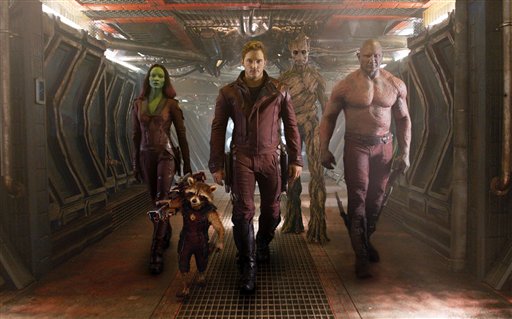 LOS ÁNGELES (AP) — "Guardians of the Galaxy" superó ampliamente las expectativas de ventas de boletos en las salas cinematográficas de Estados Unidos y Canadá durante el fin de semana.
De acuerdo con cálculos de los estudios dados a conocer el domingo, la comedia de Marvel ambientada en el espacio estelarizada por Chris Pratt y Zoe Saldaña, quienes interpretan a una banda de mercenarios intergalácticos, obtuvo 94 millones de dólares en el fin de semana de su estreno.
Antes de su estreno los analistas de ingresos en taquilla habían previsto que la adaptación de ese cómic a la pantalla obtendría entre 65 y 75 millones en Estados Unidos y Canadá.
El lanzamiento rompe la marca de mejor comportamiento en estreno para una cinta en agosto, marca que poseía desde 2007 "The Bourne Ultimatum", con 69,2 millones de dólares, y convirtió a "Guardians" en el tercer estreno con mejor recaudación en lo que va de 2014, detrás de los 95 millones que generó "Captain America: The Winter Soldier" y los 100 millones que recaudó "Transformers: Age of Extinction".
En "Guardians" también participaron Bradley Cooper y Vin Diesel, cuyas voces se usaron para los personajes generados por computadora Rocket Raccoon y Groot. Originalmente se pensó que la película podría ser una apuesta arriesgada para Marvel y la distribuidora Walt Disney porque presenta a personajes oscuros del mundo Marvel y se desarrolla casi por completo en el espacio exterior.
La compañía distribuidora de "Guardians", Disney, informó que la cinta recaudó 66,4 millones de dólares más en otros países.
No obstante los temores, al parecer la cinta será un éxito en taquilla. Días atrás, Marvel anunció en la convención Comic-Con, que se llevó a cabo en San Diego, que en 2017 se estrenará una nueva entrega de "Guardians".
En un distante segundo sitio se ubicó "Lucy", estelarizada por Scarlett Johansson, quien da vida a una mujer con capacidad de alterar las mentes, que obtuvo 18,3 millones en su segundo fin de semana de exhibición, lo que dio a esta producción de Universal Pictures una recaudación de 80 millones.
Otra cinta de Universal, la biografía del cantante de soul James Brown "Get on Up", con Chadwick Boseman como el artista, quedó en tercer lugar con 14 millones.
A continuación, las cifras calculadas por boletos vendidos de viernes a domingo en las salas de cine de Estados Unidos y Canadá, según la firma Rentrak. Las cifras finales se divulgarán el lunes:
1. "Guardians of the Galaxy", 94 millones de dólares
2. "Lucy", 18,3millones
3. "Get on Up", 14millones
4. "Hercules", 10,7millones
5. "Dawn of the Planet of the Apes", 8,7 millones
6. "Planes: Fire & Rescue", 6,4 millones
7. "The Purge: Anarchy", 5,5 millones
8. "Sex Tape", 3,5 millones
9. "And So It Goes", 3,3 millones
10. "A Most Wanted Man", 3,3 millones
Be the first to know
Get local news delivered to your inbox!