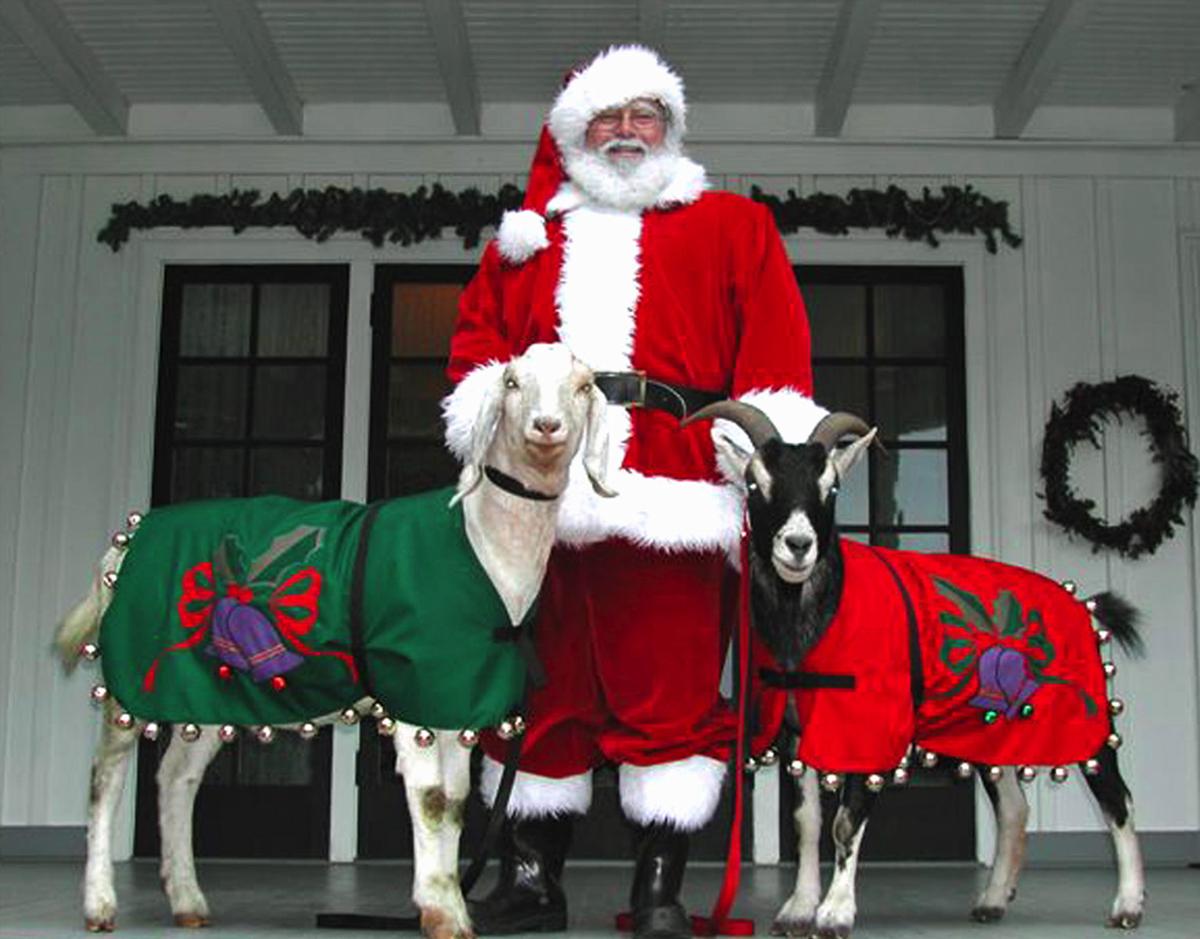 This weekend, Santa Barbara is filled with holiday events for the whole family — the annual holiday parade, "rein-goats" at Stow House, a choral Christmas concert, and more.
Four-legged Grand Marshalls
Six heroic rescue dogs are the grand marshals of Friday's Downtown Santa Barbara Holiday Parade. Chaos, Keegan, MacGyver, Mojo, Reilly, and Rica — all from Santa Barbara County Search and Rescue — ride in style in the Hot Rod Limo with their handlers. They are honored as part of the parade's theme of "Santa Barbara Shines" for their work during last year's Thomas Fire and ensuing debris flow.
See giant balloons, marching bands, community floats, performing groups, and the Holiday Prince and Fairy, selected by an art contest to light the giant Christmas tree and open the parade. Bringing up the rear is Santa Claus, riding in a special float built with the Summer Solstice Celebration. It's sure to be something to see!
Meet Santa Before the parade from 4 to 5:30 p.m. at Paseo Nuevo Shopping Center, then scurry up to State and Sola streets, where the parade starts at 6:30 p.m. It proceeds down State to Cota Street. (www.downtownsb.org)
You have free articles remaining.
Four-legged "Rein-goats"
Historic Stow House in Goleta is bedecked for the holidays, and Santa will be there this weekend with his "rein-goats" who will certainly delight kids of all ages. Enjoy house tours and holiday crafts, stories, music, and caroling at "Holiday at the Ranch" on Saturday and Sunday from 11 a.m. to 4 p.m. Prices are $5 for adults, $2 for kids and also include festive hayrides. (www.goletahistory.org)
Concert of Holiday Favorites
Expect a mix of holiday classics, seasonal favorites, and some surprises at the Santa Barbara Choral Society and Orchestra's annual holiday concert, The Hallelujah Project, on Saturday at 7 p.m. and Sunday at 3 p.m. at the Lobero Theatre.
Clement Moore's poem "A Visit from St. Nicholas" is set to orchestration and features Angela Cartwright ("Lost in Space," "The Sound of Music") as the guest narrator reading the immortal words "'Twas the night before Christmas, when all through the house…" Other guests include members of the Goleta Valley Junior High Chorus, baritone soloist Tyler Reece, and a certain "jolly" man in red. Jo Anne Wasserman is the conductor. Tickets are $25 for adults, $7 for youth. (805-963-0761, www.lobero.com)
"Holiday Memories" Spoken Aloud
Hear first person, true holiday stories read by their authors this weekend at "Holiday Memories" performances, presented by Speaking of Stories. There were so many good stories that there are two different programs, each performed twice. Full disclosure: I perform "Life is Full of Surprises" on Friday at 7:30 p.m. and Sunday at 2 p.m. at Center Stage Theater. My story is set in 1970, when I peeked at all my holiday gifts before Christmas morning, and the consequences of my snoopiness. Some stories are serious, some are heartwarming, and all are sincere. The other program is performed Thursday and Saturday at 7:30 p.m. Tickets are $28. (805-963-0408, www.speakingofstories.org)