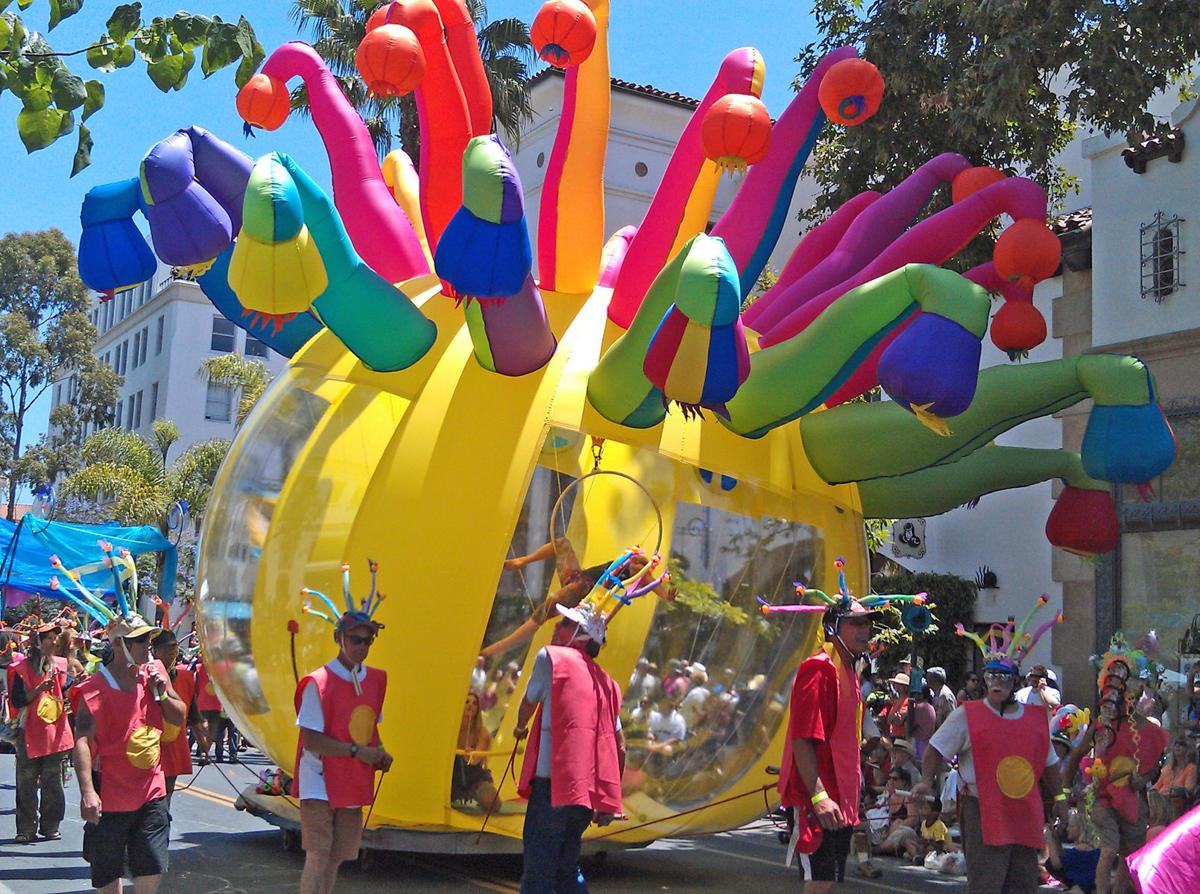 Two of Santa Barbara's most popular summer events are this weekend. Take your pick … or take in both.
Summer Solstice
The Summer Solstice Celebration is unique to Santa Barbara. What began 45 years ago as an artsy birthday celebration for a popular artist and mime is now a three-day affair and the largest arts event in the County, drawing more than 100,000 spectators and over 1,000 parade participants.
A pre-parade party is Friday, June 21 from 4 to 9 p.m. in Alameda Park. What used to be an informal pre-parade gathering on Friday night (June 21) now is organized to feature local musical and dance talents, plus several parade ensembles.
Saturday's Parade sets off at high noon from State and Cota streets. Floats are completely people-powered (no motors allowed) and ingeniously handcrafted. Music, drumming, and dancing groups are interspersed. Masks and puppets abound.
The floats are on display at the Solstice Celebration in Alameda Park for the next two days, and there's nonstop music, plus food, drink, and arts and crafts for sale. Admission is free.
You have free articles remaining.
Families don costumes and march in the Solstice Children's Parade, which starts at 3 p.m. on Sunday, June 23 near Kids' World. A dedicated stage in Alameda Park features local youngsters performing music, dance, athletics, gymnastics and more on both Saturday and Sunday.
Music Academy of the West
For the past 72 years, the Music Academy of the West has welcomed gifted young classically trained musicians and singers for eight weeks of advanced study. The students, renowned faculty and special guests also perform – a lot. Nearly 200 public events are held at the Montecito campus and in downtown Santa Barbara. Check the calendar at www.musicacademy.org.
This year's Summer Festival began on Monday with the weekday instrumental classes that are open for public viewing. Tickets to these "masterclasses" are often only $10. Solo piano masterclasses on Fridays are especially popular (and have higher ticket prices), as are the vocal masterclasses usually held on Wednesdays.
The student Festival Orchestra's series of Saturday night concerts at the Granada Theatre starts this week, but that concert is already sold-out. Tickets are still available for next Saturday, June 29, featuring returning guest conductor Larry Rachleff leading the orchestra in Shostakovich's Symphony No. 11, "The Year 1905" (the year refers to Russia's "October" Revolution).
A residency by the London Symphony Orchestra includes a concert at the Granada on Saturday, July 13 led by Daniel Harding (Swedish Radio Symphony Orchestra, Orchestre de Paris) filling in for Michael Tilson Thomas who had to withdraw due to heart surgery.
A Community Concert at the Santa Barbara Bowl on Sunday, July 14, featurs the LSO and the Festival Orchestra performing together in a program of Berlioz, Stravinsky, and Tchaikovsky; also led by Harding. Tickets are only $10.
Don't forget Picnic Concerts, usually held on Friday evenings, in which students perform chamber music. The glorious campus gardens open early for picnicking, a wonderful way to start an evening of music.