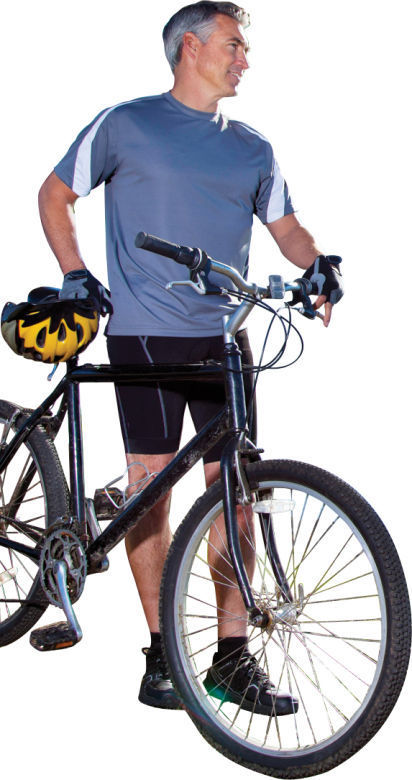 Bicycling can be a practical way to get where you're going. It can also be a fun recreational activity, either solo or together with family or friends. Remembering a few basic riding tips and knowing where paths, lanes and routes are located can help you be safe and plan your outings.
Basic riding tips
Always ride in the same direction as traffic. Motorists and other road users are not looking for bicyclists riding on the wrong side of the road. Cyclists have the same privileges and responsibilities as drivers of motor vehicles.
Signal to other drivers. Hand signals tell everyone what you intend to do: turn left, turn right or stop. Signal as a matter of law, courtesy and self protection.
Obey traffic signs and signals. Stay on a steady, predictable course as if driving a car. Don't weave in and out of parked cars because motorists may not see you when you move back into traffic. Scan behind you and signal well in advance if you intend to turn or merge into another lane.
Intersections and lane positioning
If you are turning, watch for cars, signal and merge carefully to the center of the turn lane. Make your turn occupying the same space an automobile would. If you are going straight, stay in the rightmost through lane. When in doubt at a busy intersection, pull over and become a pedestrian so you can use the sidewalks and crosswalks.
Ride a well-equipped bike
Be sure your bike is adjusted to fit you properly and is in good working condition. Important gear includes a helmet, bike lights, reflectors, patch kit and air pump. A basket or pannier can help you carry items – let the bike carry things for you.
Night riding: Use a light
State Law requires bikes to have a front light visible from 300 ft., a back reflector visible from 500 ft. and pedal and side reflectors. A red flashing rear light and wearing light colored or reflective clothing further increase visibility.
Stay out of the door zone. When riding along a street with parked cars, leave approximately 3-4 feet between you and the parked cars. The law does not require you to stay to the right or to ride in a bike lane if it is hazardous to do so.
You have free articles remaining.
Look farther down the street to anticipate changes in the road; try to avoid potholes, drain grates and other hazards. Cross railroad tracks at a right angle.
Stay off sidewalks, Yield to pedestrians
Sidewalks are designed for pedestrians. Sidewalk riding is a leading cause of bike crashes and makes you less visible to motorists. Yield to pedestrians at crosswalks and intersections; they legally have the right of way.
Many crashes occur when cars turn right into the path of a bicyclist. This can be avoided by moving out of the right hand turn lane when you are proceeding straight.
Never leave an unlocked bike unattended – keep it locked to a bike rack or in a bike locker. Use a U-lock or heavy cable and make sure to lock your wheels as well as your frame.
Alert others when passing, by using your voice ("on your left") or a bell. Watch your speed when sharing the path – dogs and children are unpredictable. Slow down and look both ways when the trail crosses roads or driveways.
Take the lane and ride with traffic. While roundabouts don't have striped bike lanes, traffic moves slowly, allowing bicyclists and motorists to share space. Bicyclists have the same rights and responsibilities as motorists while in the roundabout. Choose the proper lane position for your direction, just like a car. You can also dismount and walk your bike on the sidewalk.
Maps and other helpful resources
Bicycling in Santa Barbara County
Bicycling in San Luis Obispo County