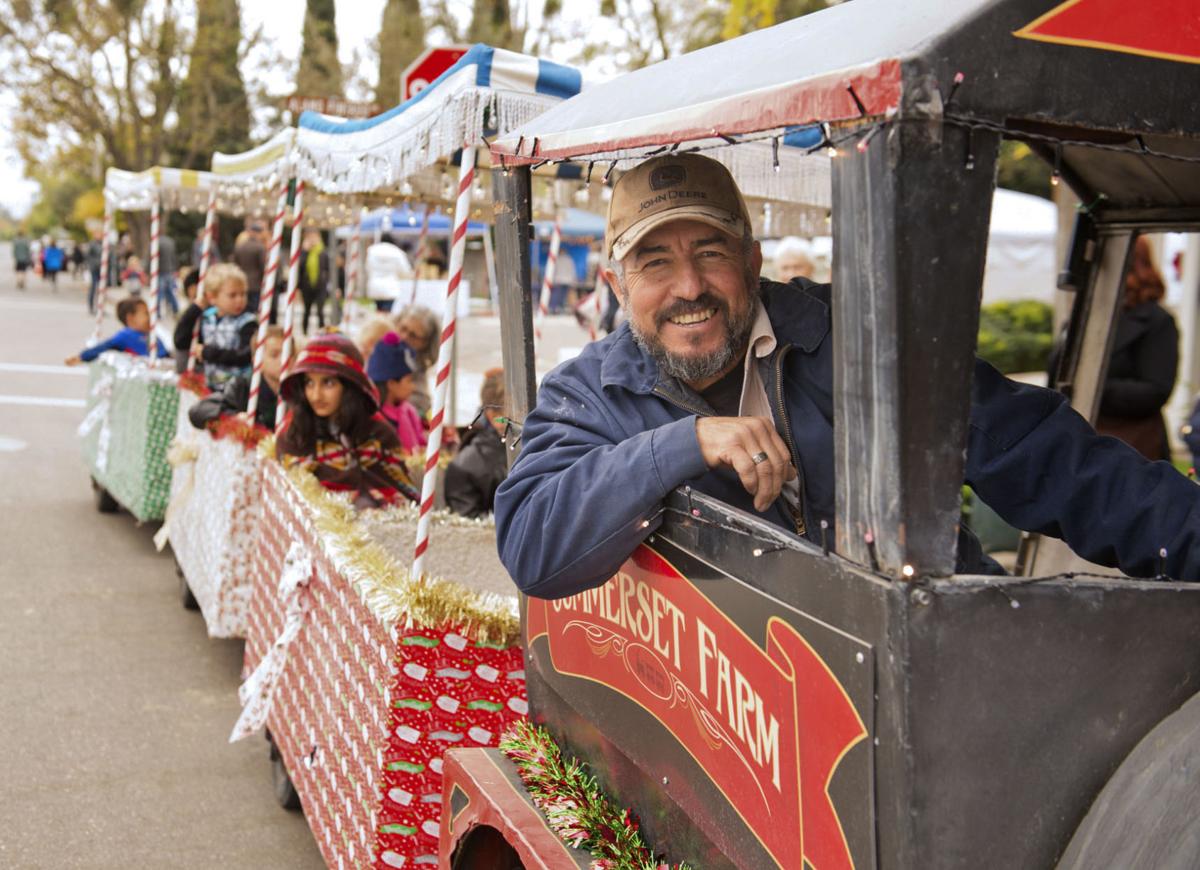 Adding to the number of family-friendly holiday events happening valleywide, Los Olivos Chamber of Commerce will host the town's annual "Olde Fashioned Christmas" celebration on Saturday, Dec. 7, featuring an open-air holiday market and fun kiddie train rides through town.
"Los Olivos' Victorian architecture gets dolled up for the holidays, and our pedestrian-friendly country roads make for an atmospheric Christmas scene brimming with unique shopping opportunities, lots of food, cheer, and family fun," explained Sandee Sanger, president of the Los Olivos Chamber of Commerce.
The festive day-long celebration kicks off at noon with an open-air holiday artisan market that will showcase the works of two dozen artists and vendors.
Christmas carolers will stroll the village's main streets, while local businesses throughout town open their doors to treat guests to special deals, live music, mulled wine and other holiday nibbles and tipples through extended evening hours.
The public is invited to enjoy a chilly Snow Zone afternoon, beginning at noon at Los Olivos tasting rooms Liquid Farm and Stolpman Vineyards, located on Alamo Pintado Avenue.
In addition to the signature holiday fare like decorative cookies, cakes and hot cocoa, for the 34th year, Judy and Ken Hyndman of 'Hyndman's …
Food trucks will be gathered near Community Craft, on Alamo Pintado between 12-6 p.m., where guests will also enjoy live music from 2-5 p.m.
Hometown singer-songwriter Bear Redell will play at Zinke Wine Co. from 1-4 p.m. on the other side of Alamo Pintado.
Summerset Farm's Christmas train will transport excited kids and their parents through the twinkling town, from 1-6 p.m. 
A petting zoo will also be on site from 2-5 p.m. at the town's main park, Lavinia Campbell, near the central flagpole.
St. Mark's-in-the-Valley Episcopal Church will transform into a Gingerbread Wonderland, from 4-8 p.m. Photos with Santa Claus in the St. Mark's Parlor begin at 4 p.m. 
The official lighting of the Los Olivos "Christmas Tree" at the flagpole in the center of downtown is set for 6 p.m. which will be accompanied by Christmas music in the adjacent park.
The small township of Los Olivos will transform into a holiday wonderland for the Los Olivos Olde Fashioned Christmas, set for Saturday, Dec. …
Throughout the evening holiday foodie memory-makers such as roasted walnuts near Evan's Ranch Wines and popcorn at Jedlicka's Saddlery, will be offered along Grand Avenue.
"Olde Fashioned Christmas is a locals-favorite event, year after year, but it also provides visitors with a family-friendly day of celebration in a town most known for wine tasting activities," Sanger said. 
For more information, visit www.losolivosca.com/los-olivos-olde-fashioned-christmas/
Christmas is here and the Santa Ynez Valley is prepared to show tourists all the holiday cheer it has to offer. Every storefront is decorated …
Lisa André covers Valley Life for Santa Ynez Valley News. 
Stay up-to-date on what's happening
Receive the latest in local entertainment news in your inbox weekly!