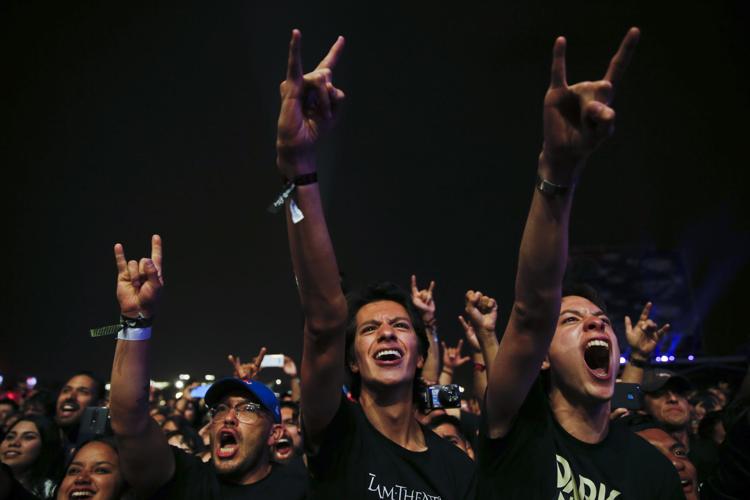 In September, the experimental rock duo 100 gecs premiered a new track to a gathered posse of avatars inside the video game Minecraft. Part of an event called the Mine Gala, it was organized and promoted by a team of real-life creators via an "independent virtual events platform" called Open Pit.
A cheeky reference to the New York art event the Met Gala, the Mine Gala offered many of the amenities familiar to those at an outdoor event: a VIP area for fans willing to pay for access; the freedom to explore various rooms and spaces; a feeling of being part of larger community; and the chance to hear artists or DJs make and mix music. It even featured an art gallery with original work.
Crucially, given the global coronavirus pandemic wreaking havoc on the spring concert season, the humans controlling the hundreds of avatars in attendance never physically interacted, so they couldn't spread real-life germs.
As the forecast for the 2020 festival season becomes more dire by the hour, fans, promoters and creators are facing an uncertain summer. With the road no longer calling, musicians may be forced to experiment with new modes of self-expression.
Listeners addicted to live music, and those whose livelihoods depend on touring, have options. Even if they don't scratch the exact same rhythmic itch, fans needing to let loose in the living room can look to screens for immersive musical events. Artists hoping to recover lost touring income can broadcast sets, charge fans a cover and market their T-shirts and records.
Whether through online pay-per-view and streaming portals where thousands of hours of live music events are broadcast and stored, or in the digital realm, where multiplayer online games, platforms such as Twitch and virtual reality headsets allow for a different sort of communal music experience, those looking to sate their live music hunger have a menu's worth of options. (And, of course, there's always YouTube.)
Here are some more services, platforms and stations offering COVID-free interactive music experiences.