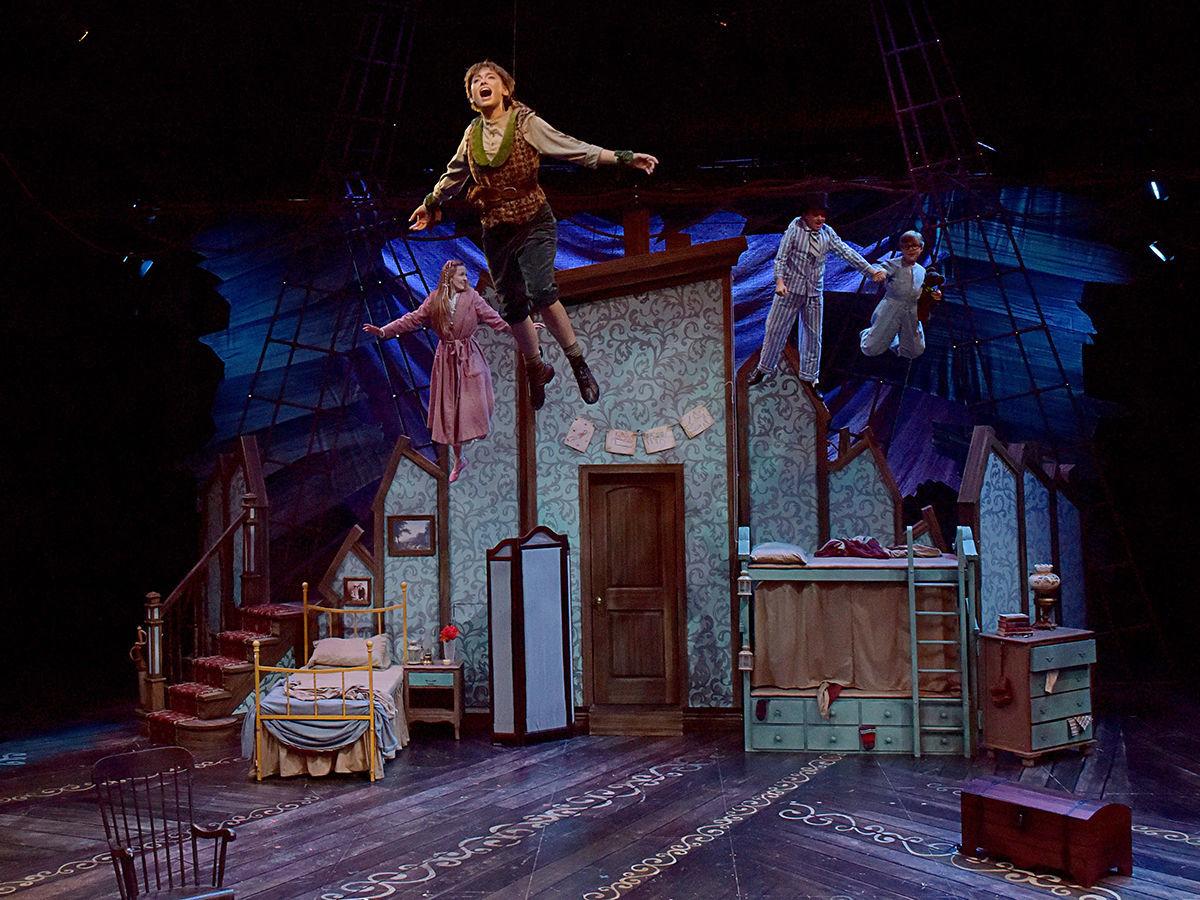 Peter Pan first appeared onstage in London in 1904, and he's seldom left the spotlight since. The legendary "Boy Who Wouldn't Grow Up" is the creation of playwright and novelist J. M. Barrie.
Barrie's play was adapted into a Broadway musical in 1954. Many people have grown up watching this version, through numerous stage productions and TV broadcasts. (This "Peter Pan" is not to be confused with Disney's 1953 animated musical.)
Most of the score was written by composer Morris "Moose" Charlap and lyricist Carolyn Leigh, with additional material by composer Jule Styne and lyricists Betty Comden and Adolph Green. The score is largely upbeat, with a classic Broadway sound.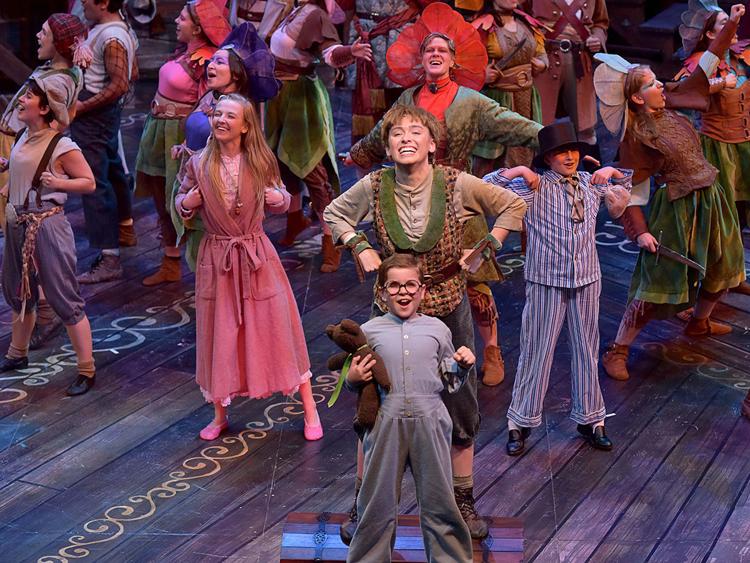 The story begins in the nursery of the Darling household. In Jason Bolen's fanciful set, the edges of the walls form an outline of the chimney-filled London skyline. The backdrop features a stylized Big Ben, as seen from a low angle. (A child's point of view?)
Even the back of the theater is decorated with a row of tiny lanterns, suggesting that the "stage" fills the entire space. Small, hanging lights above will later become a starry sky. (Lighting design by Tim Thistleton.)
Children Wendy (Madison Davis), John (Maddie Almaguer/Beck Mortensen at alternating performances) and Michael (Joss Robertson/Clare Guyader) are playing before bedtime, while Mr. and Mrs. Darling (George Walker and Emily Trask, respectively) are getting ready for an evening out.
The whimsy begins here in the "real world." The children's nursemaid, Nana (Whitney Bacon), is a dog. This dedicated actress deserves some credit. She crawls around on all fours, barks and closes doors with her doggy nose.
Furthermore, Mrs. Darling recently saw a boy hovering by the nursery window. Mr. Darling has little patience with all this childish nonsense, setting up Walker's other role as Captain Hook.
Once the parents are out for the evening, Peter Pan (Chynna Walker) flies in the window, along with his pixie companion, Tinkerbell (represented as a point of light.) Soon, the three Darlings are accompanying them back to Never Never Land, a magical island where children never grow up. But how do they get there? Fly, of course.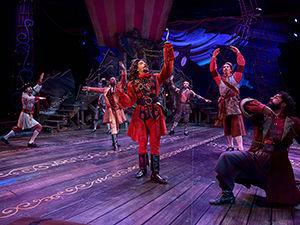 All the children need to achieve lift-off are happy thoughts, a pinch of fairy dust, and an elaborate system of pulleys, wires and harnesses. Initially, the mechanism is very conspicuous, but as the show works its charms, the illusion becomes more and more convincing. By the end of the evening, the audience is practically lifting up out of their seats along with Pan. Helping this along is the delightful flight choreography, performed by a graceful, energetic cast.
Besides soaring overhead, actors also run up and down the aisles, and even climb over dividers between the stage and the audience.
The loose, relaxed plot allows for funny business, spectacle and just hanging out with Pan. It takes some time just to leave the Darlings' nursery, though that makes for a good buildup to the big flight to Neverland. It's also during this sequence that Peter sings some of the show's most memorable melodies, "I've Gotta Crow," "Never Never Land" and "I'm Flying."
You have free articles remaining.
On the island, Wendy and Pan play "mother" and "father" to Pan's troop of "Lost Boys" (Kyle Burrow, Joshua Ponce, Alex Guersman, Gisela Feied, Jonathan Valerio and Sabrina Orro). Pan is tasked with giving the kids their daily lesson. The leads into another of the show's catchiest tunes: the high-spirited anthem of youthful defiance, "I Won't Grow Up."
Chynna Walker delivers these numbers with great verve and strong vocals. She makes a wonderful Pan -- impish and swaggering, but always with a sympathetic sense of innocence. She later shouts "I am youth, I am joy, I am freedom!" and really seems to believe she is all those things.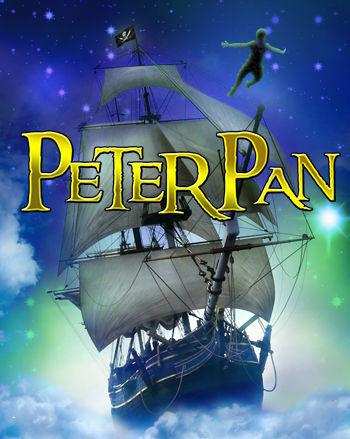 Davis is sweet and sincere as Wendy, and has a lovely singing voice. Much of the show's drama comes from Wendy's romantic feelings towards Pan, and her frustration that he's unable to understand them.
Her lullaby "Distant Melody," which becomes a duet with Pan, packs an unexpected emotional gut punch. She also has a particularly funny bit, explaining the endings of various popular stories to the Lost Boys.
There's not a lot of specific business for John, Michael or any of the Lost Boys. However, their collective enthusiasm gets us hyped up as well. The Lost Boys' desperation for a mother also adds to the show's heart.
Tinkerbell, meanwhile, seems to vanish for half the story, then turns up in Act Two for the famous "clap for Tinkerbell" scene.
But what would Neverland be without a bit of danger? Enter Captain Hook. George Walker is transformed into the flamboyant pirate with a big red coat, piled-high wig and curled mustache.
He overflows with fiendish glee as he sings about baking Pan a poison-filled cake. Still, this Hook is light on menace and heavy on comic buffoonery. Walker has good timing, and gets some big laughs just from the pirate's peculiar manner of speech.
Hook lives in terror of a crocodile that pursues him. He explains to his first mate, Smee (Amani Dorn), that he wants revenge on Pan for cutting off his hand and throwing it to the crocodile. Why doesn't Smee already know these basic facts about his boss? Most people know this about Captain Hook, and we don't even work for him!
As with the Lost Boys and Pan, Smee and the other pirates mostly build up Hook and act as his chorus – and likewise, they do an excellent job of it.
One challenge in any modern production of "Peter Pan:" what do you do with the "Indians" that inhabited Barrie's Neverland? In earlier productions of the musical, they were a 1950s Broadway idea of a 1900s British idea of a child's idea of Native American culture. The new version is more firmly rooted in fantasy. Now referred to as the "Brave Girls," the tribe resembles forest sprites, with giant flowers for headdresses. Their leader, Tiger Lily (Katie Fuchs-Wackowski), is not the most developed character, but the actress/dancer has a strong presence in the role.
Emily Trask also plays the adult Wendy, who again, ambushes us with tear-jerking emotions.
The production delivers everything you'd expect from PCPA: Colorful costumes (Eddy L. Barrows) big dance numbers (Choreography by Fuchs-Wackowski) and swashbuckling swordfights (fight choreography by Peter S. Hadres, who also plays a pirate).
In the program notes, Director Mark Booher said he wanted his production to be "immersive," and indeed it is. "Peter Pan" is a holiday treat for the whole family.