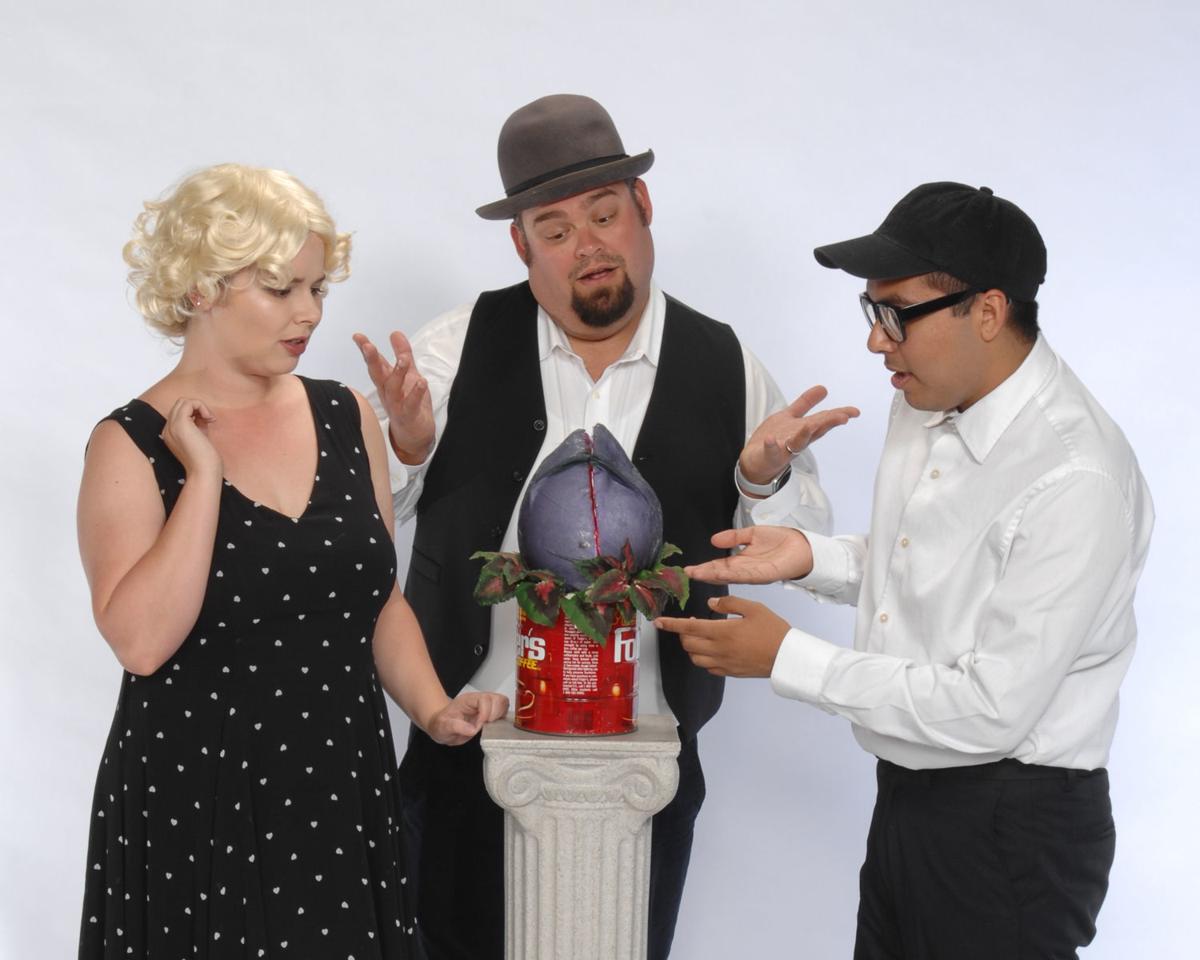 Santa Maria Civic Theatre seems to have started a new tradition: a Halloween-appropriate musical for October. It began with last year's "Young Frankenstein." This year, the monster taking root in our fair city is the monstrous plant from "Little Shop of Horrors."
Alan Menken and Howard Ashman found the basis of a hit musical in the most seemingly unlikely of places: Roger Corman's campy 1960 horror-comedy, "The Little Shop of Horrors."
The musical premiered off-Broadway in 1982. The 1986 movie adaptation of the show was well received, but infamously softened the story's ending. Ashman and Menken's original vision was a cautionary tale about selling out. "Whatever they offer you, don't feed the plants!"
The duo subsequently went to work for Disney. Okay, there's a little irony there, but they did produce the beloved scores to "The Little Mermaid," "Beauty and the Beast" and "Aladdin" (the latter, with Tim Rice.) "Howard," a documentary on the late Ashman, was released earlier this year.
"Little Shop" showcases Menken's irresistibly catchy and moving melodies. He fills his score with the sounds of pop and rock music from the story's early 1960s setting. Ashman's book is offbeat and his lyrics are sharp.
The story takes place in a location known only as Skid Row. A collection of deliciously dingy buildings fills SMCT's intimate stage. There's a trash can that looks like it could be inhabited by Oscar the Grouch. The "street" is strewn with – this is the most terrifying part of the show for a critic – crumbled up newspapers! Mushnik's Flower Shop is on a turntable, allowing for quick scene transitions between the interior and exterior. (Set design uncredited.)
Seymour Krelborn (Jaime Espinoza) works at the failing flower shop. He believes that his exotic new plant, a flytrap that mysteriously appeared during a solar eclipse, will lure in customers. Hoping to impress his co-worker/secret crush, Audrey (Jordan Mills), he names the plant. "Audrey II." His boss, Mr. Mushnik (Josh Michelsen), laughs in his face, but the plant draws crowds of fascinated onlookers. Soon, business is booming. There's just one little catch: the plant eats blood...human blood!
Three local urchins, Chiffon (Angelica Jeunke), Crystal (Lynda Mondragon), and Ronette (Kimberley Washington) transform into a doo-wop girl group that acts as the show's Greek chorus.
The "Prologue" sets the tone: buoyant music with wacky-yet-menacing lyrics. "Shing-a-ling, what a creepy thing to happening! Shang-a-lang, feel the strum and drang in the air!" The combination of the musical style and the B-movie tropes creates a sort of nostalgic fusion.
The song "Skid Row (Downtown)" kickstarts the plot, as Seymour and Audrey urgently sing of their desire to leave the neighborhood behind. The song ends in a powerful counterpoint between the more hopeful Seymour and Audrey and the downbeat ensemble.
Espinoza is a strong lead as the put-upon geek Seymour. He comes across as genuine and earnest, even when he's begging a plant – in song – to "Grow For Me." He brings a sense of drama to Seymour's sung interior monologues throughout the show, as the plant leads him down a dark path.
As Mushnik, Michelsen lends a bellowing voice to this archetypal loudmouthed boss. He and Espinoza get some laughs with the comic choreography of their tango duet, "Mushnik and Son." (Musical direction/choreography by Christine Fogh.)
You have free articles remaining.
As Mushnik tries to shoo the urchin trio away from his shop, Jeunke, Mondragon and Washington infuse their sarcastic responses with attitude. As the Greek chorus, they strut around Skid Row, wearing various dazzling doo-wop dresses. (Costume design by Sarah Buchanan.)
Playing Audrey, Mills dials down the character's ditziness, compared to the Off-Broadway/movie actress, Ellen Greene. She focuses more on the ingenue's innocence and insecurity. However, she still gets laughs with her delivery of some of Audrey's sillier lines.
Arguably the most famous song in the score is her solo, "Somewhere That's Green." It's the type of sympathy-winning "I want" song that Ashman and Menken are masters at writing (it's like the proto-"Part of Your World") and Mills has a lovely voice for it. Audrey shares her idealized vision of 1960s suburban America: "There's plastic on the furniture to keep it neat and clean, in the Pine-Sol scented air, somewhere that's green!" The song manages to be both satirical and sincere at the same time.
Another standout number is the soaring love ballad "Suddenly Seymour," which is played totally straight.
Standing between Seymour and Audrey are two flamboyant villains, who thoroughly relish being evil.
Jim Dahmen plays Dr. Orin Scrivello, DDS, Audrey's utterly despicable abusive boyfriend. It's amusing to see the familiar SMCT regular in a greaser wig and leather jacket, thrusting his pelvis as he sings about dentistry with sadistic glee.
Then there's the plant, which slowly grows larger and hungrier. Eventually, it opens up its trap and says, "Feed me!"
Audrey II is represented by a puppet, assembled by the apparently craft-savvy Sarah Buchanan. Angela Fogh, Irene Dahmen and LaRonda Lewis are its puppeteers over the course of the show, while Lewis provides the voice throughout.
The monster tempts Seymour into feeding it blood with the Motown-esque "Feed Me! (Git It)." Lewis' voice is well-suited to the musical style. The puppet mouth appears a bit cumbersome for matching lip-movements during the rapid-fire patter of the number.
Lewis enjoys hamming it up when the plant throws a hunger tantrum. "Feed me, Krelborn, feed me NOW!" Some creative make-up and costuming allows the performer to eventually emerge from the giant pod and wreak havoc.
Campy death scenes were promised in the opening – "Watch 'em drop! Little shop of horrors! No, oh, oh, no-oh!" – and the show delivers. These make for some Halloween season fun, while still bringing home the show's message.
Jim Dahmen is a one-man supporting cast. Besides Orin, he also plays various other roles. Irene Dahmen is no slouch either. Not only is she one of the puppeteers, she also appears as two very different characters. Children Angela and Will Fogh and Ian Dahmen are all adorable in small roles.
Director Cody Fogh has brought another ambitious, energetic musical production to the SMCT stage. Musical theater fans, go feed yourselves to this plant.