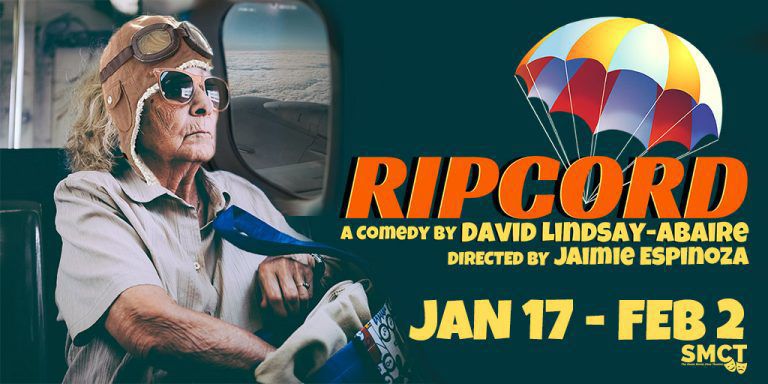 The playwright is David Lindsay-Abaire, who's known for his Pulitzer-winning drama, "Rabbit Hole." One of his earlier comedies, "Kimberly Akimbo," was performed at Santa Maria Civic Theatre in 2018.
SMCT's production of "Ripcord" is directed by Jaime Espinoza, who previously helmed the similarly quirky "25th Annual Putnam County Spelling Bee."
Abby (Maureen Staunton) is the most cantankerous resident of her retirement home. She's trying to get her overbearingly bubbly roommate, Marilyn, (Sally Buchanan) to move out. They're kind of like an older, crueler "Odd Couple." (It's a better representation of that concept than the actual "Odd Couple II.") But Marilyn has a high tolerance for Abby's behavior, because her late husband was the same way. (His nickname was "Grumps.") Besides, she claims to have given up anger.
Their apartment (set design by Grant Crowl) makes a cozy backdrop for a two-woman war.
Staff member Scotty (Kaitlyn LaCasse) tries to keep the situation under control. He's also an aspring actor who's performing in a haunted house. Abby's cajoled into accompanying Marilyn there.
The single set is transformed into "Beelzebub's Den," by way of red lighting, fog machines and creepy sound effects. (Lights and sound by Jordan Mills) The two ladies encounter various costumed characters, like an Igor-type servant and a maniacally-cackling clown. This is a fun sequence.
Abby says the haunted house didn't scare her – nothing does. So the pair make a bet: Marilyn will leave if Abby can make her angry, but if she scares Abby instead, she gets the bed by the window. There's only one rule: don't tell Scotty.
It's a sitcom setup, and some of the more over-the-top comedy scenes feel as if they are straight out of a sitcom. During the more dramatic scenes, the play goes to some dark places and feels surprisingly real.
The interplay between the leading ladies is what drives the production. The pair previously portrayed bickering sisters in SMCT's production of "August: Osage County." Buchanan played Violet, the "Abby" of that play. Here, she's the polar opposite, showing her range. Costumer Sarah Buchanan helps the transformation along, dressing her in loud floral-pattern blouses and eccentric-looking head scarves.
Staunton gives herself over to her character's vicious nature, but lets us glimpse enough sincerity to keep us invested.
Both women will to go to any lengths to win. Perhaps this is what Abby needs, as she's so set in her ways, a more reasonable experience wouldn't get through to her. She's like Ebenezer (or Abby-nezer) Scrooge in that sense. As for Marilyn, don't let her cheerful demeanor fool you. As Abby comments, "She's diabolical."
A couple times, they take things so far, I'm left to wonder, "how are these characters not in jail by the end?" But it is a comedy, so it's best not to take those parts too seriously.
Marilyn's family assists in her shenanigans. They reside on the more farcical side of the play. Meg Woods plays Marilyn's aggressive daughter, while Chris Rogers is her timid son-in-law. Paul Chavez appears as the eldest brother, a comically exaggerated skydiving instructor.
Yes, the title's not just a metaphor – there's skydiving in this play. With dim lighting and more fog, we're suddenly mid-air. The cast sells the idea that they're free-falling thousands of feet with much shouting and comic arm flailing.
Late in the play, Chavez also makes a brief but emotion-packed appearance as Abby's estranged son.
The play's conflicting tones don't quite meld together, but they do at least sit comfortably enough beside each other to make the play work. Watching two equally stubborn people mess with each other's lives is both funny and sad. Come to SMCT and pull the "Ripcord" for yourself.
The production runs through Feb. 2, Friday and Saturday evenings at 7 p.m. and Sundays at 1:30 p.m. SMCT is located at 1660 N. McClelland St. Tickets are $15, with discounts available for SMCT members, military, students and seniors. For info or tickets, visit smct.org, or call (805) 922–4442.
Stay up-to-date on what's happening
Receive the latest in local entertainment news in your inbox weekly!