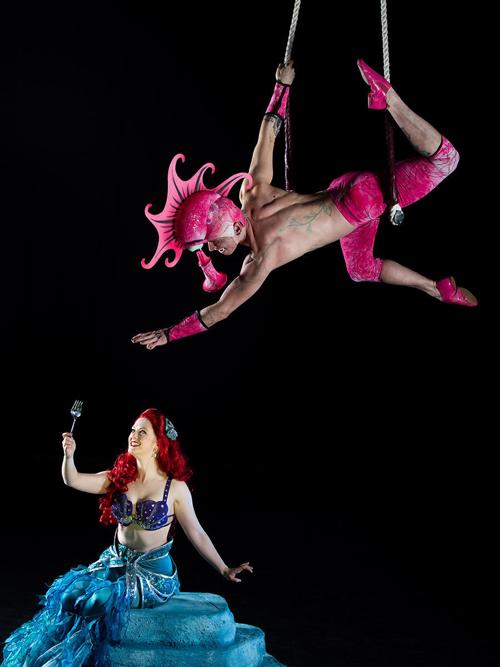 Based on Hans Christian Andersen's beloved story and the Disney animated film, "The Little Mermaid" tells a tale of longing, love and sacrifices, as princess Ariel risks everything to join her prince on land.
Meet the majestic King Triton and the malevolent sea witch Ursula, as a host of Ariel's undersea friends and enemies battle to rule the future in an adventure that will capture your heart. This magical musical includes such irresistible hits as: "Under the Sea," "Kiss the Girl," and "Part of Your World," along with 10 new songs.
Director Melissa Rain Anderson and New York City's 2 Ring Circus collaborate to bring breathtaking aerial feats to this spectacular holiday production. Anderson calls the play a hero's journey. Ariel gives up her family, her home, and even her own bodily form for the chance to become what she knows she truly is.
"Ariel proves to be an exceptionally brave creature. Our hero has friends who help her along the way and we see true friendship tested throughout," Anderson said.
You have free articles remaining.
The director described some of the unique features of this production.
"We have created a very special show using circus elements to create the world for this incredible journey. We have characters in the air to create a more vertical space for the underwater scenes. There are sailors on ropes, swans and flamingos on hoops in the air, mermaids on silks and several other surprises! We use dancers as water and waves and extensions of Ursula's tentacles. We are creating a fluid dance piece with motion on the ground as well as in the air, set to the lush familiar score we all love from the movie. It is a magical, moving journey for all ages!"
In addition to Anderson and 2 Ring Circus, the creative team includes: guest artists: choreographer Adam Cates and sound designer Elisabeth Weidner, music director Brad Carroll, and resident artists: music director Michael Wilkins, fight choreographer Peter S. Hadres, scenic designer Jason Bolen, costume coordinator Sara Curran Ice, lighting designer Jennifer 'Z' Zornow and stage manager Laura Danek.
The large cast of 22 features guest artists Katie Emerson as Ariel, Joshua Dean as sailor/ensemble, Ben Franklin as chef Louis/ensemble and resident artists Erik Stein as King Triton, Yusef Seevers as Sebastian, George Walker as Scuttle, Kitty Balay as Ursula, Peter S. Hadres as Grimsby and Katie Fuchs-Wackowski as Mersister/ensemble.
Disney's "The Little Mermaid" opened on Broadway in 2008 in the Lunt-Fontanne Theatre, replacing Disney's "Beauty and the Beast" and was nominated for two Tony Awards that year including best original score. The cast recording received a Grammy nomination for best musical show album and was also recognized by the Outer Critics Circle and Drama League. In addition to its many successful regional productions, Disney's "The Little Mermaid" has been produced internationally including The Netherlands, Philippines, Russia, Japan, Denmark, Brazil and Belgium.
For some people, the winter holiday season is their favorite time of the year. For others, it may be Thanksgiving or various other special hol…
Solvang Theaterfest has elected Jean-Paul Demeure to its board of directors.
Lisa André covers Valley Life for Santa Ynez Valley News.