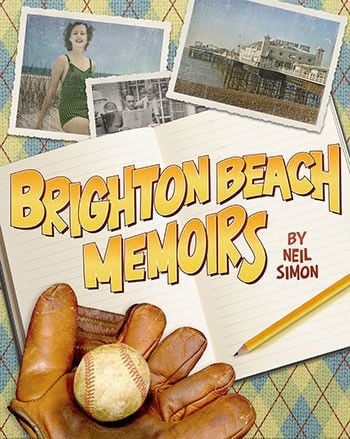 The heart-warming and witty memoir from Neil Simon, Brighton Beach Memoirs is the first of his autobiographical trilogy of plays (with Biloxi Blues and Broadway Bound).
Eugene is dreaming of baseball and girls while coping with life in Depression-era Brooklyn with a formidable mother, an overworked father, and a worldly older brother. Throw into the mix his widowed Aunt Blanche, her two young (but rapidly aging) daughters, and you have the perfect recipe for teenage struggle and family hilarity.
Director Roger DeLaurier said of Simon, "He's a very precise writer, which is one of the things in working on this play I've really come to respect in terms of how he shapes and builds scenes and the rhythm of the scenes. It's really well-crafted writing and I don't think I'd ever really given him the credit to be that kind of writer. It is really great theatrical writing. And that's been a pleasure to find out."
One of the challenges, according to the director, will be finding the inner life of this family who within their small lives are surrounded by some very large world issues. It's the middle of the depression, the war is coming, and soon refugees of the family will be coming over from Poland escaping the holocaust. "It's this simple small family struggle inside this bigger context. And, there's a lot of comedy in it.
When you look at a play, you look at its structure and action. And the action of this play is the development of these family relationships over time. And those relationships are facing struggle and dilemma and moving through them. So that has got to be attacked really honestly and truthfully. And then the humor comes out of that. Because, people in stressful moments say and do really outrageous and funny things."
The Brighton Beach Memoirs creative team includes: Scenic Designer Jason Bolen, Costume Designer, Eddy L. Barrows, Lighting Designer Cody Soper, Sound Designer Mitchel Hampton, Voice/Dialects Andrew Philpot and Production Stage Manager Christine Collins*
The cast features Resident Artists Polly Firestone Walker as Blanche Morton, Kitty Balay* as Kate Jerome, and Don Stewart* as Jack Jerome. Also cast are Conservatory students Isaac Capp as Eugene Morris Jerome, Jana Price as Laurie Morton, Romy Evans as Nora Morton, and Cameron Vargas as Stanley Jerome.
The play opened on Broadway in 1983 and closed in 1986 after 1,299 performances. It was nominated for four Tony Awards, winning two: for Best Actor (Matthew Broderick) and Best Direction (Gene Saks). Broderick also won the Theatre World Award and was nominated for a Drama Desk Award. The New York Daily News hailed it as "Simon's funniest, richest, and consequently the most affecting of his plays."
Simon's screenplay for the film was released by Universal Pictures in 1986 featuring Jonathan Silverman as Eugene and Blythe Danner as his mother Kate Jerome. It was directed by Gene Saks who directed many of Simon's plays and motion pictures.
Neil Simon is widely regarded as one of the most successful, prolific, and performed playwrights in the world. At one point he had four successful plays running on Broadway. His accolades are unparalleled having received more Oscar and Tony nominations than any other writer; in addition to top awards from the Emmys, Writers Guild of America, Golden Globe, Drama Critic's Circle, and Outer Critics Circle.
In 1983, the Shubert Organization changed the name of the Alvin Theatre to the Neil Simon Theatre, giving the author the distinction of becoming the first living playwright to have a Broadway theatre named in his honor. In 1991 he was awarded both a Pulitzer Prize and Tony Award for his play Lost in Yonkers.
Recommended for ages 12 and up.
A Prologue, 30 minutes prior to curtain, is scheduled for Sunday, Feb. 23 before the 1:30 p.m. matinee with members of the cast or artistic team to offer a glimpse into the artistic process of the show. Also, a Talkback with members of the cast, crew, and artistic team will discuss the show directly following the evening performance on Friday, Feb. 28.
Stay up-to-date on what's happening
Receive the latest in local entertainment news in your inbox weekly!