From the unique mind of Christopher Durang, "Vanya and Sonia and Masha and Spike" comes to the PCPA stage. The playwright is probably best-known for his controversial 1979 religious satire, "Sister Mary Ignatius Explains It All For You." In "Vanya ...," Durang takes themes and characters from the classic plays of Anton Chekhov, and weaves them into a narrative about a modern American family. It premiered on Broadway in 2012 and won the Tony Award for Best Play.
It's a familiar setup for dramedy: Grown-up siblings try to enjoy a weekend together, but it turns into a nightmare of petty squabbles. However, the story takes a lot of interludes into the more absurd, surreal part of Durang's brain. This makes the play both more distinctive and more esoteric. Still, it's more grounded in reality than some of the playwright's work.
The setting is an old country house in Bucks County, Pennsylvania. The exterior of the upper story looms overhead, while the living room thrusts out onto the stage. It's almost as if the inside of the house is spilling out. Many small details create a sense of history to the space -- an accumulation of books and knicknacks, an old disused typewriter, a bicycle lying out front, a rowboat by the (implied) pond. (Set design is by Kent Homchick).
Sonia, played by Anne Guynn, brings Vanya (Peter S. Hadres) his morning coffee, calling him "Dearest Vanya" in a Chekhovian manner. But Vanya already got himself a cup of coffee. This sends Sonia into a downward spiral. Giving Vanya his coffee, she says, is the highlight of her day. Vanya, for his part, just wants his original cup and cannot let the subject drop. Eventually, Sonia throws her cup to the floor (as shown on the play's poster). Guynn puts a lot of passion into this move, sending shards flying everywhere.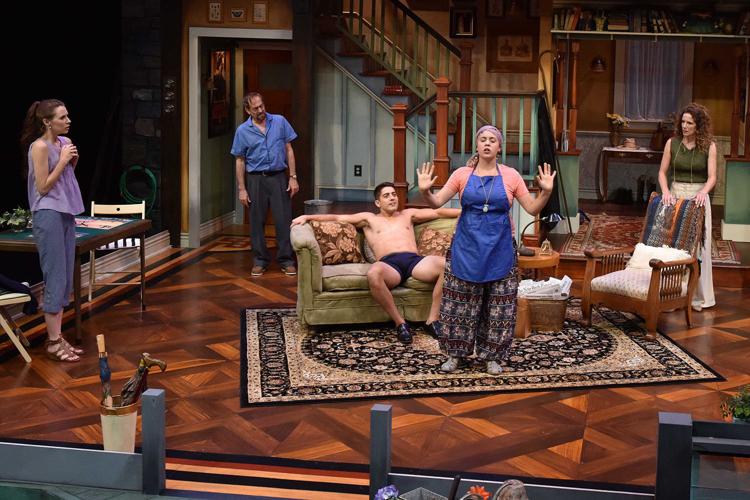 Vanya and Sonia seem like they're a long-married couple, but in fact, they're brother and sister. The pair spent much of their adult life taking care of their parents, who have since died. Both siblings feel as if they've missed out on "having a life," neither having had a career or romance. Meanwhile, their sister Masha (Polly Firestone Walker) is a globetrotting movie star who's burned through five marriages. Her latest flame is a much younger actor named Spike (Sam Bravo). His claim to fame is that he was "almost cast" in HBO's "Entourage 2."
The main siblings were named for Chekhov characters by their professor parents, which Vanya notes got them teased as children. It's likely that if you're more familiar with Chekhov than this critic, you'll get even more out of the play. But if not, Durang works in a vast array of other cultural references, so there should be something for everyone. The playwright also provides a number of quotable comedic lines. Sonia, in particular, has some very funny responses, delivered with dry sardonic wit by Guynn. At one point, Vanya suggests she should take some antidepressants. "If everyone took antidepressants," she replies, "Chekhov would have had nothing to write about."
Another funny exchange: When Vanya asks the adopted Sonia if she has any nice fantasies about her birth parents, her response is simply, "No."
The cup shards are cleaned up by Cassandra (Annali Fuchs-Wackowski), the psychic cleaning woman. Like her namesake from Greek mythology (yes, Durang throws that in, too), she makes predictions that nobody believes. Speaking with a thick, indeterminate accent (it sounds Mexican/Russian), she's constantly screaming "beware!" which she pronounces "be-WAR!" Most of the time, she doesn't even know what she's warning people about, as when she declares, "Be-WAR of Hootie Pie!" Later, Fuchs-Wackowski radiates infectious glee when sticking pins in a voodoo doll.
Vanya and Sonia's comfortable routine of misery is broken up by the arrival of Masha, and chaos ensues. Her egomania collides with Sonia's self-pity. Later, Masha's siblings discover she's thinking of selling the house. And all the while, her attention-seeking lover is constantly trying to lose his clothes so he can show off his muscular body. (Appropriate to the character, Bravo is impressively ripped.) Vanya can't help but ogle him, which gives Hadres some amusing comedic business.
All the performers put a lot of animation and enthusiasm into the more over-the-top farcical elements of the show. Much of this is handled by Firestone Walker, playing the archetypal diva, and Bravo as vapid boy toy.
Masha invites her siblings to a swanky costume party at "the Dorothy Parker house." Much to her dismay, Spike also invites a young neighbor, Nina (Madison Shaheen). She's an aspiring actress who idolizes Masha. The movie star, in turn, seethes with jealousy, but Nina seems oblivious to it. Masha insists that everyone's costumes follow the theme of "Snow White." Casting herself as the leading princess, she tries to force everyone else into supporting roles. She wants Spike to be her Prince Charming, even though he'd rather dress up as a rap star. Nina gets the role of Dopey, symbolizing how cynical society views optimism as something to ridicule.
Costume designer Sara Curran Ice has a lot of fun with the the costume party aspect of the show, making for some hysterical visual humor.
Later, Masha claims nobody at the party recognized Disney's Snow White. This is odd, considering she's part of the ubiquitous Disney Princess merchandising line, which existed when the play premiered. Also, while the costume resembles the Disney character, it includes a shepherd's crook that has nothing to do with her. (The crook is referenced in the dialogue, so it's not a decision by the costume designer.) Possibly, this is some kind of inside joke.
Some may find the ever-griping characters off-putting. However, there is also some heart to the play. There's a sweet moment in which Vanya unexpectedly bonds with Nina, which is played endearingly by Hadres and Shaheen.
Late in the show, Firestone Walker gets to show her character's more vulnerable side. This leads to a hilarious dual crying scene with Guynn that had the whole audience laughing.
The plot often meanders as the characters muse on various topics. Some passages feel excessively long while they're playing out onstage, but leave something to think about afterward.
We even have time for a living room reading of a play that Vanya's written. It's a play on the play-within-a-play from Chekhov's "The Seagull." Nina and Cassandra play a molecule and a holographic weather reporter, respectively, who talk about global warming and the Apocalypse. This scene should give you some idea of what you're in for with Durang, though the playwright may be parodying himself here.
After spending most of the evening as the quiet sibling, Vanya finally lets loose with a long, long monologue about changes in American pop culture since the 1950s. It's to Hadres' credit that he manages to keep his energy going to the end of it. This feels like Durang speaking directly to younger members of the audience. He seems to be nudging them toward being more like Nina and less like Spike, who gets called out for his dependence on social media.
This is a weird play -- at least, by general standards, not Durang standards. It's probably not for everyone. However, it is a memorable experience, and at times, very funny.
Kudos to Mark Booher -- both as artistic director of PCPA and director of this production -- for bringing such a variety of theater to the local stage. Note that after this weekend, "Vanya and Sonia and Masha and Spike" will transfer to the Solvang Festival Theater for the remainder of its run.