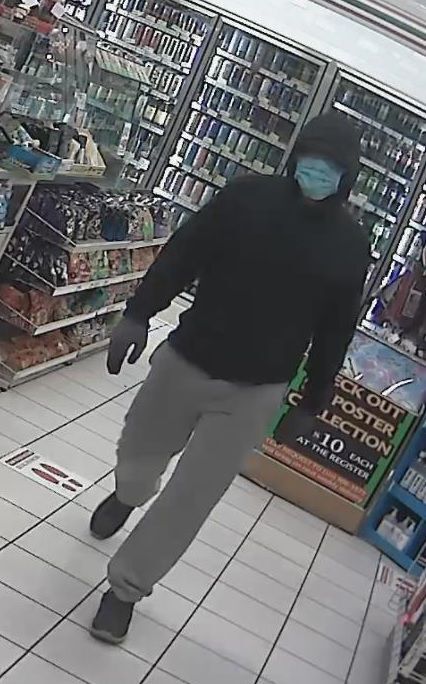 SANTA BARBARA COUNTY
Detectives seeking suspect in Orcutt 7-Eleven armed robbery
Santa Barbara County sheriff's detectives are searching for a man who robbed the 7-Eleven in Orcutt at gunpoint during the early morning hours Tuesday, sheriff's spokeswoman Raquel Zick said.
Deputies responded to the convenience store in the 4900 block of South Bradley Road about 3:26 a.m. and discovered a man had entered the store, threatened the clerk with a firearm and left with an undisclosed amount of cash prior to deputies' arrival, Zick said.
Sheriff's detectives are seeking information on the suspect, who is described as a man 20 to 40 years old, of average height and build, who was last seen wearing a blue surgical mask, a dark-colored hooded sweatshirt, gray pants and gray shoes.
The Sheriff's Office also released a surveillance photo showing the man as he left the store.
Zick said anyone with information about the identity of the suspect is asked to contact the Sheriff's Office at 805-681-4100 or email Detective Esparza at rne3541@sbsheriff.org.
Those who prefer to be anonymous can call the sheriff's tip line at 805-681-4171 or visit https://www.sbsheriff.org/home/anonymous-tip/.
LOMPOC
Mayor, council outdoor candidate forum slated
The Valley Conservative Action Group will sponsor a Lompoc 2020 candidate forum, dubbed "Moving Lompoc Forward," at 2 p.m. Sunday, Sept. 27, outdoors in the paintball field at River Park at Highway 246 and Sweeney Road.
Lompoc City Council and mayoral candidates will address the issues facing the city and share their visions for a more prosperous Lompoc, a Valley Conservative Action Group spokesman said.
Candidates for mayor are incumbent Jenelle Osborne and challenger Victor Vega, who currently represents District 2 on the City Council.
Council candidates are Gilda Cordova, who is running unopposed to retain her District 1 seat, and incumbent Jim Mosby, who will face challenger Jeremy Ball for the District 4 seat.
Proper COVID-19 protocols will be observed to ensure safety, the spokesman said, adding those who attend should bring a chair and wear a face covering.
Be the first to know
Get local news delivered to your inbox!