For nearly 40 years Randy Wise, owner of Straw Hat Pizza at 1822 N. Broadway, has focused on bringing pizza to the people of Santa Maria.
Wise started his career as an area manager for Straw Hat Pizza, and while he was working primarily in the Central Valley, he was given the opportunity to purchase the Santa Maria location that was opened by the company in 1967.
"They gave us the opportunity to buy the existing location here as a franchise," Wise said. "So, my wife and I moved here in 1984 and we've raised our family here and we've enjoyed every minute of it."
Wise operated the store that was located on South Broadway, and opened the current location in 1996.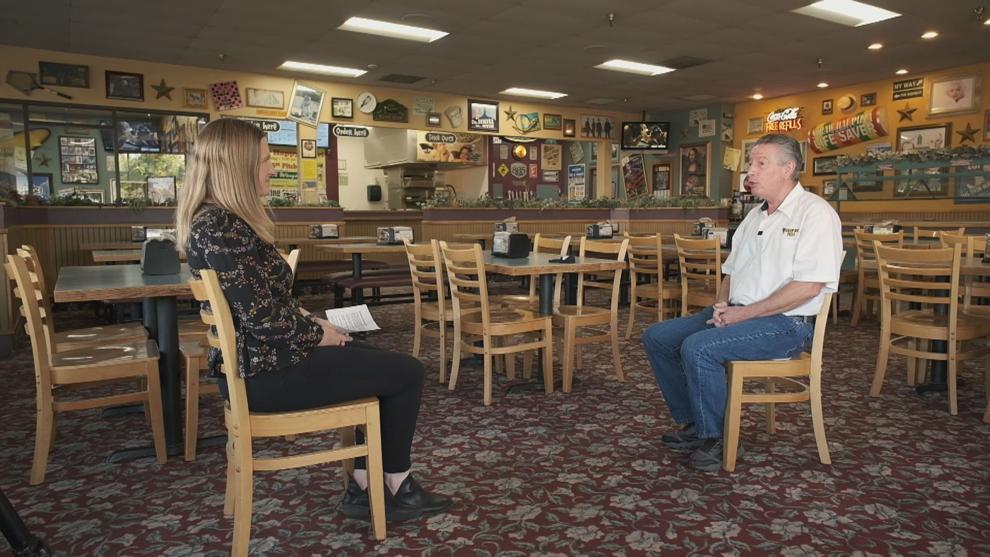 The South Broadway location was closed in 2001, but Wise pointed out, "we're the oldest pizza chain here in the city of Santa Maria. We've seen a lot come and go, we've held our own and we've had competition come but like I said, we have been very blessed, but we are the oldest pizza chain and hopefully we continue that for many, many more years to come."
So what has enabled Straw Hat Pizza to last more than seven decades? Wise chocks it up to a strong focus on family orientated service, quality ingredients, and consistency: a king-sized chicken bacon ranch pizza will taste today just as it did three months ago, or even three years ago. 
"We do focus on family orientated events. So we do birthday parties, we do team parties, special events, I mean families come in here and now the kids that came in here as children now have families of their own so our business keeps growing," Wise said.
That generational loyalty helped when coronavirus-related business rules forced closures to the indoor dining area and threated business operations around the city, county and country.
"Luckily, we didn't have to shut down but we did have the dining area shut down for a time so we did focus just on takeout only and luckily the community supported us on that and we lasted throughout those months," he said.
The COVID-19 pandemic forced business owners to adapt to an ever-changing list of regulations and rules set up to protect people from the spread of the coronavirus. The situation was difficult for all businesses, but it did reinforce the things that Wise likes about being a small business owner. 
Among them are being able to make changes quickly and commit to a change much quicker than other businesses, Wise said.
"Being a business owner is like riding a roller coaster, you got ups and downs and hopefully you learn from those. But, you don't have to go through the hierarchy of getting a decision approved, the buck stops here and we make the decision and we go with it," he said.
Being in business for 37 years is a success by most measures, but for Wise the involvement in community events and being a supporter of Santa Maria area non-profits, schools and sports teams for that amount of time is equally important.
"I feel like it's important to be an active member in the community. During all these years I have helped the Santa Maria Boys and Girls Clubs, the Santa Maria Valley YMCA, Little Leagues, Santa Maria Valley youth soccer, you name it we've done something, the local high schools we provide pizzas for the snack bar. Whatever it is we try to be involved in it."
Hard work, community involvement and daily commitment has lead to longtime success, but Wise specifies that running a successful business is definitely a team effort.
"It all comes down to the crew, and the people that work with me and my wife. They are the backbone of this business. I have two individuals that have been with me since the 1980s," Wise said.
The return to in-person instruction at the local college has caused a bit of flux in his staffing levels, but with 18 employees and a great management team Wise said he is happy to be able to spend time with his family, two kids and four grandchildren, all proud Santa Marians.
"That tells you something, right there," Wise said with a smile. "They could go anywhere and they came back to Santa Maria."
The Santa Maria Times has partnered with the Santa Maria Valley Chamber of Commerce to highlight local businesses in Santa Maria and in Orcutt that have built their business futures here.
In an effort to show the impact that these businesses have on lives and communities in the Santa Maria Valley, we publish two business profiles a month, and one spotlight video in which a digital ambassador from the Chamber sits down and talks with a local business about why they made the choice to open here.