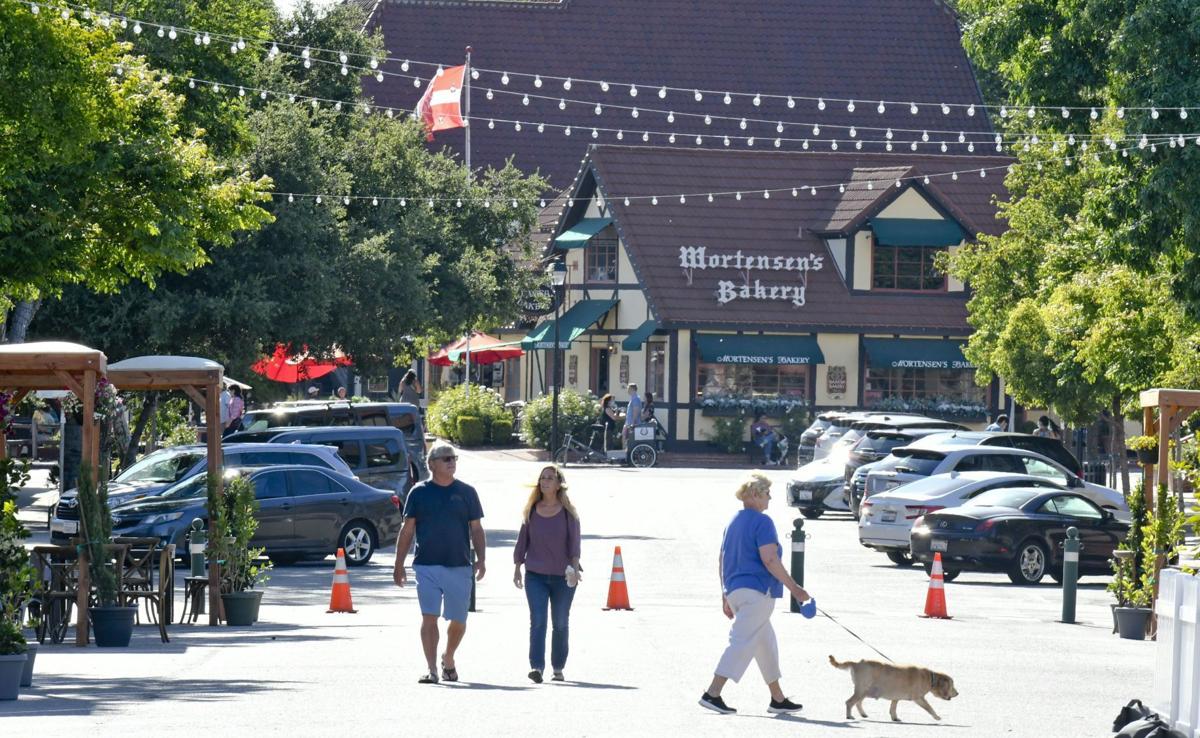 Solvang city leaders expect the COVID-19 roller coaster to continue for as long as a year, so the City Council will likely keep Copenhagen Drive closed to vehicles and purchase street furniture for its businesses that have moved outdoors to survive.
At the close of a COVID-19 update on July 27, the council voted unanimously to take over the rental cost for furniture already placed there and have the staff come back with a report on what attractive street furniture is available and what it will cost to purchase.
But before buying any furniture, council members agreed they want to develop a design plan that will provide an attractive, unified style for the businesses operating in the street.
City Manager Xenia Bradford said Copenhagen Drive was closed for what was anticipated to be a trial period ending July 4, but since then many changes have come about in the pandemic statistics and the state guidelines for businesses.
"We're looking at a much longer period of time for businesses to be operating outside," Bradford said, noting it could be six months to a year and "at least through the winter."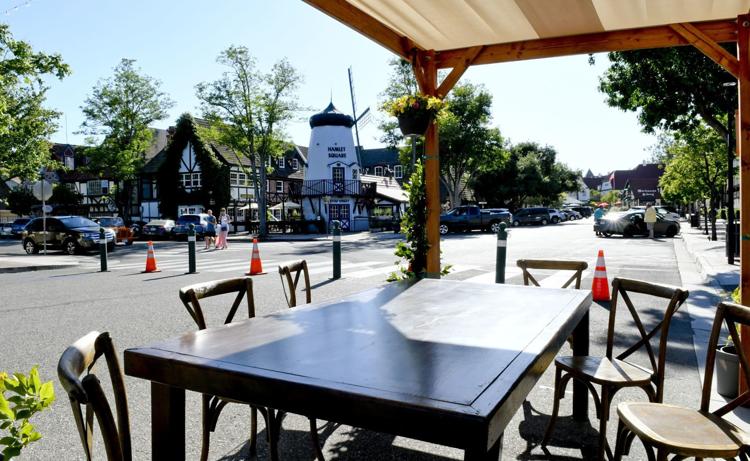 Scott Shuemake, president of IDK Events, which has taken over the city's tourism and marketing promotion, said closing Copenhagen Drive to vehicle traffic and allowing businesses to expand into the street was seen as a way to welcome back tourists.
It was also a way for residents to support struggling small businesses while feeling safe, Shuemake said.
Anticipating business would start returning to normal and the street closure would end July 4, IDK paid to rent tables and chairs, build shade structures and purchase decorative plants, spending about $50,000 in one month.
"Closing Copenhagen was 150% of our contract value," Shuemake said, noting the ongoing cost to rent the street furniture is about $2,200 a week.
"We can't pay for the furniture forever," he said, asking the city to take over the rental payments and consider buying the street furniture and renting it to the businesses.
He said the rent for the hand sanitizer stations alone is $1,200 a week, and while they couldn't be purchased a couple of months ago, they are now available at $130 each, and a local vendor can provide the supplies for them.
At first, some of the businesses opposed closing the street to traffic, and council members wanted to know if IDK had recently surveyed tourists, businesses and residents about their opinions.
Each year for the past three years Carbajal has recognized outstanding women across the 24th Congressional District who have left a positive impact on their communities, and this year was no different.
"Overwhelmingly, the tourists support it," Shuemake said, noting his staff has spoken with 90% of Copenhagen Drive's merchants and only two still oppose it.
The Farmers Market vendors also are happy with it after the rules were changed to allow them to drive onto the street to unload their wares, then go park elsewhere.
Shuemake said it's more difficult to survey residents, but his staff is putting together the data it has collected so far, and he'll return with that report.
Council members generally supported keeping Copenhagen closed to traffic and assuming the furniture costs.
"We're going to have to buckle down and invest in this for the rest of the year," Councilman Chris Djernaes said.
Solvang City Councilman Niels "Chris" Djernaes will face a recall in the November general election after the council voted Monday night to pla…
Councilman Daniel Johnson agreed: "I just think we should take the money and keep Copenhagen [closed] but make it nicer … keep it [closed] through December."
But Mayor Ryan Toussaint said the biggest complaint he'd heard from businesses has been over the aesthetics of the street furniture, and he asked if there were any options for making it look better.
Shuemake said options are shrinking, as businesses that supplied those items are failing and inventory is auctioned off.
"You're also competing with every other business in California that's trying to go outside," he said.
Council members considered giving Bradford the authority to purchase any attractive street furniture that comes up for sale, but Toussaint worried the merchants wouldn't like whatever was purchased, and he didn't want a hodgepodge of styles.
"I think we've got to come up with some kind of plan we can give to the community," he said.
Concerned about COVID-19?
Sign up now to get the most recent coronavirus headlines and other important local and national news sent to your email inbox daily.