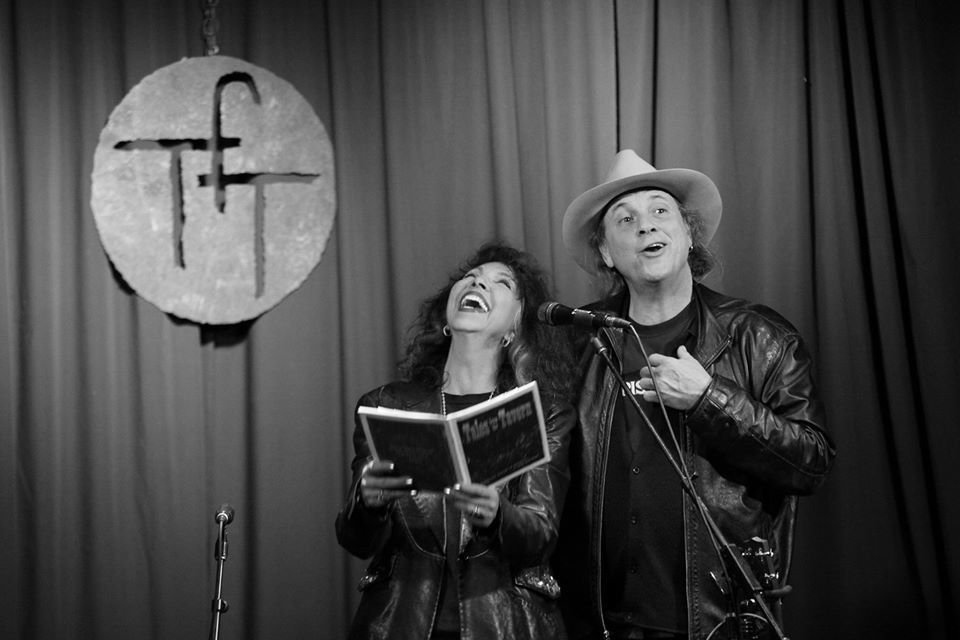 With touring musicians now facing months of canceled gigs due to the closure of public venues amid COVID-19 concerns, singer-songwriter-storyteller program Tales from the Tavern has announced the launching of YouTube channel TFT-TV. The program showcases a virtual lineup of archived shows that celebrate artists from the past.
"We created our own channel which we call TFT-TV, Tales from the Tavern Television," said co-founder Ron Colone, who along with his sister Carole Ann have produced and promoted the "traveling troubadours" concert series in the Santa Ynez Valley for the past 18 years. "We've done four episodes, and so far, we've gained 800 subscribers to the channel. We've got four more shows currently scheduled into June, and we're busy making new episodes each week."
In an effort to shift their business model from "form to content," each TFT-TV episode will feature concert performances, stories from the stage, backstage interviews, as well as real-time chat with featured artist(s) who will interact with viewers and listeners. 
"Last week, we had viewers from half the states in the U.S., as well as Australia, New Zealand, Afghanistan, Brazil and Canada," said Colone.
The mask exhibition features the works of 14 artists.
Since 2003, according to Colone, every TFT performance along with an interview of each artist has been recorded and filmed and is now being revived and broadcast via the TFT YouTube channel.
To help sculpt the TV series, the Colones reached out to an old friend, renowned music photographer Henry Diltz who is responsible for some of the most iconic images of the Classic Rock era, including Joni Mitchell, Jackson Browne, Linda Ronstadt, Paul McCartney, Hendrix at Woodstock, The Concert for Bangladesh, The Eagles and The Doors' "Morrison Hotel," which later became the name of Diltz's highly successful art gallery.
"Diltz had never shot video before, but it was something he was wanting to learn; and he has traveled to the Santa Ynez Valley these past 18 years for almost every show," Colone said.
Set against the backdrop of life's ever-changing landscape is the interplay of simplicity and complexity -- and a man destined to express thes…
Santa Ynez Valley resident Terry Albrecht, owner and operator of D'nA On-Site Recording, who with his late father-in-law, Bob Helman, recorded and mixed every concert – close to 400 sets of music in total – was pulled into the mix.
"In addition to the live concert series, which is supported and made possible by local business sponsors and season-ticket holders," Colone said, "we always hoped for and envisioned drawing from the recorded archives to create a broadcast series that is a combination of Austin City Limits and Prairie Home Companion."
Wow – a new decade! What does that make you think of?
New TFT-TV episodes are scheduled for YouTube Premier each Wednesday at 5:30 p.m. PST.
To subscribe for free, search Tales From The Tavern Television at youtube.com/channel/UCk028ZJrWimGsjdaqYN9nQA or go to www.talesfromthetavern.com.
While TFT shows are free to view, online donations are accepted during the Premier broadcast of each show, which helps artists to offset revenue loss, and support the TFT channel.
All entries are due by July 6. 
After three years of taking courses at Allan Hancock – and now Zoom classes – Peggy Johnson is on track to receiving her associates degree.
Public events are still cancelled, but you can enjoy several different kinds of charming Santa Barbara experiences online.
Lisa André covers Valley Life for Santa Ynez Valley News. 
The business news you need
With a weekly newsletter looking back at local history.