Longtime Midland School business manager Tom Rogowski retired in June, and local entrepreneur and finance professional Amy Grenier has filled the position.
According to the school, Rogowski served as Midland's business manager and athletic director for 21 years, quickly becoming a crucial member of the tight-knit staff. 
He oversaw large campus-planning projects, handled business management, insurance wrangling, and investing, as well as fixing window panes, coaching sports teams — and his favorite — mowing Kimpton Field in the shadow of Los Olivos' Grass Mountain.
A spokesperson for the school said that while they are sad to say goodbye to Rogowski, they know his family is overjoyed to have him home.
"We know we'll see him back on campus, exploring Alamo Pintado or mowing the lawn with his grandchildren and chocolate Lab Ollie in tow over the many months and years to come," the spokesperson said.
Rogowski grew up on a small farm in Valparaiso, Indiana, and later graduated from Western New Mexico University.
Before joining the Midland School community in 1998, he moved to the Santa Ynez Valley in 1976 and opened his own business, The Sporting Goods Store, which he ran for a number of years along with a variety of other businesses. 
"I've been a bull rider, a fireman, a teacher, a coach, a business man, athletic director, a woodworker, but most of all a husband, father and grandfather," Rogowski said of his innumerable ambitions.
In retirement, he says he's looking forward to solving his own problems — rather than someone else's — and spending his days in his wood shop.
"I will take away with me the classic Midland lesson of needs vs. wants, and will miss the faculty, staff and students I have worked with each day," Rogowski said. 
The campus' new business manager, Grenier, grew up in Shaker Heights, Ohio, and later attended Wharton School of the University of Pennsylvania.
She worked for a period of time in investment banking in Manhattan before earning her MBA at UCLA's Anderson School. Upon graduating, she worked in investing as an institutional asset manager in Los Angeles.
In 2006, Grenier said she and husband Michael fell in love with the Santa Ynez Valley and purchased a weekend home in the area while still residing in Los Angeles.
Years later in 2014, they made the permanent transition to valley life.
While raising her children, Grenier has served the local community in various volunteering capacities, aligning with organizations that her children Alex and Gretchen participate in.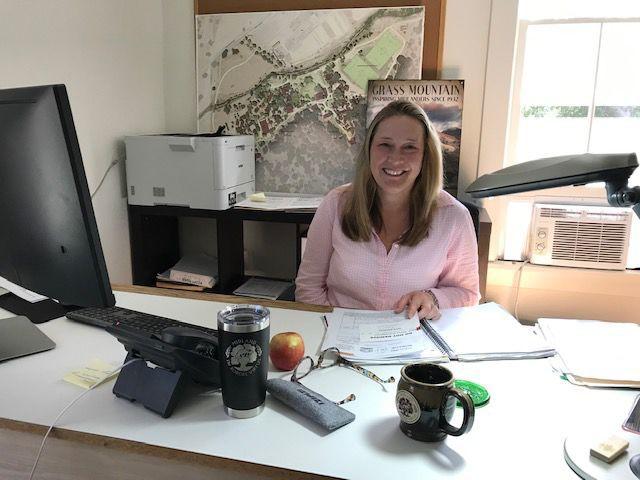 Realizing her new career path to serve mission-driven organizations like Midland School, Grenier says she is excited to bring her skills and experience in finance to the school, and to become an active part of the staff and faculty who have deep connections to the school, passion for their jobs, and a strong sense of community.
"I've been impressed by the resourcefulness displayed by the Midland community, and feel empowered by the school's ethos of hard work and ingenuity," she said.
Her plan is to build upon her predecessor's solid foundation and introduce additional systems and processes to further support the school's growth.
Grenier's mini-Aussie, Leon, will join her each day on campus.
The old Zen proverb goes, "When the student is ready, the teacher will appear," but few realize that this also applies to the teacher. Alison Nikitopoulos, an English teacher of five years at Midland School, was recently selected by the National Endowment for the Humanities (NEH) for the federal agency's Summer Scholar program. The program selects teachers from across the country to attend a variety of academic programs through partnered educational and cultural institutions.
Los Angeles-based entomologist, educator, artist and "supporting actor" Steven Kutcher isn't bugged a bit by the thousands of species of creep…
Lisa André covers Valley Life for Santa Ynez Valley News. 
The business news you need
With a weekly newsletter looking back at local history.