Earthy, savory mushrooms. I love them! I brake for mushrooms as I did when a sign stopped me on Fredensborg Canyon Road in Solvang. It read "Wolfe Family Farms" with a large hand-drawn mushroom.
There was a phone number. I called.
Julian Wolfe answered. He told me what varieties of mushrooms were available. I requested a pound of mixed varietals. Julian met me at the top of his drive. He wore his mask and gloves. I wore mine. Standing beside a cargo container-cum-farm stand, he handed me a cardboard box of mushrooms in exchange for a fist full of cash. I hurried home, recipes spinning in my head.
Julian has been interested in food since childhood. Annual trips to the south of France, where his uncle and aunt had a farm in a small mountain-top village, ignited Julian's passion for cooking. It was there that family regularly gathered outdoors around an open wood-burning fire. Using ingredients farmed on site or sourced locally, they would cook platters of paella and other Mediterranean specialties.
Inspired, Julian nurtured the fantasy of his own farm where he'd grow vegetables and fruits, make jellies, jams and preserves, raise chickens for eggs and sheep for cheese. He envisioned creating a "paradise," where family and friends would come together over a meal around a communal table, a farm that visitors would want to tour, a venue for special events.
But I'm getting ahead of myself, as was Julian.
Julian was raised in Montecito where surfing was more essential to the lifestyle than farming. But that didn't curb Julian's fascination with food. He took courses at Santa Barbara City College's School of Culinary Arts that led to jobs at various restaurants in the Santa Barbara area.
New columnist Jamie Edlin visits Santa Ynez property The Starter Farm and shares the benefits of the farm to table movement from a local perspective.
Armed with some experience and a certain youthful exuberance, Julian and his wife Marissa opened a little "wings" restaurant and sports bar in Isla Vista. While they were focused on the quality of their ingredients – some of which was homegrown in the patio garden of their downtown apartment – their target audience of college students preferred fast foods.
The restaurant survived only two years, leaving the Wolfes with a garden overflowing with produce.
"It was then that we decided to get out of the city and try our hand at homesteading. Our goal was to create a self-sufficient way of living," explained Julian.
In October of 2016, the Wolfes bought five acres in Solvang. The land was in a state of disrepair with no life in sight except for gophers intent on destroying what was once a working farm. But the price was right, and Julian saw promise in the land.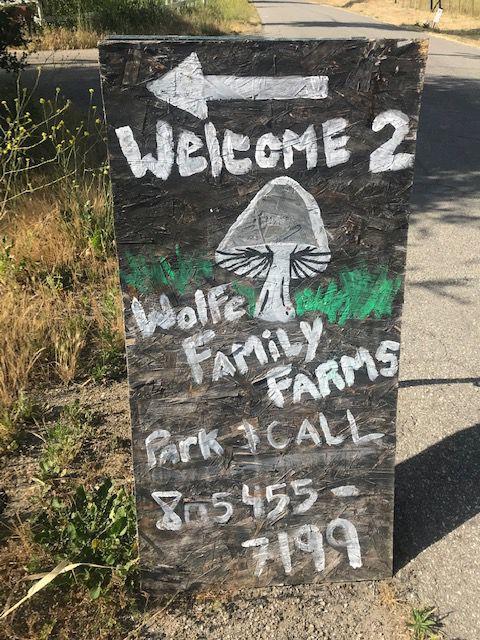 "Over the first couple of years, we went gung-ho on animals," said Julian. "We started with chickens, ducks, and geese. We were selling eggs and baby chicks. It was fun, but we then realized that we should have started with vegetables as a food source for our animals, as well as for our family. And so we planted vegetables, which the gophers and deer promptly destroyed. It was an expensive education."
Hungry for a viable business, Julian studied the local farmers markets and saw that no one was selling mushrooms. He contacted his friend Chef Pink at Root 246 and asked if there was any demand for locally grown mushrooms. Her response was that she goes through about 50 pounds a week. That was all that Julian needed to hear.
Despite having more than 30 combined years of hospitality experience between the two of them, the Cherneys could not have prepared themselves for the unprecedented times they are now facing.
Growing mushrooms is not as simple as putting a seed into soil and keeping it moist. Julian has been working with a company up north that produces the nutrient-rich mushroom substrate, in essence the "starter," which saves Julian the expense of crew and equipment necessary for large-scale mushroom cultivation.
Using organic red oak sawdust supplemented with oyster shell and wheat bran, the substrate is compacted into bags, each inoculated with spores of a different mushroom varietal. The bags are placed on shelves in a climate-controlled environment for several months as the mycelium, the vegetative part of fungi, begins to grow throughout the root system.
Twice a month, Julian receives a large shipment of inoculated blocks ready to be fruited in his cultivation room. Once he cuts open the bags, the mycelium search for air and, within a week or two, the actual mushrooms develop and start pushing through the soil.
I first tasted sea urchin, also known as uni, the roe of the urchin, on a friend's boat docked on Catalina Island. Others in our party went di…
Julian eagerly readied for the local farmers' markets before learning that they required a long application process. Sitting on pounds of shiitake, lion's mane, yellow oyster, pink oyster…,he wasted no time in developing relationships with local chefs who bought from him directly or did so prior to this shelter-in-place, social distancing era.
The sign on Fredensborg Canyon Road has been catching people's attention, as it did mine. And Julian is now finally selling at the farmers' markets in Solvang, Santa Barbara and Goleta.
"Following some costly trials and errors, the mushroom business is working. It's allowing me to farm a range of vegetables along with a newly planted fruit tree orchard," said Julian looking over his farm as the sun hinted at setting. "We hope our place will host many farm-to-table dinners, but most important is creating a homestead that will provide what I need to raise and feed my family."
"It was to be a relaxed project growing Pinot Noir and Chardonnay along with a variety of vegetables and fruits, including a grove of olive trees."
To help restaurants and retail shops reopen, Santa Barbara County has launched a program that will allow businesses and organizations to tempo…
Santa Barbara and San Luis Obispo counties both received approval from the state Wednesday to reopen dine-in services at restaurants and in-store retail after pushing for the ability to move ahead in the state's COVID-19 reopening process. 
To help restaurants and retail shops reopen, Santa Barbara County has launched a program that will allow businesses and organizations to tempo…