And while the loss of major buy-back centers appears to have brought consumer recycling to its knees, multistream recyclers carry on, and regional landfills continue moving toward the state's 2020 waste diversion mandate.
"We've seen a number of recycling centers close in Santa Maria, and that's because they have difficulty finding willing receivers now that China and other countries don't want the quantities of recyclables they used to accept," said Santa Maria spokesman Mark van de Kamp. "That has a massive ripple effect."
While it's tougher for consumers to reclaim their cash deposits on bottles and cans after the closures of most collection sites, those items m…
The 1987 California Bottle Bill developed the California Redemption Value, or CRV, cash deposit system on bottles and cans to encourage consumers to return the recyclables rather than toss them into landfills or along roadsides.
The effort worked. At the program's peak in 2013, Californians recycled 85% of the state's bottles and cans, according to data released by the California Department of Resources Recycling and Recovery, or CalRecycle.
Curbside collection bins and public education programs evolved to include various papers, plastics, greenwaste and, in some locations, even cloth and wood. Cities began expanding recycling programs.
The Santa Maria Regional Landfill also has diverted from roadsides and its long-term refuse pile masses of mattresses, electronics, household hazardous waste, motor oil, antifreeze and virtually anything made of fabric through a variety of programs.
Nearly 15 years after the idea was first conceived, Santa Maria is moving forward with plans to build a much-needed new landfill on the Los Fl…
"We divert more than 60% from the landfill," Van de Kamp said. That's still far short of the state's 2020 goal of a 75% diversion.
China's 2018 ban on importing plastic waste from the United States may have affected that statistic, but the ever-increasing production of plastic has also contributed.
In 1960, the U.S. produced 390,000 tons of plastic, all of which went into landfills. By 2017, it produced nearly 35.4 million tons while recycling only 8% of that, burning nearly 16% and burying the rest in landfills.
"I like to recycle to help keep the Earth healthy and get treats — movies, popsicles — and to donate to the animal shelter," said 8-year-old Milana Hansen of Santa Maria.
With her mom, Vanessa Orozco, at the wheel, Hansen raised money for favorite charities with her recycling. The daughter did the collecting; mom did the driving to the rePlanet LLC buy-back center near Vons on Main Street, where they lined up with other recyclers until that center closed in August.
Construction has been underway for six months on the Tajiguas ReSource Recovery Project — and is on schedule despite 50 days of rain and wind …
"If they close, where does all that recycling go?" Orozco said. "The trash? We recycle everything. I'm more concerned about the ocean right now than collecting recycling money. I'd rather the money go to cleaning up."
System collapse
The closure was a long time coming.
In 2015, recycling centers across the state began closing — more than 560 that year — citing a two-year drop in recycler reimbursement levels.
The following year, rePlanet further pared back its buy-back centers while locally owned Larrabee Brothers Recycling Center also closed its doors. After 45 years in business, Larrabee Brothers citied increased operational costs, decreasing profits and declining state support in the decision to shut down.
You have free articles remaining.
"We are saddened to see this chapter end for our employees, customers and community," co-owner Shannon Larrabee told the Santa Maria Times then. "We are in a business that provides a community service, but as a family-owned business, we cannot continue to provide this service if it is no longer profitable."
According to the Biannual Report of Beverage Container Sales, Returns, Redemption and Recycling Rates, CalRecycle reported the overall recycling rate included more than 18.4 billion beverage containers in 2017. Even with the closures, the state led the nation in total quantity of bottles and cans recycled.
In 2018, the bottle-and-can recycling rate had dropped to 76%, with rePlanet's mass closures yet to begin.
Although the percentage dropped, California led the nation in beverage container consumption, so it's poundage increased to 18.5 billion. The same year, China banned the importation of U.S. plastics and cardboard.
With fewer centers, consumers faced increasingly long lines or gave up on redemption altogether.
In August 2019, rePlanet closed all 281 remaining buy-back centers, reporting they no longer had a profitable market for the goods.
Lompoc's Solid Waste Division has contracted with West Coast Arborists to collect and recycle Christmas trees from city residences, free of charge, from Monday, Jan. 6, through Friday, Jan. 10.
For Anthony Holland, a Santa Maria homeless man who earned his spending cash by redeeming recyclables for 18 years, recycling was as much about the money as treating each other and the environment with care.
"Recycling is my living," Holland said.
He said he could make $30 any day he was willing to comb the streets and alleys for recyclables.
"I pick up trash anyway," Holland said. "It bothers me. God gave the planet for people to be caretakers of. As goes the human race, so goes the Earth. "Everywhere I go I like the place to be better when I leave than it was when I got there. That way, people don't mind me coming and going."
Recycling also led to odd-job opportunities.
Employees at Target and CVS in Santa Maria confirmed neither store is participating in the California Redemption Value program.
"We were taking it in the store for about a month, but we don't take any of it now," one Target employee said.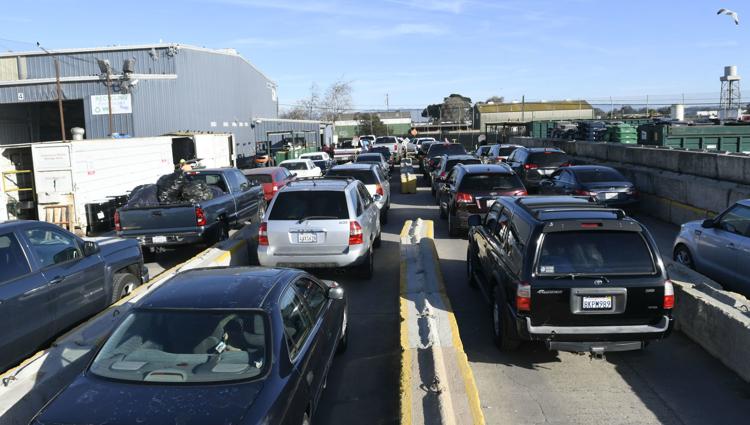 On Dec. 9, 2019, the California Department of Resource Recycling and Recovery fined CVS $3.6 million for failing to redeem deposits at 81 of its 848 California locations. The fine recovers $1.8 million in $100-per-day fees charged stores that refuse to recycle and $1.8 million in civil penalties.
Now income and networking opportunities have all but disappeared for recyclers like Holland, who doesn't have a vehicle to deliver his collection to centers on the outer fringes of Santa Maria, Oceano and Paso Robles.
Remaining CRV buy-back centers include AGS Recycling, 770 Guadalupe St., Guadalupe; Bedford Enterprises, 1940 W. Betteravia Road, Santa Maria; HSS, 1850 W. Betteravia Road, Santa Maria; and Recycle 101, 1909 Front St., Oceano.
"A lot of the responsibility lies with the Legislature to update the California recycling fee program," van de Kamp said. "There's a lot of finger pointing. It goes by year after year and hasn't been addressed."
PHOTOS: State-of-the-art recycling center near Tajiguas Landfill will cut emissions, generate power
Construction has been underway for six months on the Tajiguas ReSource Recovery Project — and is on schedule despite 50 days of rain and wind delays, officials said — but the ceremonial groundbreaking didn't take place until Wednesday.