The Alcohol and Tobacco Tax and Trade Bureau and Treasury on Aug. 25 moved to establish Santa Barbara County's seventh American Viticultural Area (AVA) wine appellation, Alisos Canyon, located three miles south of Los Alamos off Highway 101.
The ruling, effective Sept. 24, will give vintners who are situated in the designated AVA corridor the green light to adjust their product labels for advertising purposes, said agency spokesman Tom Hogue. 
For the Alisos Canyon wine label to be used, at least 85% of wine must be derived from grapes grown within the area, among other conditions, according to the agency's published report.
"When you get one of these established, there's a bit of a cache because a lot goes into the process," said Hogue, referring to the tedious AVA petition process. "Ultimately you're making a change to the regulation."
Local winemakers Noah Rowles, owner of Dovecote Estate Winery, located on the old Thompson Vineyard within the Alisos Canyon AVA, and Wes Hagen, brand ambassador for J. Wilkes Wines in the Santa Maria Valley, initiated the petition process in early 2017. And Rowles said it was no easy task.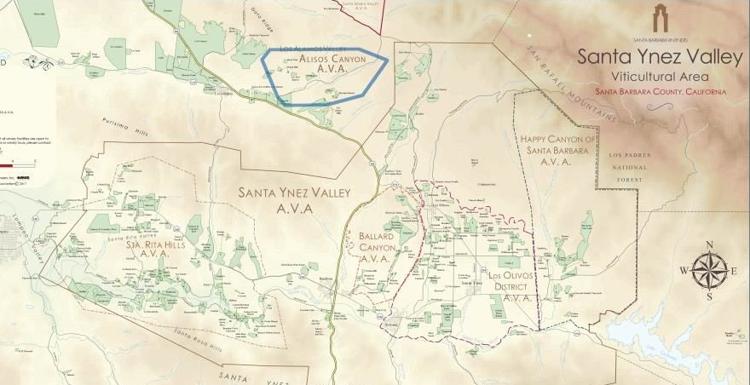 "The government insists on an overwhelming collection of objective evidence before they will even consider a petition," he said. "Interestingly, the wines themselves aren't able to be used as supporting data — the area must stand on its own unique and distinguishable merits. So when an AVA is approved, people in the wine industry know it is something worth learning about."
Goldilocks Rhone Zone
The 5,774-acre Alisos Canyon AVA is home to nine producing commercial vineyards located on a combined 238 acres, all of which are part of the larger Central Coast AVA that stretches from Santa Barbara County to the San Francisco Bay Area and encompasses approximately 4 million acres.
According to Rowles, Alisos Canyon is comparable to the 7,700-acre Ballard Canyon AVA featuring 550 acres of planted vineyard.
However, due to the intrinsic land features found in neighboring AVAs like Ballard Canyon, the trade bureau determined in their published report that the geography and topography of Alisos Canyon was less distinguishing than its standout climate and soils.
Its climate is influenced by a 25-mile proximity to the Pacific Ocean which produces cool air and fog, paired with the converging warmer inland climates that make for more moderate temperatures which are neither too hot or too cold. This phenomenon, referred to by petitioners as the "Goldilocks Rhone Zone," is known to be an ideal environment for successfully growing wine varietals like syrah and grenache.
Team-building
A conversation six years ago between Rowles and Jeff Newton, founding partner of Coastal Vineyard Care & Associates who had originally helped plant the Thompson Vineyard in 1990, became the catalyst for Alisos Canyon AVA. 
"I was in the process of purchasing the Thompson family's ranch as a new home for my own family and wanted to honor the decades of hard work and passion they had put into their vineyard," Rowles said. "I asked Jeff what his top three suggestions would be in this regard, and the first thing he said was 'Have you had the wine?! This whole area is extremely special – Alisos Canyon needs its own AVA.'"
Upon Newton's recommendations, Rowles began researching the AVA petitioning process and soon appealed to Hagen for help with drafting and submitting the documents.
The expo will include access to a greater diversity of topics and speakers from all over the world, including Tasmania, New York and Pennsylvania. 
"Wes and I hit it off right away and he expressed deep enthusiasm for Alisos Canyon and the prospective idea of an AVA," Rowles said, recalling that the pair met over a bottle of 1998 Tensley Syrah from Thompson Vineyard. "We ironed out the details of the project, defined our responsibilities, and set out to collect, analyze, and distill mountains of information into the required format of an AVA petition."
The two eventually hired a geologist and soils scientist to assemble historical reports and surveyed the entirety of Alisos Canyon with Coastal Vineyard Care & Associates co-founder Larry Finkle, who also understood the lay of the land.
To allow for "the land to speak for itself," Alisos Canyon AVA boundaries were left undrawn for over a year, Rowles explained. It wasn't until 2017 that the natural borders became more apparent through the data gathered. 
"The results of our research was fruitful, and the logical borders became clear based on significant natural differences in the elevation, climate, rainfall, temperatures, wind, and fog, among other things that were shown in the data," Rowles said. "As the research and data started coming in and was analyzed, we realized that Thompson sits in an area within Alisos Canyon that experiences the most extreme climate influences from the San Antonio Creek basin."
A lack of access to COVID-19 personal protective equipment and an adequate labor force are among the greatest needs of Central Coast farmers a…
Thompson Vineyard is the oldest vineyard in the AVA and third oldest Syrah planting in Santa Barbara County behind Zaca Mesa and Bien Nacido which provided the cuttings.
Rowles foresees the new AVA benefiting the local economy as industry experts take notice, as well as local and visiting oenophiles who will no longer need to remember the names of different vineyards or ranches located within Alisos Canyon when looking for a wine that exhibits a specific profile.
"They'll know that wines that come from the AVA will all share a common soul and all have similar characteristics," Rowles said, "so they can be confident when purchasing Alisos Canyon wines."
FROM THE VINE Some of the best lessons I've had while learning about wine took place in a winery's vineyards. There's little, other than wine tasting, that is quite as eye-opening as hearing about the hard work of farming.
To help revive the once busy town streets and restore visitor safety during the COVID-19 pandemic, the City of Solvang enlisted its new tourism marketing and events contractor in early June to transform two large city blocks into a walkable promenade, complete with wooden parklets and covered seating, greenery, vertical boundaries and decorative string lights.
Frisée is a member of the endive/chicory family with finely curled leaves and a slightly bitter flavor. It is very popular in France, and a most elegant salad vegetable.
Lisa André covers local news and lifestyles for Santa Ynez Valley News. 
The business news you need
With a weekly newsletter looking back at local history.