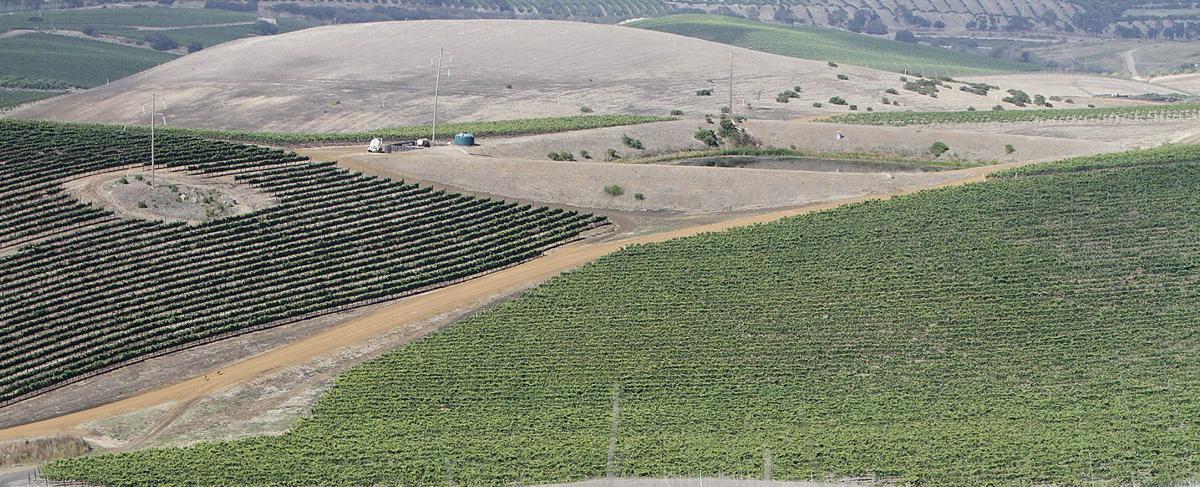 San Luis Obispo County's total crop value hit a new high in 2018, rising 12% from the previous year and topping the $1 billion mark, according to a report released Tuesday by the Agriculture Commissioner's Office.
The total crop value was a little more than $1.035 billion, with wine grapes leading the list at $276 million, followed by strawberries at $268.4 million and broccoli at $48.3 million, the report said.
Avocados were fourth on the list at $46.1 million, cattle and calves at $43.8 million, vegetable transplants at $35.2 million, cauliflower at $30.1 million and cut flowers at $26.5 million.
"Local agricultural producers amplified their economic contributions to the local and statewide economies in 2018 with an increased overall value of agricultural commodities of $1,035,499,000, a milestone in San Luis Obispo County," Agriculture Commissioner Martin Settevendemie said.
The average age of farmers, ranchers and other agricultural producers in Santa Barbara and San Luis Obispo counties got older between 2012 and…
He noted the figure represents only gross commodity values and does not reflect the net profits local agricultural producers earned.
It also does not take into account "multipliers," or secondary economic benefits to the community from increased business purchases and consumer spending stimulated by wages.
Settevendemie said wine grapes set a record high with an 8% increase in production and a modest overall price increase of 3%, despite an extended summer heat wave.
He said strawberry prices plummeted early in the season due to an oversupply following a statewide freeze that prevented growing regions from phasing-in the berries as usual.
Still, the value of San Luis Obispo County's fresh and processed strawberry production climbed 18 percent due to increased acreage and higher yielding varieties being planted.
Ordinance amendments to regulate agricultural hoop structures were approved Tuesday by the Santa Barbara County Board of Supervisors after splitting the difference on a change for one requirement and deleting some text from another. The result is hoop houses will be exempt from permit requirements provided they are 20 feet or less in height, have no lighting, plumbing or other permanent elements, are located on land cultivated in one of the last three years and are on slopes averaging 25% or less.
Vegetable acreage rebounded into line with historical levels, which Settevendemie attributed to increased rain over the last couple years, a more stable labor market and favorable growing conditions.
Although cattle prices dropped 5%, averaging $131 per hundred-weight, the number of cattle and calves sold increased by 4% to 44,900, he said, which helped the animal category rise by 1% to just over $48.5 million.
Cannabis had an unexpected impact on the county's crop value.
Indoor decorative and ornamental plant production decreased in 2018 as greenhouse facilities were leased or purchased for cannabis production Settevendemie said.
But, ironically, the cut-flower market stabilized because of less competition from neighboring counties — primarily Santa Barbara County — where cut flower production areas have been converted to cannabis.
Cannabis cultivators who haven't applied for a use permit by May 9 would not have legal nonconforming operations and those who lie on affidavi…
Despite the conversion of some San Luis Obispo County growing areas to cannabis, the nursery stock industry remained relatively stable, with the overall value declining just 2% to $81.2 million, Settevendemie said.
Statistics for the county's agricultural industry is available in annual crop reports from 1928 through 2017 at www.slocounty.ca.gov/agcomm.
A coalition of individuals opposed to the way cannabis is being handled in Santa Barbara County has filed a lawsuit seeking to force the county to rescind the ordinance regulating the hoop structures used for growing a variety of crops and decertify the environmental impact report used to approve the regulations.
The business news you need
With a weekly newsletter looking back at local history.