This is the time of year when H Street and College Avenue has one side of the street decorated in blue and white while the other is decked out in black and gold.
All because of a football game at Huyck Stadium. And not just any football game, but the annual Big Game between city rivals Lompoc and Cabrillo, which occurs this Friday at 7 p.m. inside Huyck Stadium.
While LHS head coach Andrew Jones is no stranger to this city spectacle as both a player and coach, the Friday meeting will mark the first time he gets to go against new Cabrillo head coach A.J. Pateras.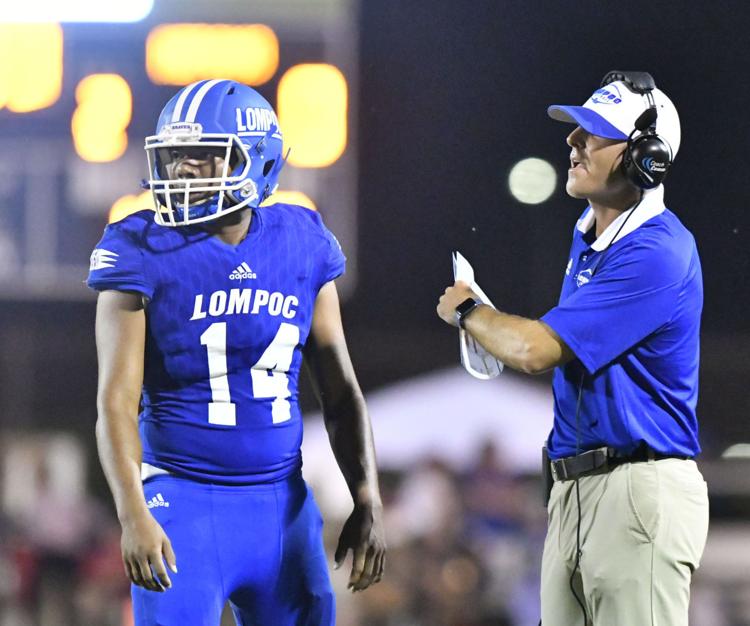 "I haven't had an opportunity to get to know him yet. But I've talked to him on the phone a few times. He seems like an energized guy who is trying to rebuild the culture there. I know he's working hard and he's putting in the time," Jones said by phone on Monday.
As for Pateras, it's his first time experiencing the sights and sounds of the "Big Game."
"We're excited for an opportunity to play a good team," Pateras said. "For us, it's just an opportunity to get better against a quality opponent." 
Friday's game will have a tale of two teams going in opposite directions. For the 9-0 Braves, a victory over the Conquistadores would solidify back-to-back 10-0 regular seasons for LHS. On the other side of the coin, Cabrillo is aiming to avoid a 1-9 mark to close out the year. A loss to the Braves gives CHS its third one-win season since 2009.
Yet, Jones is aware that he'll be going against a Conqs team with scheme changes and an explosive dual-threat quarterback in Jackson Anderson.
"From an alignment and assignment perspective and their schemes, it's different from years past," Jones said. "They've been double wing over the years but now, they're more spread and more no-huddle. And they want to try to get the ball in the quarterback's hands."
Anderson's game reminds Jones of a player he once had to game plan against back in 2014.
"Brett Gregory was probably the best QB I've seen (from CHS)," Jones said. "He was a dual-threat guy who could run the power read. Anderson is probably something similar to that."
Pateras adds that in this contest, being 9-0 or 1-8 truly doesn't matter.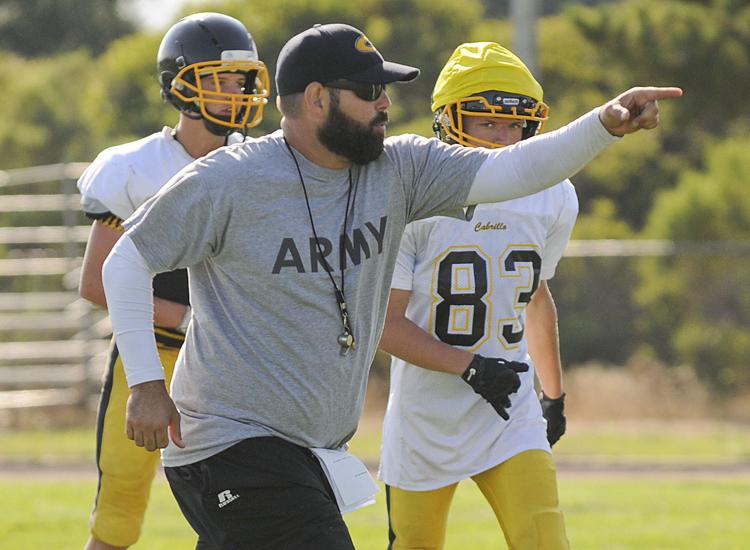 "Big rivalries are fun to be a part of. You throw the records out and expect the unexpected," Pateras said. 
Lompoc overcame a sloppy 17-7 squeaker against Santa Ynez with a dominant 50-6 trouncing of St. Joseph. Jones believes that games like the ones against the Pirates and Knights have woken up his team as they now head toward the big game.
"I think our guys now know that they have to prepare week in and week out," Jones said. "I think our guys came out with a tremendous amount of confidence in that game (against St. Joseph). I'm sure our guys won't let up on Friday. They'll be ready to go."
Big Game tickets on sale
Pre-sale tickets for this year's edition of the Big Game between Cabrillo and Lompoc will go on sale on Monday at the following locations: the Cabrillo Activities office, the Cabrillo Athletics office and the Lompoc Activities and Athletics offices during normal school hour, 7:45 a.m. to 3:45 p.m.
Tickets may also be purchased at Rose's Embroidery Lettering & Gifts at 726 North H St. Pre-sale ticket prices are $8 for adults and high school students without an ASB sticker, $5 for visiting Lompoc HS students with an ASB sticker, middle school students with an ID card and supervised children 12-and-under and $5 for seniors and Cabrillo alumni with a current Cabrillo alumni ID card.
Cabrillo students with an ASB sticker will be admitted free of charge (Cabrillo is the home school) but CHS students without an ASB sticker must purchase adult tickets.
Tickets may also be purchased the night of the game, which takes place on Friday at 7 p.m. at Huyck Stadium.
Ticket prices on the day of the game will be $8 for adults and students and $5 for seniors and children under 12 supervised by an adult.