CASTAIC — For the fourth time in his last five cross country races, St. Joseph junior Joseph Domingues Jr. crossed the finish line a winner.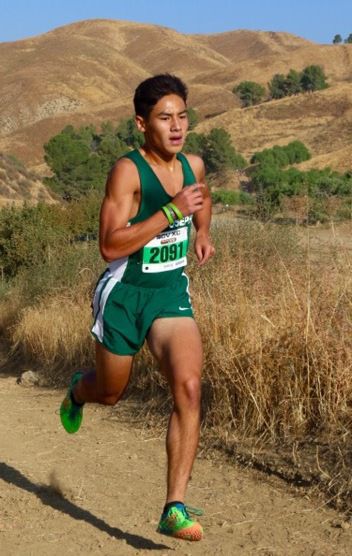 Domingues won the Boys Small Schools race in 15 minutes, 22.69 seconds over the three-mile Castaic Lake course, located in the mountains of northwestern Los Angeles County, Saturday. Domingues finished well ahead of the runner up, Jorge Diaz of Yucca Valley, who crossed the line in 15:44.46.
Hayward Moreau Catholic won the team title with 106 points. St. Joseph was eighth in the 26-team field with 236, Santa Ynez was 12th with 340 and Orcutt Academy was 15th with 392.
Besides Domingues, other leaders for area teams in the race included Lorenzo Papworth of Orcutt Academy (19th place) and Shane Silvia of Santa Ynez (23rd). Those places were for team scoring and were not where the latter two runners finished overall.
Santa Ynez senior Emily Donahue finished fourth in 19:12.12 in the Girls Small School race.
Sophie Gitlin of team winner La Canada Flintridge Prep won the race in 18:07.91. Flintridge Prep scored 26 points.
Kiely West finished 10th for Santa Ynez, which placed third in the 18-team field with 92 points. St. Joseph was fifth with 200.
Freshman Alexis Medina led the Knights. She finished 22nd for team scoring purposes.