Santa Maria Baseball: Lord of the rings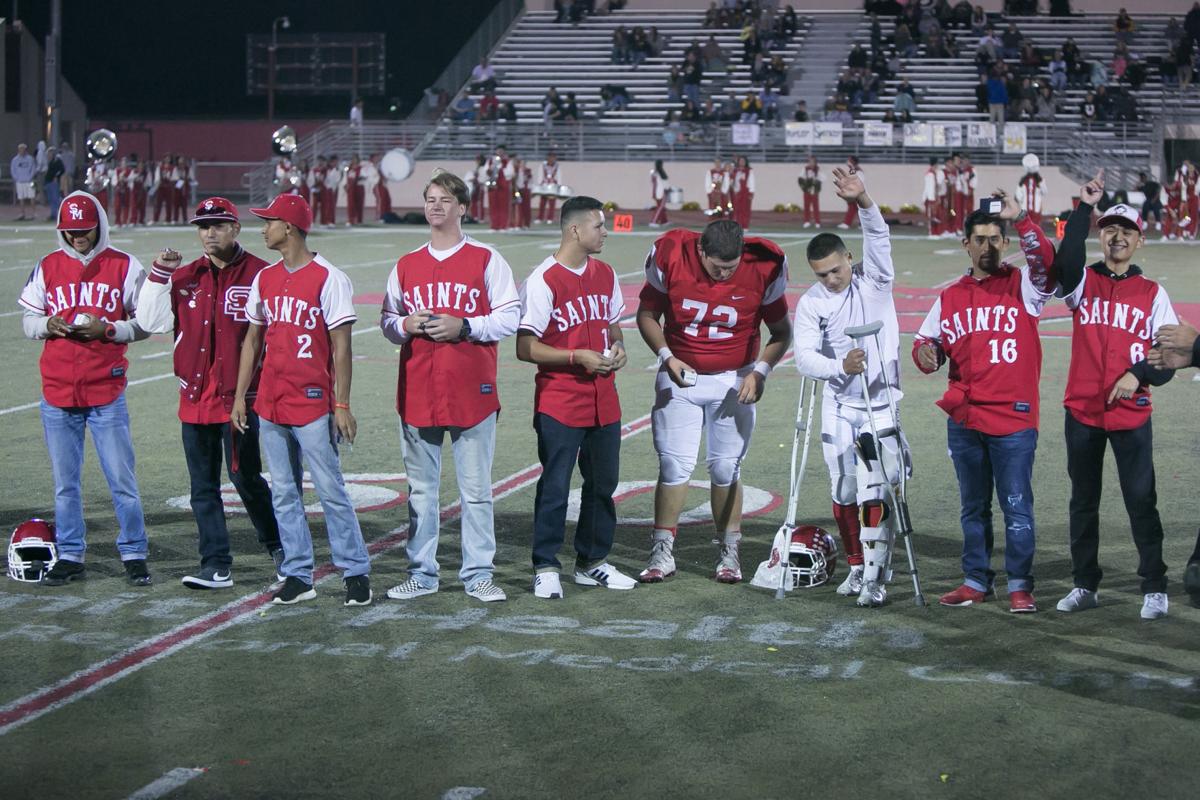 The champions had one final party Friday night — the CIF baseball champion Santa Maria Saints.
During halftime of the Saints' 46-24 football victory over the Cabrillo Conquistadores, the school honored the CIF-Southern Section Division 6 champions.
The players re-united for an on-field celebration in front of family, friends and fans.
Players and coaches were given their official CIF Championship rings.
"The rings are beautiful," said the Saints' recently graduated left fielder J.J. Pantoja. "They have ruby red stones and our names on the side.
Pantoja is attending Hancock College.
I'm planning to play baseball there, too." said Pantoja.
The Saints completed an improbable run through the Division 6 playoffs to win the school's first CIF-SS
baseball title since 1957.
But win it they did after beginning the playoffs in the wild card round, reeling off six straight wins, culminating with an impressive 9-0 victory over Moreno Valley for the title last June.
"But that made the baseball season real long," said Santa Maria head coach Rick Hebert. "It was awesome that it lasted so long and that we brought home the championship but when we came back to school, there was no time for an assembly.
"The boys were honored during the school's graduation ceremony and the city honored us after that but we didn't have the chance to honor the boys with a special presentation at the school so we decided to have a ceremony and the ring presentation at our first home football game."
"I'm going to school at Fresno City College but I came back. I wouldn't have missed this for anything," said Pauly Navarro. "It's awesome to be back, to get our rings and re-unite with my brothers. It feels wonderful."
That was the common theme throughout as the team took a time out from celebrating to express their joy about the ring ceremony.
"This is so cool. Everyone is together again at the school," said Alfredo Camacho.
"It feels amazing, getting the rings and getting back together with my teammates," said Marc Estrada, currently a senior at Santa Maria High. "This is a nice way to end our championship season. I think we'll come back even stronger next year."
Isiah Garcia and Robert Ruiz played in Friday night's football game. They took a break from their football halftime to join their baseball team on the field.
Slim Lopez, Marcos Rodriguez, Tommy Herrera, Trevor Garcia, Angel Esparza, Phillip Becerra and Devin Erickson were also on hand for the ceremony.
"This is very special to be able to do this at home. We can't lose sight this team did for the school and for the community," said Hebert. "I want to thank the community for its wonderful support. Through this whole process, you don't realize the importance of it while you're going through it. Now that things have settled down for us, we all realize how special this is for the team, the school and the city. This means a lot to the boys – and we're winning the football game."